Tejashwi loses bungalow battle, ordered to pay Rs 50,000 fine
Bihar's former deputy CM had been hanging on to the bungalow allotted to him by the Nitish Kumar government in 2015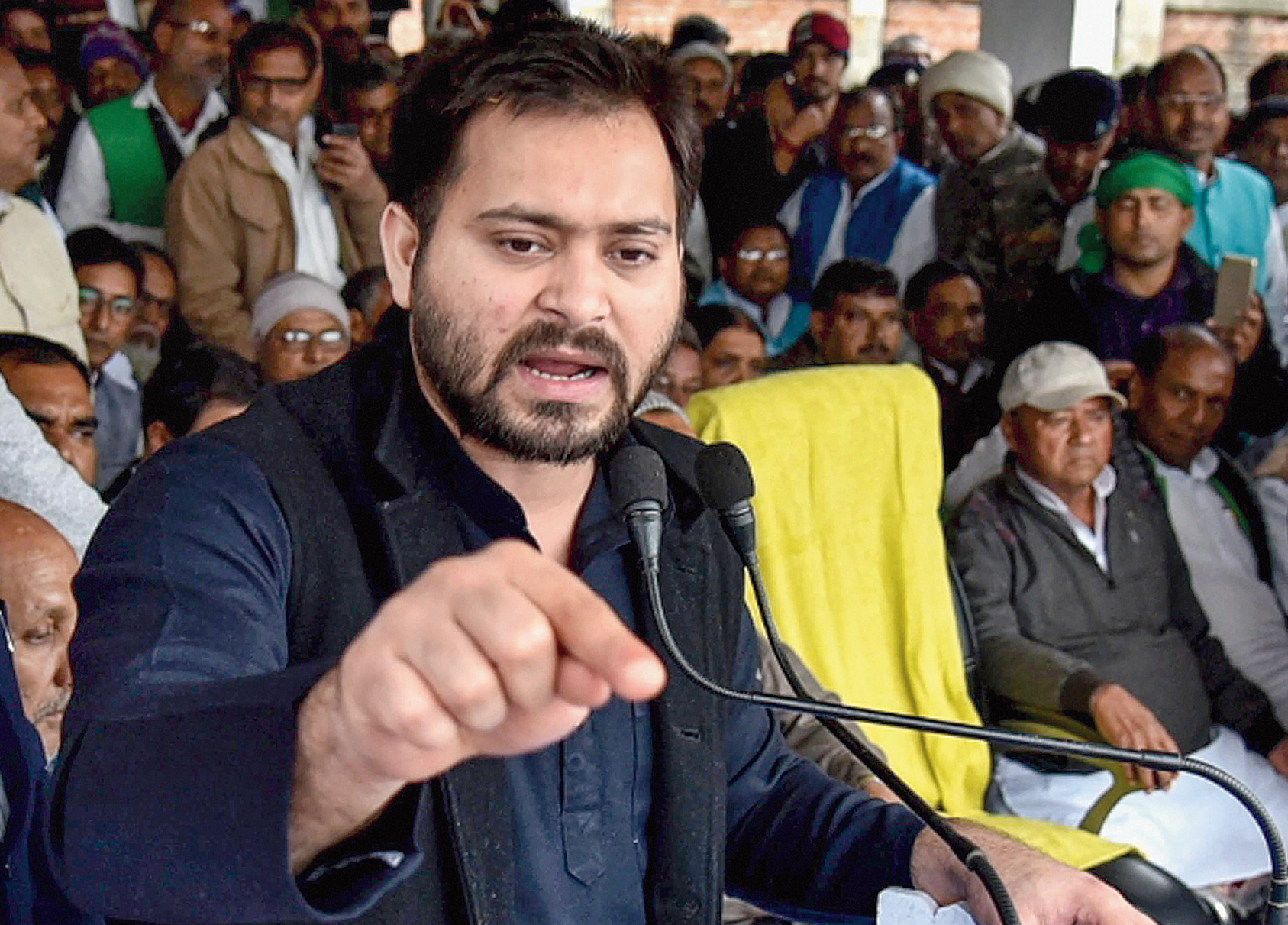 RJD leader Tejashwi Yadav addresses a rally in Supaul on Friday.
(PTI)
---
New Delhi/Patna
|
Published 08.02.19, 10:53 PM
|
---
The Supreme Court on Friday imposed a fine of Rs 50,000 on former Bihar deputy chief minister Tejashwi Prasad Yadav and directed him to vacate the 5 Deshratna Marg bungalow in Patna since he was no longer holding the post.
"Heard learned counsel for the petitioner and perused the relevant material. We are not inclined to interfere with the order impugned in the special leave petition. The same is dismissed with cost of Rs 50,000 to be deposited within a period of four weeks from today with the Supreme Court Legal Services Committee," a three-judge bench of Chief Justice of India Ranjan Gogoi, Justice Deepak Gupta and Justice Sanjiv Khanna said in a terse order.
The top court passed the direction while dismissing the Bihar leader of Opposition's appeal against a Patna High Court order of January 7, 2019, which had upheld the state government's decision asking him to vacate the bungalow allotted to him by the Nitish Kumar government in 2015.
After Nitish formed government with the BJP, Tejashwi had been allotted the 1 Polo Road bungalow where present deputy chief minister Sushil Kumar Modi used to live. The state government had earmarked 5 Deshratna Marg, which Tejashwi used as his office, for Sushil Modi.
Tejashwi moved the high court in protest. A single-judge high court bench of Justice Jyoti Saran had on October 6 last year dismissed his writ petition. Tejashwi then moved the division bench of Patna High Court, which quashed his petition on January 7 this year and observed that it was the state government's discretion to decide which bungalow would be allotted to whom.
Tejashwi had challenged that decision in the apex court. Senior advocate Abhishek Manu Singhvi represented him. "What is this luxury of litigation? Precious judicial time has been wasted," PTI quoted the Supreme Court bench as saying.
Bihar building construction minister Maheshwar Hazari said 5 Deshratna Marg would be vacated within a week.
"We gave Tejashwi due respect and never used force to get the bungalow vacated but he chose a legal battle and ended up losing it. It has exposed his lust for a bungalow and also his tendency to defy rules," said Hazari, whose department allots bungalows to ministers and other dignitaries.
Sushil Modi had on January 9 this year vacated 1 Polo Road and shifted to a temporary accommodation on 25A Hardinge Road.
RJD spokesperson Bhai Birendra said: "We are studying the order of the Supreme Court and its directive would be followed."