Tejashwi appeals to Nitish to control crimes
He also termed the current National Democratic Alliance government 'a curse' for the state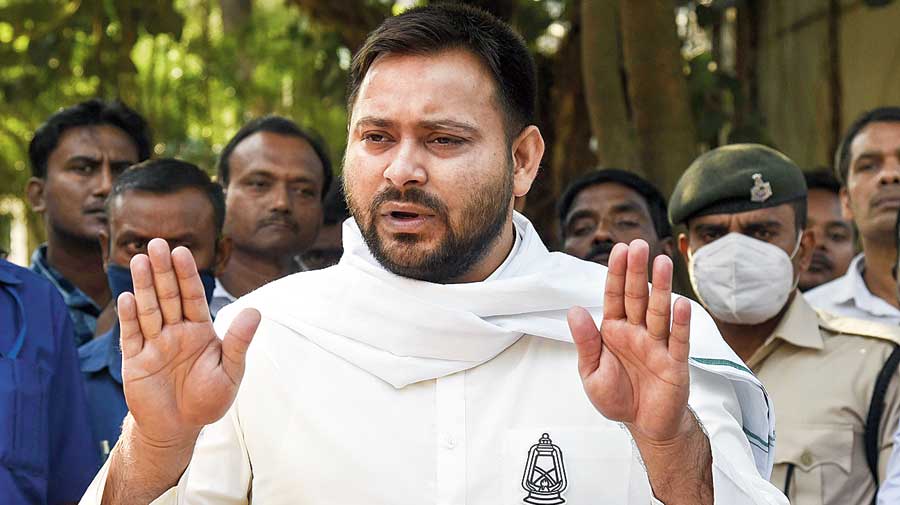 Tejashwi Prasad Yadav
PTI
---
Patna
|
Published 18.01.21, 01:05 AM
|
---
Leader of Opposition in Bihar, Tejashwi Prasad Yadav, attacked chief minister Nitish Kumar asking him to control crime instead of allowing people to be sacrificed at the hands of the criminals with deteriorating law and order. He also termed the current National Democratic Alliance (NDA) government "a curse" for the state. 
"The situation is fearsome in the state. The criminals are ruling the roost here. We appeal to Nitish Kumar with folded hands. We know you are a weak chief minister, but please do not let the people to be sacrificed like carrots and tomatoes in your greed for the post. The condition of the people has become like insects," Tejashwi said.
"Control crime in the state. It is your responsibility. People are being continuously murdered. Women and girls are being raped every day. The director general of police (DGP) is also expressing helplessness. The fact is that you have been the chief minister for 16 years. If you also wash your hands off where will the people of Bihar go," he asked.
Expressing concern over the growing lawlessness in Bihar, the Rashtriya Janata Dal (RJD) leader pointed out that the present NDA government has come to power through the backdoor, and wants to cling to power at any cost.
"These people just want to hold the positions they have. They are greedy for power. They don't work for the people or share their misery, nor have to struggle for anything. This NDA government is a curse for the state," he  said.   
Tejashwi also visited Chhapra and met the family members of Rupesh Kumar Singh, the IndiGo airlines station manager at the Patna airport, who was killed on Tuesday. The police have been unable to crack the case so far.
Sharing details of his visit, which turned emotional when Rupesh's father caught him and started weeping, Tejashwi said that he found it difficult to look into the eyes of the family members of the murdered airlines officer.
"I just wonder how this insensitive chief minister is able to sleep despite several murders on a daily basis and the ongoing 'goondaraj' (rule of the goondas or criminals) in the state," Tejashwi tweeted.
The RJD leader also said that he would take the Grand Alliance MLAs to Delhi and meet the President if the law and situation in Bihar does not improve.