N.K Ibrahim, arrested in 2015, held without bail
Kerala tea labour leader in jail for six years under UAPA
In prison, the 67-year-old activist has survived two cardiac arrests, and a painful gum disease – a complication of his severe diabetes – has caused him to lose all his teeth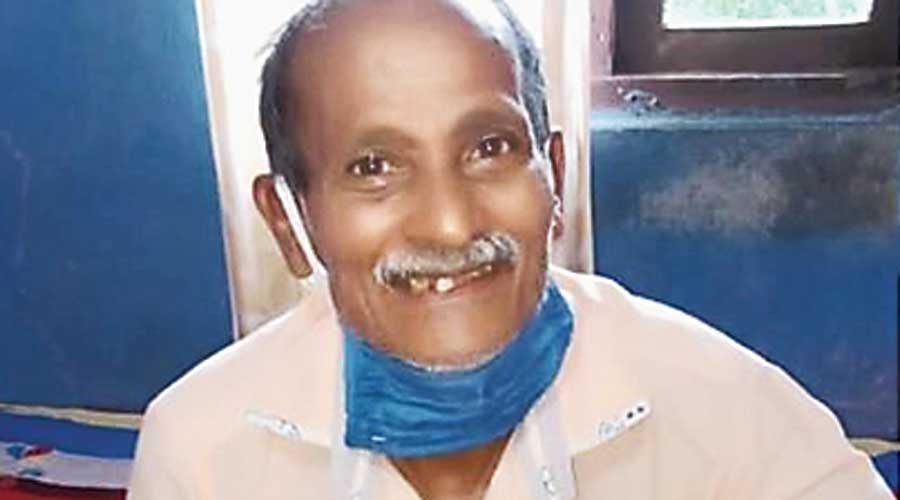 NK Ibrahim before he lost his teeth.
File picture
---
Thiruvananthapuram
|
Published 10.07.21, 02:33 AM
|
---
Every day, Jameela Ibrahim worries about a very sick and aged man who defended the rights of the downtrodden before being arrested under the anti-terror Unlawful Activities Prevention Act, branded a Maoist and locked up in jail without bail.
It's not the 84-year-old Father Stan Swamy whom this retired plantation labourer from a remote Kerala village has in mind.
The 63-year-old school dropout knows very little about the Ranchi-based Jesuit and tribal rights activist who died in National Investigation Agency (NIA) custody on July 5, waiting for bail in the Elgaar Parishad terrorism case. She, however, says she knows all about how the anti-terror law can be invoked to silence dissent.
Jameela's husband and tea labour leader N.K. Ibrahim, 67, was arrested under the UAPA in July 2015 and has since been held without bail in a Kerala jail.
Her son Noufal finds it ironic that the Kerala government of CPM chief minister Pinarayi Vijayan, who publicly condemned Father Stan's detention, handed over the case against Ibrahim to the NIA.
Ibrahim has survived two cardiac arrests in prison, his family and jail authorities say. A painful gum disease — a complication of the severe diabetes he suffers from — has caused him to lose all his teeth.
"He now gulps down the jail chapatti after dunking it in water because he can't chew. He takes 22 tablets a day for diabetes," said Jameela.
Jameela and Noufal visit Ibrahim at the Viyyur central jail in Thrissur district, 187km from their home in Nedumkarana village in Wayanad district, at least twice a week.
Ibrahim was arrested on July 14, 2015, on the charge of storming a senior police officer's home near Vellamunda in Wayanad — 47km from Nedumkarana — along with a group of alleged Maoists on April 24, 2014, and torching his motorbike.
The police allege Ibrahim is a Maoist courier and had participated in the armed attack with seven others, including the CPI Maoist's south India leader Roopesh, his wife Shyna and their comrades Anup, Jayanna, Kanya and Sundari.
Jameela insists that Ibrahim was in his native Nedumpala, 64km from Vellamunda, on the day of the alleged incident. She says he had faced no criminal case till then and had told her the charges against him were fabricated and that he had never had any Maoist links.
The complainants and witnesses are all police officers attached to the Vellamunda police station.
Jameela alleged a conspiracy by a tea company for which she and Ibrahim worked and which had sacked them both over the past decade, years before they had reached the retirement age of 65, citing poor profits and the financial situation.
She claims the company implicated Ibrahim — who continued to fight for the plantation labourers' rights after his sacking — by telling the police he was a Maoist close to Roopesh, Shyna and Anup.
"My husband was a popular leader of plantation workers in Wayanad and was at the forefront of agitations against the company in the 1990s when it arbitrarily sacked workers citing price fluctuations and poor yield," she said. "Those agitations made him a target for the management."
Two cases were filed against Ibrahim and the others, one for alleged recruitment of youths for the Maoists in Payyoli and the other for offences such as rioting, trespass, criminal intimidation and terrorism in connection with the Vellamunda raid.
A sessions court in Kozhikode district acquitted Ibrahim and his co-accused in the first case earlier this year. No one has any idea when the second case might come up for trial.
"During the trial of the first case through videoconferencing, Ibrahim had collapsed because of poor health," said C.P. Rasheed, a human rights activist.
Ibrahim's requests for bail and parole have been rejected half-a-dozen times so far by the local courts.
His family says three of Ibrahim's teeth fell out three years ago before the rest of his teeth were surgically removed six months back under advice from a dentist and a diabetologist. This has affected his food intake, and he has lost 8kg in the past one month alone, the family says.
State role
Ibrahim's family is unhappy with the Kerala government. "On Monday, chief minister Pinarayi Vijayan issued a statement expressing concern at the way (Father Stan) Swamy was treated in jail," Noufal said.
"Now I'm wondering why the chief minister is not ensuring justice for my father, who has been jailed without bail or trial for the last six years in his state, and that too in a case lacking independent witnesses and solid evidence. At least the chief minister is duty bound to ensure adequate medical care for my father, against whom there are no proven charges so far."
Six of the seven other accused too have been denied bail but they are all aged below 50 and appear to be in good health. Shyna alone received bail after four years in Coimbatore jail. Roopesh, 44, and Anoop are in Coimbatore jail, while the rest are imprisoned in Mysore and Bangalore.
All seven had been arrested in several other cases before being charged in the Payyoli and Vellamunda cases.
Covid snub
Thrissur-based human rights activists said over 200 jail inmates, including some convicted of murder or rape, had been released on parole from the Viyyur central jail since last year because of the pandemic.
Among those released on parole are Kodi Suni, Muhammed Shafi and Kirmani Manoj, three hired assassins sentenced to life for hacking to death the expelled CPM leader T.P. Chandrasekharan. Suni is also accused of plotting murders, smuggling gold, and trafficking in narcotics from jail.
However, Ibrahim never found a place on the list.
"In the last six years, he was able to visit home only twice, and that too under tight police escort and only for one day each time," Jameela said.
"When the second wave of Covid began and experts cited the possibility of a third wave, we again initiated the process for bail," Noufal said.
"We were concerned because he has severe co-morbidities. When those who commit heinous crimes easily get bail and parole here, we should at least ensure justice for my father."
It's thanks to the family's persistent pleadings that the jail authorities have provided some medical treatment to Ibrahim, Noufal said. But the family is too poor to afford a set of false teeth for Ibrahim.
Two weeks ago, prominent writers and social activists including J. Devika, K. Satchidanandan and Meena Kandasamy wrote to Vijayan, urging him to release Ibrahim.
"We request there should be timely intervention in Ibrahim's case as you did in the case of Siddique Kappan (Kerala journalist charged under the UAPA in Uttar Pradesh) and Hany Babu (academic jailed in the Elgaar Parishad case)," the letter said. But there was no response.
Vijayan had written to the Centre and the chief ministers of Uttar Pradesh and Maharashtra about the two detainees but without results.
While Kerala's ruling CPM says it's against draconian laws like the UAPA, Vijayan's government has allegedly been using it as a tool to silence critics.
Allan and Thaha, two students from CPM families, were arrested under the anti-terror law two years ago when they began criticising party policies. They were labelled Maoists and handed over to the NIA. Allan is now out on bail but Thaha remains in jail.