Supreme or Tapal Tea? Pak settles issue
Not war, but the brand of tea Abhinandan Varthaman was sipping is what the average Pakistani is concerned about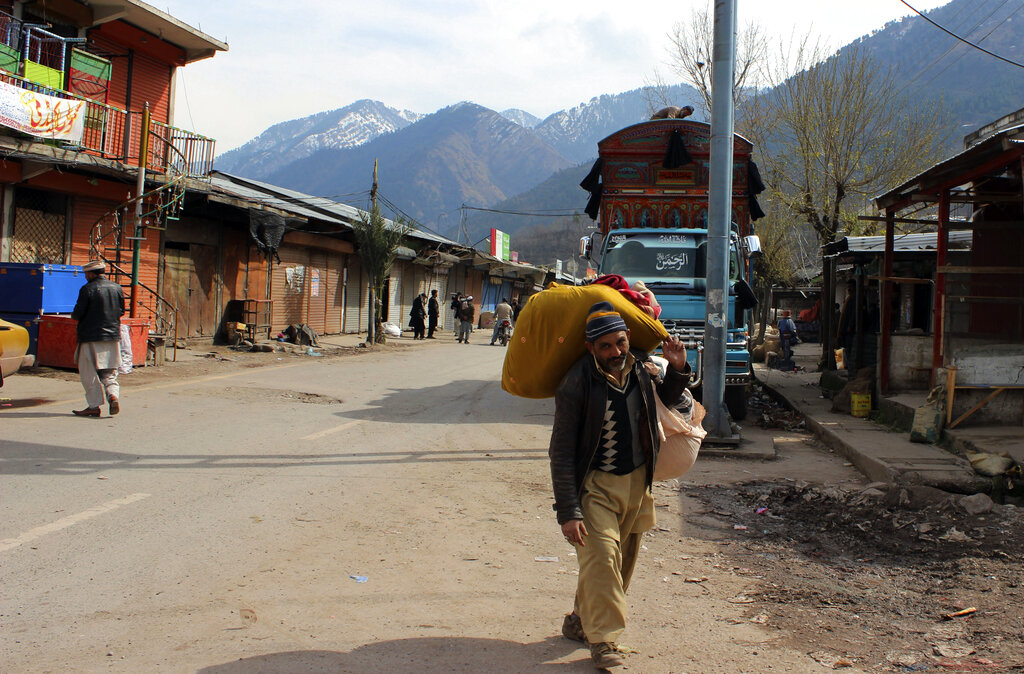 A Pakistani Kashmiri walks through a market at his hometown in Chakoti on the India-Pakistan border.
AP
---
Published 03.03.19, 10:42 PM
|
---
Thankfully, the drums of an imminent war seem to have stopped, at least for now. But the drummers, those men in mufti who are armed with high-impact bile, are frothing at the mouth; their cushy acoustic chambers produce the ambience of an incinerating gas chamber ready to roast everything to dust.
Following the Pakistan Air Force strike that resulted in the downing of one or two jets, the feeling that I got in Lahore was that a ferocious war was beckoning at our doorstep. What unnerved me the most was that I felt alone in my feeling of sinking in grief.
I rushed to grab some provisions that would see us through for a couple of months of affliction. My wife thought I was crazy, a view duly attested by her elder sister who lives on the other end of the city. Conveniently, my wife deflected the taunts by blaming it on what she calls my Kashmiri mindset — unnecessarily worrying about military conflagrations, wars and possible consequences.
On an average day, most Lahoris seem too preoccupied with their own gremlins or fantasies to worry about the wars they believe happen only in Kashmir, a place so far away in their imagination that it only elicits some remote nostalgia.
In 1965, when the city witnessed the war for real, many people rushed to their rooftops to watch as though they would be enjoying kite-flying, Atta-ul-Haq Qasmi, the Amritsar-born septuagenarian writer and columnist, wrote in his latest piece in Jang, the largest circulated Urdu daily.
Had the war started, we might have by now sleepwalked into a scenario of assured mutual destruction that, for the time, continues to remain a preserve of science fiction. In such a situation, it is hard to imagine that I would still be around to write this piece even if I were spared the instant cremation.
Regardless, the credit has been stolen by the mulish veers of Indian television who, in their self-propelled ardour for the nation, transformed their flickering conservatories into posh war rooms. Their enthusiasm for an assortment of long-range, spiky firearms and their attributes or impacts, and the political messaging that would be extracted from the destruction, remains unparalleled.
The daring attempt to re-brand the debris of the downed MiG engine as one that beats inside a Pakistani F-16 fighter, still thought to have been downed across an imaginary horizon, shall remain an all-time-great example of journalistic jugglery. Thankfully, the hack who tried to pull this off in full public view was busted live on television.
When the Pakistan army's media arm ISPR released a video of Wing Commander Abhinandan Varthaman sipping tea in quite a graceful pose, there was unprecedented speculation about the brand of the brew.
The initial reports that I received over WhatsApp suggested it was the Supreme tea that is attractively packaged in scarlet red with a love-heart-shaped bubble that rises from a hot cup.
But later, the consensus among my friends forced me to throw in the towel and accept that it was Tapal, the oldest Pakistani brand that was created by Karachi-based Adam Ali Tapal in 1947. Soon, a new version of an old Tapal TV advertisement, filled with portions of Abhinandan's "tea is good" video, surfaced.
Commenting on the cuppa, someone suggested that it was the costliest goblet, for it had been bartered for the cost of a couple of deadly flying machines.
Soon, Varthaman captured the imagination of his hosts as well as the crowd at home and was feted as a hero with the aid of various social media hashtags. Under the feel-good air or ultra-nationalist romanticism, everyone fell in line and acknowledged his bravery. Squadron leader Hassan Sidique, the Pakistan Air Force pilot who had downed him, was momentarily celebrated but has since faded into oblivion.
In this whole palaver, the Pakistani media has remained largely wedded to facts and displayed balance. However, there were some moments of falter that were, nonetheless, comical.
A day after the capture of the pilot, two anchors from a morning show at the 92 news channel appeared in military fatigues to steal some glory. But it was so clumsy that they came across as characters from an airbrushed version of the famous 1960s BBC sitcom, Dad's Army.
Similarly, a report in the Ummat, a multi-edition Urdu daily, mentioned how an association of fishermen with a membership of nearly a quarter million had pledged to defend the country alongside the army. Perhaps that was a much-needed boost to a navy that is otherwise the weakest of the three services.
A singular act of war solidarity caught my fancy. A 52-second video showed a smartly dressed gentleman from Sialkot pledging to fight "all the Hindus at the border", reiterating this popular Pakistani notion that India contains only Hindus, a fantasy that would be welcomed by the Hindutva forces.
Holding a double-barrel hunting rifle and an antique-looking pistol, the man in his mid-60s was roaming about the compound of a house with an unsound gait but seemingly determined to attain what he described as martyrdom.
In the background, a feminine voice issued continual support and encouragement. The video became viral and one Twitter comment proposed the person was more vexed by his wife than the IAF action in Balakot.
Murtaza Shibli is a British Kashmiri author and journalist. He writes a weekly column for two leading Pakistani dailies, The News and Jang (Urdu). He is also the author and editor of a book on the London bombings — 7/7: Muslim Perspectives. He lives between Srinagar, Lahore and London. Twitter: murtaza_shibli