Central govt declines to file fresh affidavit
Pegasus: SC gives Centre three days to 'stop beating around the bush'
If the government misses the deadline, the apex court will have the option of forming a special investigation team (SIT) for a court-monitored probe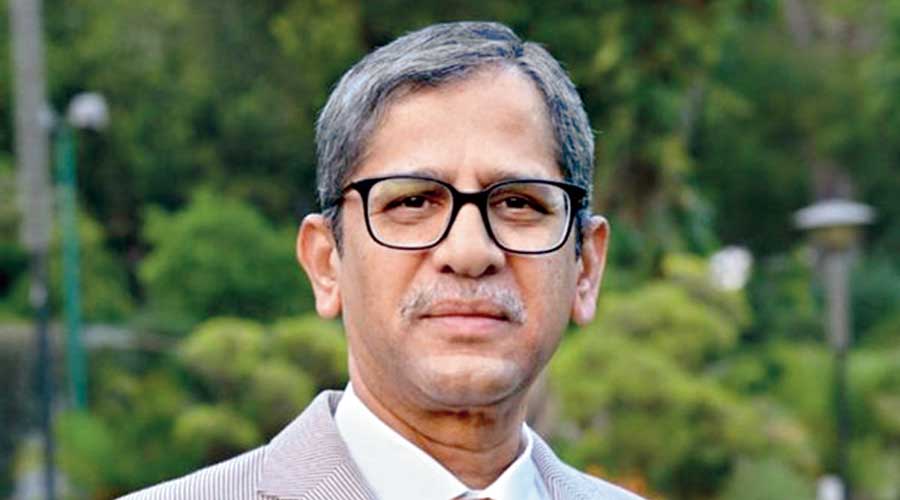 ---
New Delhi
|
Published 14.09.21, 03:24 AM
|
---
The Centre on Monday cited "national security" and declined to file a fresh affidavit admitting or denying snooping on citizens with the Israeli spyware Pegasus, prompting the Supreme Court to give it three days to reconsider or face a judicial order.
If the Centre misses the deadline, the apex court will have the option of forming a special investigation team (SIT) for a court-monitored probe into allegations of illegal, Pegasus-enabled surveillance on judges, journalists, politicians, activists and others.
The bench of Chief Justice N.V. Ramana and Justices Surya Kant and Hima Kohli handed the ultimatum to solicitor-general Tushar Mehta, who had persistently maintained during the nearly two-hour arguments that the Centre did not want to file a fresh affidavit.
When Mehta said the government was instead willing to appoint a committee of "independent" domain experts to investigate the allegations, Justice Ramana said: "Mr Mehta, beating around the bush is not the question here…."
The petitioners who have sought a court-monitored SIT probe into the Pegasus controversy have already rejected any investigation by a committee formed by the government
"We are not interested to know about national interest issues; we are only (concerned with) allegations that some software was used to snoop on certain citizens like lawyers, etc. We wanted to know if it's done and, if so, to see if it is permissible under law," Justice Ramana said. "We also don't want security issues to be put here."
The court had directed the government to file a fresh affidavit after its two-page affidavit failed to clarify whether the Centre had used Pegasus to spy on citizens.
On Monday, the CJI questioned the Centre's reluctance to file an affidavit, underlining that even if a government-appointed expert committee conducted the probe, it would still have to hand in its report to the court and "everything will be in public".
"We reserve orders. This is for interim orders. You have two-three days, Mr Mehta, if you have any rethinking you can mention before this court," Justice Ramana said.
Justice Kant told Mehta the court had already made it clear it did not want issues relating to national security made public.
"We were only expecting a limited affidavit since there are petitioners before us who say their rights have been infringed by A or B agency. You had to say whether it's done lawfully or unlawfully…. National security is not a part of present proceedings," Justice Kant said.
When Mehta maintained that revealing details "will not serve national interests", Justice Ramana remarked: "We are going back to, again and again, the same issue. We are not interested to know what you are doing to protect the interests of the country, etc, etc."
"Your minister admitted in Parliament that government has taken note of the software being used…. If you file an affidavit, then we know where you stand as per your minister's statement," Ramana added.
Justice Ramana then said: "Now they don't want to file an affidavit. So we will pass an order — what to do?"
Senior advocate Kapil Sibal, appearing for petitioners N. Ram and Sashi Kumar, had earlier countered the Centre's national interest line, saying that using Pegasus against citizens was detrimental to justice and the right to privacy.
Senior advocate Shyam Divan, representing petitioner Jagdeep Chhokar, said Pegasus enabled not just surveillance but also the implanting of false data in a target's device.
Senior advocate Rakesh Dwivedi, appearing for certain other petitioners, cited the Civil Procedure Code to argue the Centre ought to categorically deny the allegations through an affidavit.