Supreme Court judge of Nupur Sharma plea slams 'personal attacks for judgments'
'It can lead to dangerous scenario'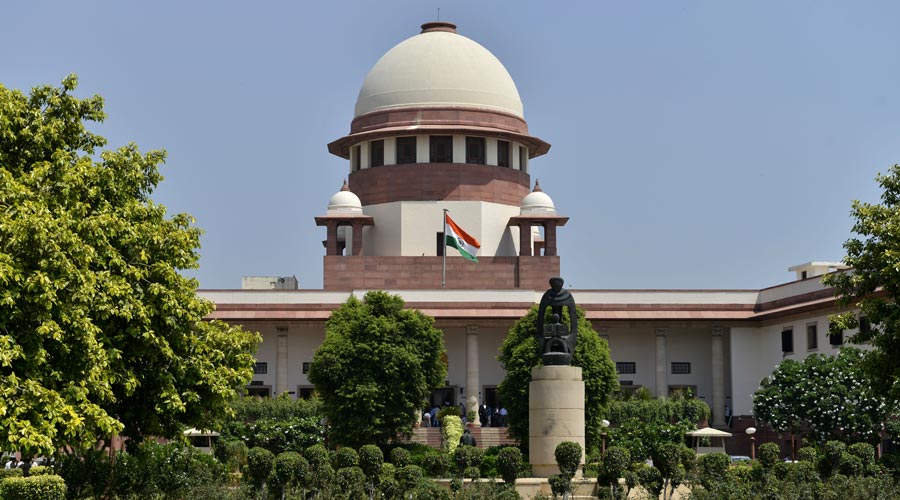 Supreme Court of India
File Picture
---
New Delhi
|
Published 03.07.22, 06:15 PM
|
---
Supreme Court judge who heard Nupur Sharma plea slams "personal attacks for judgments", says "can lead to dangerous scenario", reports ndtv.com.
"Personal attacks on judges for their judgements lead to a dangerous scenario," said Justice JB Pardiwala - part of the bench that told former BJP spokesperson to apologise to the whole country. 
A bench on Friday had said Nupur Sharma, the suspended BJP spokesperson who made derogatory remarks on Prophet Mohammed, had "ignited emotions across the country" with her "loose tongue" and was "single-handedly" responsible for what is happening in the country.
The bench also wondered why Delhi police, who had been quick to arrest others, had not acted against her so far.
"These people are not religious. They have no respect for other religions. These remarks have led to unfortunate incidents in the country. These remarks were made for cheap publicity or for political agenda…," the bench of Justice Surya Kant and Justice J.B. Pardiwala said.
Both Pardiwala and Surya Kant were attacked on social media following their comments against Sharma. 
At one point, referring to the right to freedom of expression, the court said: "Yes. In a democracy everyone has the right to speak. In a democracy, grass has the right to grow and donkeys have the right to eat."
Amid a social media debate over the impact of the court's comments, one factor that stood out was the silence of the executive leadership. Had the Prime Minister made a swift and unequivocal statement, especially when at least three people were killed in the wake of Sharma's comments, a glaring vacuum would have been filled and the court would not have had to make the observations.
The court refused to entertain Sharma's petition seeking the clubbing of at least nine FIRs filed against her in multiple states for the remarks, made on the TimesNow channel in end-May, which had provoked outrage in the country and in West Asia. Sharma's counsel then sought permission to withdraw the petition, which was granted.
The court's stinging remarks triggered a debate on social media with some users wondering why the court had not gone beyond the condemnation and ordered Sharma's arrest. But others underlined that the brief of the bench was to decide on clubbing the petitions, and any arrest must follow due procedure such as investigations conducted by the police on the basis of the FIRs.
Another group worried about the larger fallout of the comments, fearing whether the court's observations might be misused by a vindictive State to get multiple FIRs lodged in several states to harass dissenters.
But lawyers pointed out that the Supreme Court bench had advised Sharma to explore other remedial measures, such as approaching lower courts with her plea.