Pollution sticker rap for law ministry
Delhi, according to a WHO report, is one of the most polluted cities in the world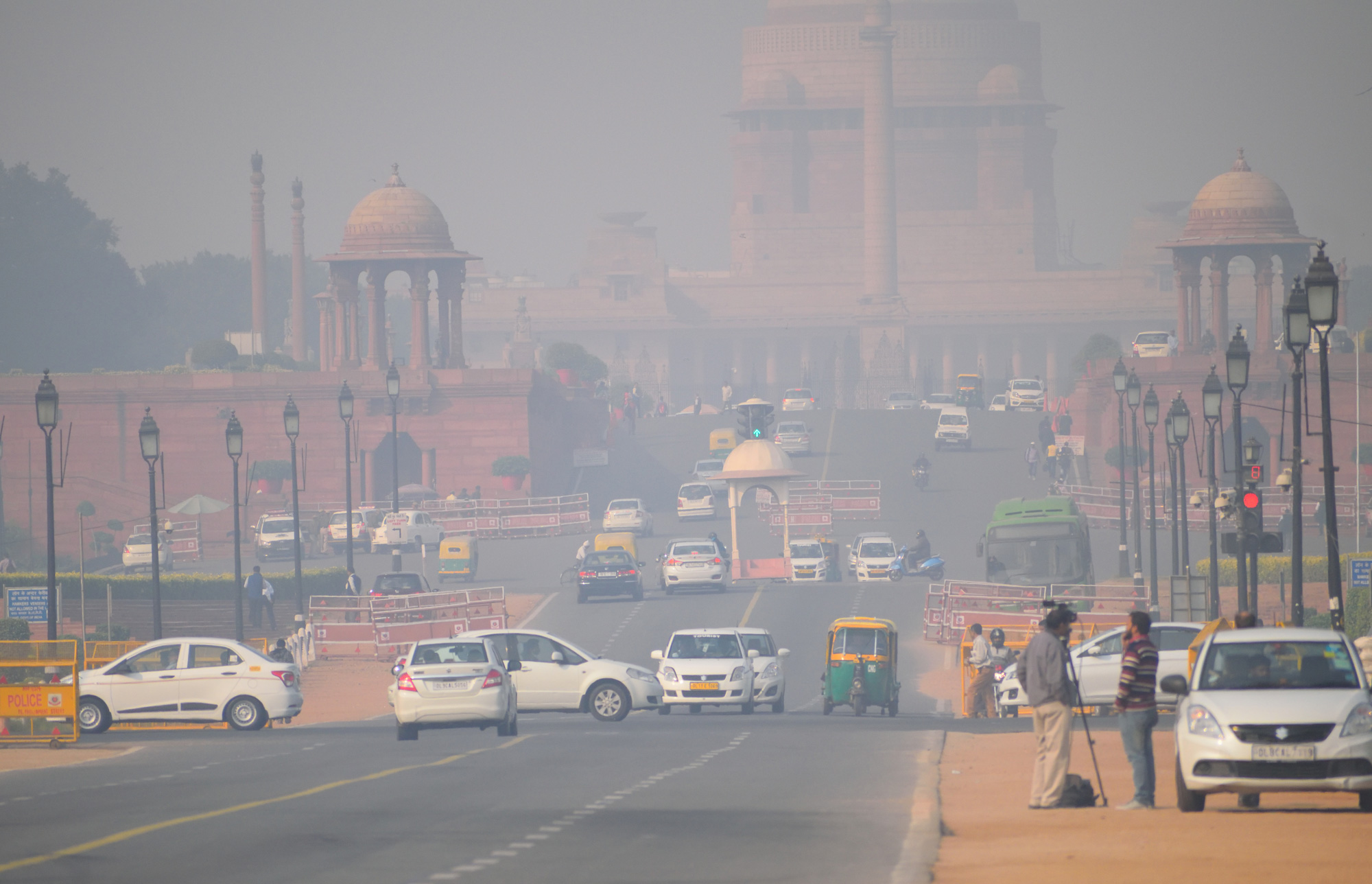 Vehicles moving on the road amidst heavy smog in New Delhi last winter.
Shutterstock
---
New Delhi
|
Published 28.11.18, 10:55 PM
|
---
The Supreme Court on Wednesday sought an explanation from the Union law ministry on why it had not acted on an order to have separate coloured hologram stickers for polluting and non-polluting vehicles across the country, particularly in Delhi that has witnessed severe pollution in the past one month.
Additional solicitor-general Atmaram Nadkarni, appearing for the Centre, assured the bench of Justices Madan B. Lokur, Abdul Nazeer and Deepak Gupta that he would reply on Thursday after seeking instructions from the law ministry. The court listed the matter for further hearing to Thursday.
On August 13 the Supreme Court had directed that from October 2 all petrol and CNG vehicles in the Delhi-National Capital Region would have to mandatorily display blue (non-polluting) stickers, while diesel vehicles orange (polluting) stickers, as a measure to prevent rising pollution in Delhi, which according to a WHO report is one of the most polluted cities in the world. Over a period of time thereafter the rule is to be extended to other cities across India.
However, when the matter came up for hearing on Wednesday, amicus curiae Aparajita Singh said that after the Supreme Court order, the road transport and highways ministry had forwarded the draft rules to the law ministry for its opinion. The road transport and highways ministry had also told the state governments and the Union territories to comply with the court's orders.
According to Singh, while the transport ministry showed commendable alacrity by issuing the orders within a day of the Supreme Court directive, the law ministry was yet to clear the proposal.
She told the court that the air pollution levels in Delhi had reached the "severe" category and that the Environmental Pollution Prevention and Control Authority had hoped that the situation would be better if the directive was implemented on time. However, the EPCA was unable to take remedial action as the matter was pending with the law ministry.
The Supreme Court then directed the additional solicitor-general to seek an explanation on why the law ministry was sitting on the files.
"Judicial activism is one thing but executive inactivism is also one thing," Justice Lokur observed while passing the direction.
On August 13, the court had noted that the mandatory colour stickers would enable the authorities to stop vehicles of a particular fuel type and age from plying on high-pollution days on specified routes.