Sudden brake on visits from Bangladesh
Bangladesh's foreign minister and home minister cancelled their scheduled trips to India over the coming days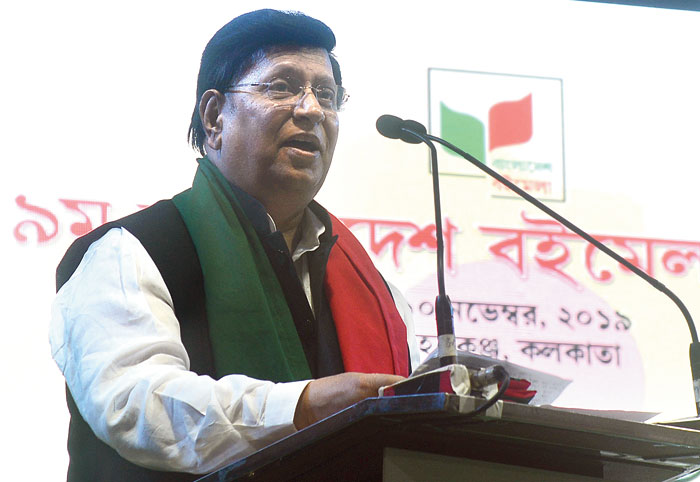 ---
New Delhi
|
Published 12.12.19, 10:01 PM
|
---
The Citizenship (Amendment) Bill appears to have alienated Bangladesh — India's most steadfast friend in South Asia in recent years — and also cast a shadow on the optics-laden meeting Prime Minister Narendra Modi had planned with Japanese Premier Shinzo Abe in Guwahati from Sunday.
While uncertainty looms large over the Modi-Abe meet, Bangladesh's foreign minister and home minister cancelled their scheduled trips to India over the coming days.
India confirmed on Thursday that Bangladesh foreign minister A.K. Abdul Momen had cancelled his visit, citing scheduling issues a day after he openly contested Union home minister Amit Shah for including Bangladesh in the list of countries where minorities are persecuted.
According to foreign ministry spokesman Raveesh Kumar, the Bangladesh side has conveyed that the minister has changed his programme on account of domestic issues pertaining to the commemoration of Victory Day in Bangladesh on December 16.
He also dismissed efforts to link the cancellation to the CAB and the narrative that the government had built to justify bringing the religion-specific amendment.
That the cancellation is sudden is clear from the fact that late on Wednesday night the external affairs ministry had shared the itinerary of Momen's visit. Momen was scheduled to arrive on Thursday evening, attend the combined session of Delhi Dialogue XI and Indian Ocean Dialogue VI on Friday, and follow it up with a breakfast meeting with Indian counterpart S. Jaishankar on Saturday.
Also, sources pointed out that Victory Day commemoration is an annual event and ministerial schedules are usually prepared keeping such events in mind, adding that the reason cited for cancellation does not hold much water. Add to this Momen's own statements on Wednesday.
PTI quoted Momen as saying that "India is historically a tolerant country which believes in secularism (but) their historic position will be weakened if they deviate from that".
Bangladeshi media reported that if Shah came and stayed in Bangladesh, he would see exemplary communal harmony there.
Momen also claimed that the US ambassador to Bangladesh had shared with him Washington's view that India was weakening its position by passing the CAB.
A day later his visit to India stood cancelled. Local media quoted him as saying that
"I had to cancel my trip to New Delhi as I have to participate in Buddijibi Dibosh and Bijoy Dibosh and more so as our state minister is out of the country in Madrid and our foreign secretary is in The Hague".
By Thursday evening, there was word that Bangladesh's home minister Asaduzzaman Khan, too, had called off his visit to Shillong over the weekend at the invitation of Meghalaya chief minister Conrad Sangma, whose party had supported the CAB in Parliament.
Khan has apparently cancelled his visit to Shillong on the advice of the Bangladesh foreign office owing to the security situation in the state because of the CAB-related protests.
The Indian government has begun a damage-control exercise trying to set the record straight that Shah had never accused the current Bangladesh government of persecuting minorities. A particular clip from Shah's speech in the Lok Sabha where he was appreciative of Sheikh Mujibur Rehman and the current dispensation was cited by Kumar and also circulated widely.
However, this does not blunt the fact that Shah has repeatedly spoken of Bangladesh in terms of infiltration, calling illegal immigrants termites and announcing that they would be hunted down, painting the neighbouring country in poor light.
On the Abe visit, Kumar's refrain to a series of questions was "I am not in a position to clarify, I don't have an update".
On Wednesday, officials had said that both capitals had exchanged views on Abe's India visit in the context of the emerging situation in Assam. An alternative venue is being considered — most likely Delhi — but the Japanese who are particularly disciplined are also in a tizzy over the fluid situation.