'Right to free speech cannot become hatred'
Don't brand a community: SC
The judges are hearing petitions against the telecast of a TV programme that alleges a large number of jihadis have infiltrated central government services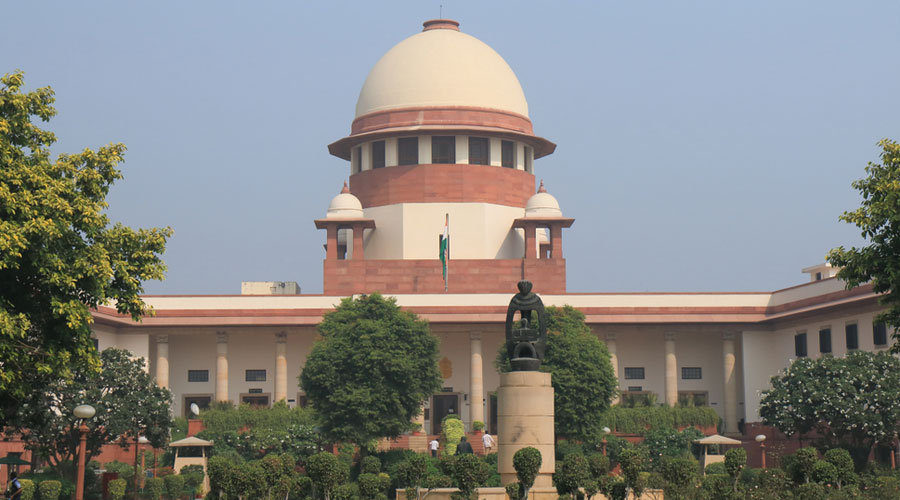 ---
---
The Supreme Court said on Friday that it fully recognised concerns of national security but could not allow a particular community to be targeted and branded anti-national as this would alienate even the good members of the community from the national mainstream.
"Let a message go to the media that a particular community cannot be targeted. We have to look after a nation of the future which is cohesive and diverse. We recognise national security but we need to respect individuals, too," a bench headed by Justice D.Y. Chandrachud said.
The judges are hearing petitions against the telecast of a TV programme that alleges a large number of jihadis have infiltrated central government services.
The court said the stay it had imposed on the Sudarshan News programme could be vacated only if the channel gave a credible assurance that its further episodes would not result in passions being inflamed against a particular community.
"We are very conscious that pre-publication restraint is a matter of extreme recourse. We don't issue such injunctions readily…. We know it can take us down a slippery slope," the bench, which includes Justices Indu Malhotra and K.M. Joseph, told senior advocate Shyam Divan, who is appearing for the channel.
The bench made the observation after Divan said the channel had done extensive investigations to unearth the "illegal funding" of a foundation by organisations with overseas terror links to achieve the objective of facilitating the infiltration of the country's civil services.
"You are entitled to do so (investigate), if you feel it impinges on national security," the court said.
"But look at Annexure A1, when reference is made to Mr Owaisi (Asaduddin Owaisi of the MIM), the segment starts with flames in the background. Words such as 'namakharam' are used. Again while Mohd Imran is quoted, flames are shown."
The bench added: "A chart on the increase in Muslim (representation) from 2011 in UPSC services is shown. A graphic of a skullcap, beard and green skin is shown and again with flames in the chart…. You say, 'See how they are getting foreign funds, enticing our wives and daughters and doing love jihad'."
The bench said it was concerned that a whole community was being implicated.
"This is the real issue. Whenever you show them joining the civil services, you show the ISIS. You want to say that Muslims joining the civil services is a part of a deep-rooted conspiracy. Can the media be allowed to target a whole set of community?" Justice Chandrachud asked.
Justice Indu Malhotra added: "I saw one of the episodes and it was hurtful to watch. You need to take down flames and the green shirt, etc."
The bench said it was not in favour of censoring news or laying down what needs to be pulled down, but the media must maintain a certain restraint.
"Whenever you are showing a Muslim, you show them in a green T-shirt and skullcap," Justice Chandrachud said.
Divan agreed that the media must not do such stereotyping and that the channel would now know that such acts should be frowned upon.
"If you want to investigate Zakat India (the foundation), then go ahead. But, then, painting all candidates as carrying out an agenda shows a kind of hatred," Justice Chandrachud said.
"This is the element of concern where the right to free speech becomes hatred. You can't brand every member of the community. You alienate the good members too by the divisive agenda."
The court asked Divan: "If we allow the broadcast, what are the assurances that you are willing to give us?"
Justice Malhotra said: "The flames, etc, need to be taken off. We cannot depict the pictures of persons wearing skullcaps and green T-shirts...."
Justice Chandrachud said: "You have to tell us voluntarily what you will do to assuage our concerns. We don't want to come in the way of journalism. We know as a court what happened during the Emergency. So, we will ensure free speech and ideas."
Solicitor-general Tushar Mehta, appearing for the Centre, told the court that the existing rules were sufficient to regulate the conduct of such channels.
He said all district collectors were empowered to take appropriate action, and that punishment had been prescribed in the law for those violating the norms.
The court said the National Broadcasting Association (NBA) was a "toothless tiger" despite having a former Supreme Court judge on its board, as it can impose only a fine of Rs 1 lakh on erring members. It also underlined that Sudarshan News was not an NBA member.
"An injunction order from us is like a nuclear missile and we know it. You, solicitor-general, tell us how will you bring in self-regulation? You have to give them teeth," Justice Chandrachud said.
Justice Joseph asked Divan: "You have said that pre-censorship cannot be there till all episodes are over. What are the consequences if you violate the programme code? Can you be convicted under Section 16 of the Cable Networks Act?
"You are not a cable operator. You are a broadcaster…. This act applies only to cable operators. You are brought in by the policy guideline of uplinking."
Justice Joseph said that projecting a particular community with skullcaps and green T-shirts "generates hate".
He highlighted that in one episode, Udit Raj, an MP, was badly treated by the anchor.
"See how he was treated. You did not agree with him. One of the members of the audience was interviewed and he says Muslims should not get OBC benefits. What kind of attitude are you inculcating by doing this programme?" Justice Joseph said.
"All communities want a part of the slice of the power-centre cake. You have put up a cocktail of various factors but at bottom you are maligning an entire community."
During the three-hour arguments, Divan defended the channel and its editor, saying every effort had been made to reach out to the organisations named in the episodes but they had refused to give their side of the story.
The hearing resumes on Monday.