Vilification TV last straw on Supreme Court's back
The BJP-led Centre, perceived to be the biggest beneficiary of the diversionary witch-hunt and stigmatisation, bats for 'journalistic freedom'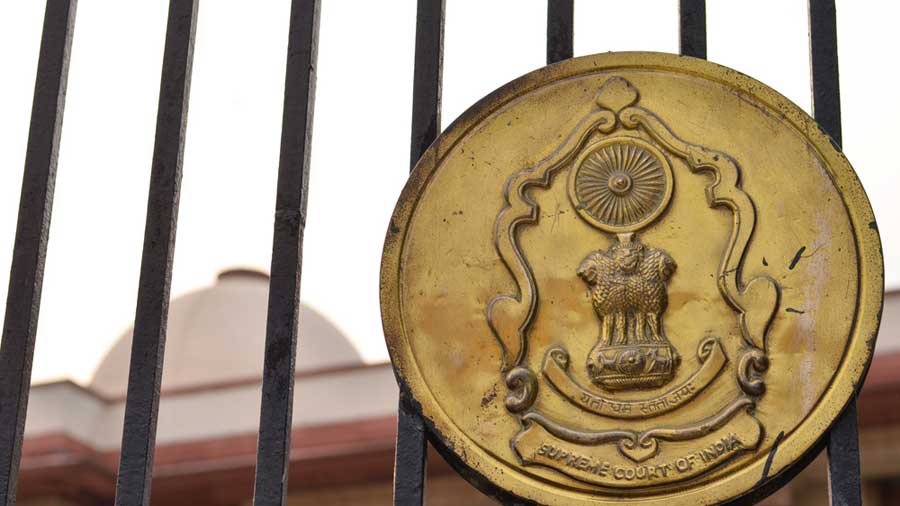 ---
---
The Supreme Court on Tuesday stayed until further orders a programme by a TV channel called Sudarshan News that suggested a large number of jihadi elements had infiltrated the central government services.
The bench said it would also appoint a committee of five distinguished citizens to recommend standards for the electronic media.
The BJP-led Centre, perceived to be the biggest beneficiary of the diversionary witch-hunt and stigmatisation that several TV channels pass off as journalism, batted in the court for "journalistic freedom".
On the particular programme, Justice D.Y. Chandrachud, heading a three-judge bench, observed while passing the injunction: "We are concerned…. When you say students who are part of Jamia Millia are part of a group to infiltrate the civil services, we can't tolerate. As the Supreme Court of the nation, we cannot allow you to say that Muslims are infiltrating the civil services. You cannot say that the journalist has absolute freedom doing this."
Later, the bench, which includes Justices Indu Malhotra and K.M. Joseph, said in a written order: "It appears to the court that the object of the programme is to vilify the Muslim community and make it responsible for an insidious attempt to infiltrate the civil services…. Any attempt to vilify a community must be viewed with disfavour…."
The top court will take up on Thursday (September 17) the fate of the stayed programme. Some episodes of the programme have already been telecast.
The bench is dealing with a batch of petitions filed by Muslim individuals and retired Hindu civil servants, seeking a restraint on the channel from telecasting the show.
On Tuesday, the hearing that went on for two hours witnessed sharp exchanges between the bench and solicitor-general Tushar Mehta, appearing for the Centre, and senior advocate Shyam Divan who is representing the channel.
The following are excerpts from the exchange between the bench and the Bar:
Senior advocate Anoop Chaudhari, appearing for some petitioners: "If you read the transcript, you will see that they say Muslims are infiltrating the civil services. They say Muslim OBCs are eating the share of other OBCs. They have used… very unfortunate words. There are only 292 Muslim officers in the services."
Justice Joseph: "We need to look at the ownership of the visual media. The entire shareholding pattern of the company must be on site for public.
"The revenue model of that company should also be put up to check if the government is putting more ads in one and less in another.
"Media can't fall foul of standards prescribed by themselves. Next, in debates, one needs to see the role of the anchor. How one listens when others speak…. But check in the TV debates the percentage of time taken by the anchor to speak. They mute the speaker and ask questions.
"The freedom of media is on behalf of the citizens."
Justice Chandrachud: "The power of the electronic media is huge. The electronic media can become the focal point by targeting particular communities or groups. The anchors' grievance is that a particular group is gaining entry into civil services. How insidious is this!
"Such insidious charges also put a question mark on the UPSC exams. Aspersions have been cast on the UPSC. Such allegations without any factual basis, how can this be allowed? Can such programmes be allowed in a free society?
"Reputations can be damaged, image can be tarnished. How to control this? State cannot do this. Shouldn't there be enforceable standards that the media profess itself to so that Article 19(1)(a) is upheld? (The article guarantees the right to speech and freedom of expression.)"
Solicitor-general Mehta (appearing for the Centre): "Freedom of the journalist is supreme. There are two aspects of the statements by Justice Joseph. It would be disastrous for any democracy to control press.
"There is also a parallel media other than electronic media where a laptop and a journalist can lead to lakhs of people viewing their content."
Justice Chandrachud: "We are not on social media today. We cannot choose not to regulate one thing because we cannot regulate all."
Mehta: "I am talking about electronic media and print media. Justice Joseph's concerns have to be addressed by giving respect to journalistic freedom. There are a large number of web portals whose ownership is different from what they show."
Justice Joseph: "When we talk about journalistic freedom, it is not absolute. He shares same freedom as other citizens. There is no separate freedom for journalists like in the US. We need journalists who are fair in their debates.
"When journalists operate, they need to work around the right to fair comment. See criminal investigation, the media often focuses only on one part of the investigation.
"This kind of shows is making people shut their TVs. If the media fails to realise this, they will be out of business. In the end, quality matters, whether it is a show, a company in which we intend to invest or a person we wish to trust."
Justice Chandrachud: "Let the best within the nation suggest measures which we can help debate on our platform and then arrive at standards…. Now an anchor is targeting one particular community. To say we are a democracy, we need to have certain standards in place."
Justice Chandrachud (to Divan, the advocate for the TV channel): "Your client is doing a disservice to the nation and is not accepting India is a melting point of diverse cultures. Your client needs to exercise his freedom with caution."
Divan: "I have been instructed that it is an investigative story. Rest we need to file an affidavit."
Nisha Bhambani: "We are for the News Broadcasters Association."
Justice Chandrachud: "We need to ask you if you exist apart from the letterhead. What do you do when a parallel criminal investigation goes on in media and reputation is tarnished?"
Mehta: "We cannot compartmentalise electronic and print media."
Justice Chandrachud: "People might not read newspapers today but watch television. Again, reach of local papers in local languages is more than mainstream English newspapers. Watching TV has an entertainment value whereas newspaper has none. That's why we want to have standards."
Mehta: "For example, I run a YouTube channel. How can my funding be ascertained?"
Justice Joseph: "Rule 6 of the programme code notes that cable TV programmes cannot show anything that targets a particular religion or a community."
Mehta: "Your Lordships must have seen those programmes where 'Hindu terror' was highlighted. The question is to what extent can courts control the publication of content."
Justice Chandrachud: "The mediums have changed. Now Internet is a vexed area as one can operate it from anywhere."
Mehta: "We are looking at electronic media as these companies are the ones which are based in India. We cannot say we won't regulate electronic media just because we cannot control the Internet.
"During the lockdown there was a web portal which carried a show as to how the lockdown will lead to food scarcity and food riot, thus leading to migration. I don't consider it less serious than a threat to communal disharmony."
Justice Joseph: "The problem with electronic media is all about TRPs, thus leading to more and more sensationalism. So many things masquerade as a form of right."
Mehta: "It needs to be seen if a potential accused can be given a platform to air the defence."
Advocate Shadan Farasat (appearing for some petitioners): "This show has completely vilified the image of Muslims in the civil services. They have been called a terror. Hate speech is something where right to respond is not possible. How does one respond to a statement that Muslims should not be in the civil services?"
(Divan seeks two weeks' time to place on record all the material relating to the telecast.)
Justice Joseph: "Will you defer the airing till then?"
Divan: "Not at all. I am not making any such concession."
Sharukh Alam (another advocate for the petitioners): "A young child has sent a video saying he is taking a pledge against anti-nationals and become like @SureshChavhanke (who runs Sudarshan News and anchors the particular programme)…. These videos are being used as promotional content…. These videos have about 8,000 likes."