Swamy's IT cell head sack ultimatum to BJP
The demand came after the Rajya Sabha member accused Amit Malviya of running a campaign against him through tweets from fake IDs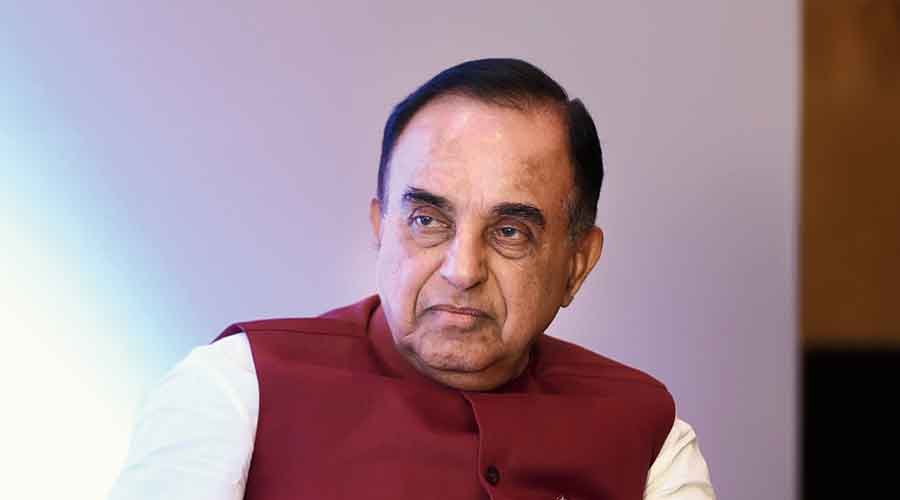 Subramanian Swamy
File picture
---
New Delhi
|
Published 10.09.20, 01:24 AM
|
---
BJP Rajya Sabha member Subramanian Swamy on Wednesday warned the leadership of a Mahabharata-like situation if party social media head Amit Malviya was not sacked by Thursday.
"By tomorrow if Malviya is not removed from BJP IT cell (which is my five villages compromise proposal to Nadda) it means the party doesn't want to defend me," Swamy tweeted. "Since there is no forum in the party where I can ask for cadre opinion… I will have to defend myself," he added.
In the epic Mahabharata, Krishna had proposed that Duryodhana give five villages to the Pandavas as a compromise to avert a disastrous war.
The ultimatum, addressed to BJP president J.P. Nadda, came after Swamy on Monday accused Malviya of running a campaign against him through tweets from fake IDs. Swamy, however, did not specify the issue.
"The BJP IT cell has gone rogue. Some of its members are putting out fake ID tweets to make personal attacks on me," Swamy had tweeted, threatening "counter attacks" by his followers. Swamy has a formidable base of 9.9 million followers on Twitter.
Malviya did not respond to calls and messages from this newspaper for comment on Swamy's outburst. Swamy, too, did not respond to calls.
Malviya, who heads the BJP's social media activities as the chief of the party's information technology wing, has frequently been accused of peddling fake news and leading an army of trolls who viciously target any opposition to the government.
Recently, several Twitter users displaying the national flag in their IDs had called Swamy a "Chinese agent". Some videos of Swamy making comments against the Narendra Modi government had also been widely shared on social media platforms.
On Tuesday, Swamy had objected to foreign minister S. Jaishankar's meeting with his Chinese counterpart in Moscow over the border standoff. "Why does the Foreign Minister Jaishankar have to meet his Chinese counterpart in Moscow? Especially after the Defence Ministers have met? India has no foreign policy issues to settle since May 5, 2020. Therefore PM must ask the EAM to cancel his trip. It dilutes our resolve," Swamy had tweeted.
Swamy, known to be a maverick and a hardline Hindutva campaigner, has been strongly opposing the government's move to hold the JEE and NEET exams amid the pandemic. He has supported the agitation by students against holding the exams and written to Modi on the issue. The Rajya Sabha MP has been trolled on social media for this too.
Some BJP leaders suspect that Swamy had aided the recent social media campaign against Modi over the exams, during which uploads relating to the Prime Minister were widely "disliked" and received negative comments.
In the past, Swamy had been critical of the government's handling of the economy and openly expressed his desire to fix things if he was made finance minister.
The BJP leadership has chosen not to comment in public on Swamy's threat. BJP insiders, however, declined the possibility of any action against Malviya, pointing out that Swamy has on several occasions gone against the government and the party line.