Students build mobile kitchen
Jai and Veeru showed what bromance could be on a bike. Forty years on Arun and Krishna are literally making people ask what's cooking.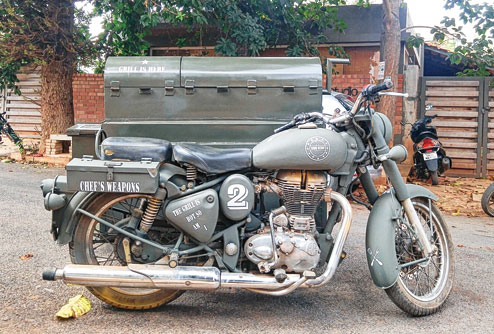 ---
---
BANGALORE BROTHERS HIT STREETS WITH BARBECUE BIKE
Bangalore, Nov. 27: Jai and Veeru showed what bromance could be on a bike. Forty years on Arun and Krishna are literally making people ask what's cooking.
In their kitchen, that is.
The common ingredient: a Royal Enfield fitted with a sidecar that the real-life brothers have converted into a mobile barbecue on three wheels.
Arun Varma, 22, and Krishna Varma, 21, have been doing brisk business in Bangalore - just 50km from Ramanagara where Sholay, the 1975 blockbuster, was filmed - since they visualised the sidecar as an entrepreneurial utility.
If the image of Amitabh Bachchan and Dharmendra riding a sidecar-fitted Royal Enfield left male movie buffs lip-synching to their unforgettable friendship lyric " Yeh dosti hum nahin todenge", brothers Varma have been pandering to people's appetite for fast food like rolls, burgers and barbecued meat and vegetables.
Branded BBQ Ride, their two Royal Enfield Bullet bikes - painted olive green - have been doing the rounds of city neighbourhoods and events for about six weeks now.
"We went for this contraption since the narrow roads of our busy city pose a problem for parking food trucks," said Arun, a final-year Bachelor of Business Administration student.
They should know. Last year they had started two food trucks with money borrowed from parents and relatives. Around six months back, they converted a Tata Nano into an ice cream car that shuttles between neighbourhoods every day.
It was the difficulty of finding parking space for their custom-fitted food trucks that drove them to think out of the box. "We designed the whole sidecar and got it fabricated at a relative's workshop to keep the cost down," said Arun, who runs the enterprise with Krishna, a final-year BCom student.
Every inch of the sidecar has been utilised. While the barbecue stove is fired with charcoal, the hotplate is connected to a 5-kilo LPG cylinder concealed in one of the sidecar's many chambers.
"We took about two months to pick the right bike that can pull this sidecar and narrowed down on two used Bullets," Arun said.
Arun started getting franchisee enquiries from various cities within a couple of weeks of launching the barbecue bikes. "I have wrapped up four franchisee deals, one each in Hyderabad, Visakhapatnam, Chennai and Pune, and I'm negotiating with three others in Calcutta and hope to sign more deals soon," said the young man.
Krishna gives most of the credit to his brother. "The idea was his. But I helped him in everything since I too love cooking," he said.
Wary of copycats, the brothers have also filed for a design patent.
So what made them enter the food business?
It all started when the brothers shifted to Bangalore for their college education from their native Andhra Pradesh. Like most bachelors, the main issue was finding good food. So they took to cooking. "We had to learn from scratch to cook basic food as eating out was expensive," Arun said, recalling their early days of roughing it out.
That developed into a passion for cooking continental and Chinese dishes. And then came the 2014 American movie Chef in which the central character played by Jon Favreau quit his job to start a food-truck business. "That movie inspired us and worked up our risk appetite to hit the growing street-food scene in Bangalore," Arun said.
"The bikes have been hired seven times so far for parties where the organisers looked for some variety food cart," Arun added.
Another advantage is easy maintenance, as the bikes can be operated by just one person. "We need two persons only during busy days or when there is an event. Otherwise, one person is enough to ride, cook and serve," he said.
Like the food trucks, their salaried employees, who handle the bikes, collect daily inputs like marinated meat, breads, burger buns and vegetables from their dedicated base kitchen near Hebbal in north Bangalore. The brothers pitch in whenever needed.
Both have often missed class to handle busy days at work. "But, at the end of the day, I think it's worth it," Arun said.