Stop mocking India's PM, Congress tells Trump
Govt silent on US President's comment on Prime Minister Narendra Modi not doing enough in Afghanistan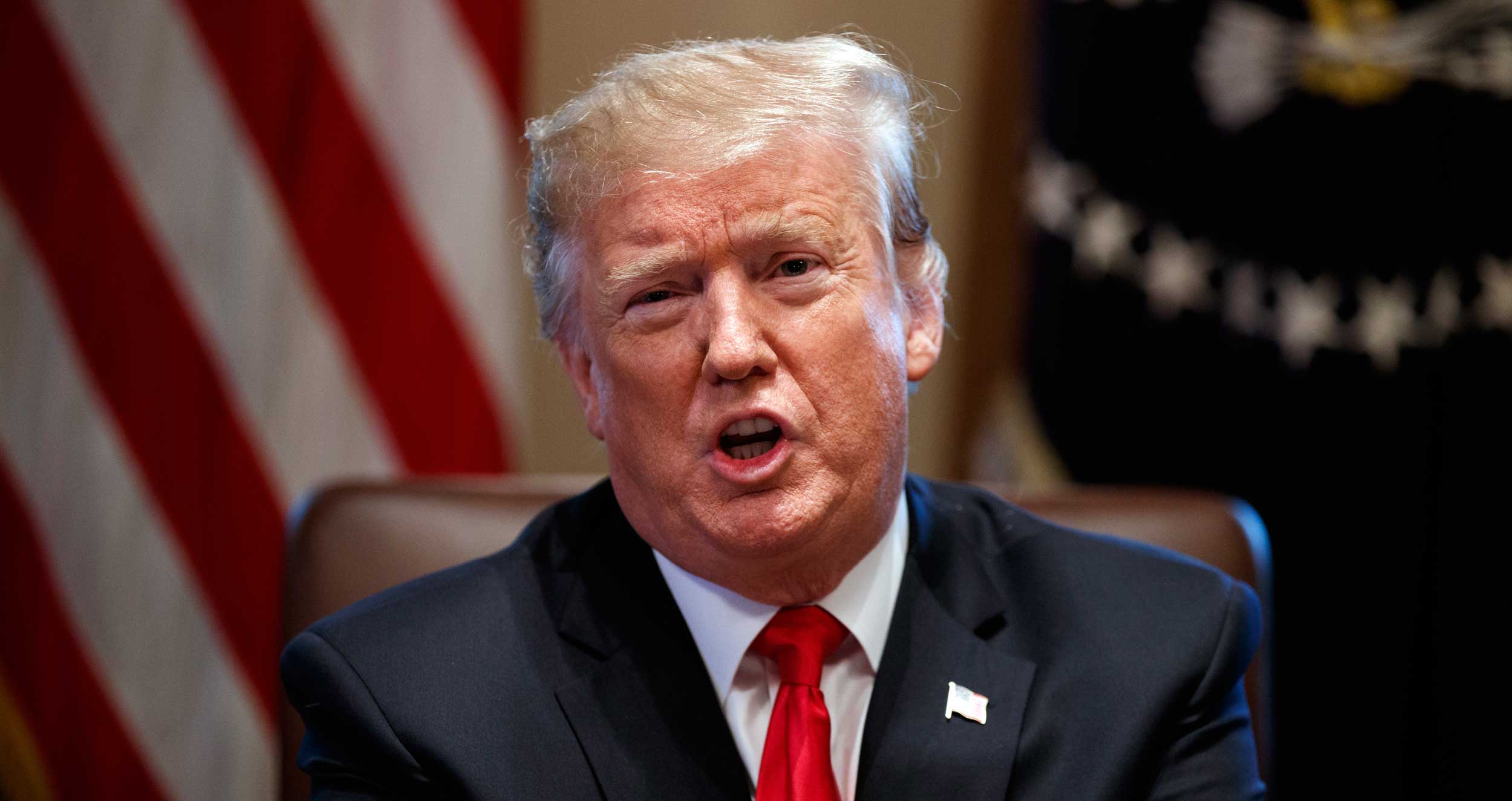 US President Donald Trump speaks during a cabinet meeting at the White House on Wednesday.
AP Photo
---
New Delhi
|
Published 03.01.19, 10:07 PM
|
---
The Congress has stepped forward to defend "India's PM" after US President Donald Trump mocked Prime Minister Narendra Modi for not doing enough in Afghanistan and the external affairs ministry opted for diplomatic silence.
"Dear Mr. Trump, Stop mocking India's PM. India doesn't need sermons from the US on Afghanistan. Under Dr Manmohan Singh, India helped build Afghan National Assembly. Humanitarian needs to strategic economic partnership, we are one with our Afghani brothers & sisters,'' Congress media in-charge Randeep Surjewala tweeted in the evening, after hours of silence from the government.
The Congress stood up for the Prime Minister in the middle of bitter personal attacks on its party president by Union minister Arun Jaitley on successive days.
Trump took the swipe at Modi at a White House news conference after his first cabinet meeting of the year where he urged India, Pakistan, Russia and others in the regionto do more following his decision to halve the US troops presence in Afghanistan.
"I get along very well with India and Prime Minister Modi. But he is constantly telling me, he built a library in Afghanistan. Library! That's like five hours of what we spend (in Afghanistan)…. We are supposed to say, oh thank you for the library. Don't know who's using it (the library) in Afghanistan,'' Trump said. The Congress response is an articulation of India's stated policy for years through successive governments, and Modi has chosen to pursue this despite rubbishing his predecessors' work
Trump was way off the mark as New Delhi has committed over $3 billion in Afghanistan, which makes India the largest donor in the region. The Trump administration recently gave a sanctions waiver to India's Chabahar port in Iran precisely because of its centrality to providing land-locked Afghanistan access to sea routes.
Sources pointed out that India has studiously avoided putting "boots on the ground" in civil-war-like situations anywhere in the world except "under the specific mandate of the United Nations Peacekeeping Operations".
The last time India was pressured by the US to send troops to foreign soil was during its occupation of Iraq but then Prime Minister Atal Bihari Vajpayee is understood to have nudged the Opposition to raise a stink to force those in his party open to the idea to back off. India did not send the troops.
Senior Congress leader Ahmed Patel too spoke out against Trump's statement, tweeting: "Tenor & tone of the US President describing the Prime Minister of India is not in good taste & is completely unacceptable. Hope our Govt responds firmly & reminds America that since 2004, India has built extensive roads, dams in Afghanistan & pledged over $3 billion in assistance."
The government offered no official reaction to Trump, but late in the night it published an e-book on the ministry of external affairs website titled: "India-Afghanistan: A historic and time-tested relationship."
The e-book details the projects undertaken over the years in Afghanistan, where India under successive governments has been a significant development partner.
Its role is seen as benign when compared to Pakistan, which eyes its neighbour across the Durand Line as a potential source of "strategic depth".
Apart from helping build capacities of Afghan nationals and institutions in governance and public service, India has helped construct several infrastructure projects. One is the 219km Zaranj-Delaram Road connecting Iran with the Garland Highway that links Kabul, Kandahar, Mazar-e-Sharif Herat and Kunduz. Another is the 220kV DC transmission line from Pul-e-Khumri to Kabul and a 220/110/20kV sub-station at Chimtala, which helps not just the Afghans but also the American forces. Then there is the India-Afghanistan Friendship Dam (Salma Dam).
India has set up a 400-bed Indira Gandhi Institute of Child Health and facilitates speciality treatment of critically ill Afghans in Indian hospitals.
It gives 1,000 scholarships a year to Afghan students.
New Delhi has also set up 116 "high-impact community development projects" in 31 provinces of Afghanistan to help with education, health, agriculture, irrigation, drinking water, renewable energy, flood control, micro-hydropower, sports infrastructure and administrative infrastructure.