Split in Bharatiya Kisan Union to form 'apolitical' outfit
A section of leaders elect Rajesh Singh Chauhan as BKU president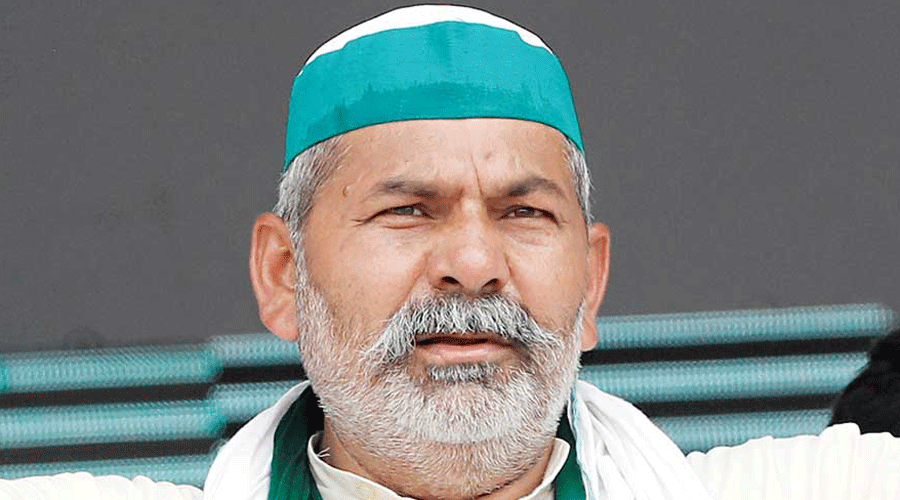 Rakesh Tikait.
File photo
---
Lucknow
|
Published 16.05.22, 03:01 AM
|
---
Splitting away from the farmers' main outfit, a section of its leaders on Sunday formed Bharatiya Kisan Union (Apolitical) and elected one Rajesh Singh Chauhan as its president.
Chauhan was state president of the BKU for 11 years during the time of its founder national president, Mahendra Singh Tikait. However, he was put aside after Mahendra Singh's death in 2011.
"Mahendra Singh had founded the BKU in 1987 to fight for the rights of the farmers. He kept the organisation away from politics and political parties. However, it became the stooge of some political parties after his death. We were opposing any political affiliation or inclination for the last many years and finally decided to break away from the main BKU and formed another outfit, which would be known as BKU (Apolitical)", Chauhan told reporters in Lucknow after a meeting in which new team was constituted with Rajendra Mallik, head of Mallik Khap as the chairman of the new outfit.
Chauhan avoided making any comment against BKU president Naresh Tikait and its spokesperson Rakesh Tikait.
"It would be unwise to take any name but the fact remains that I have met the BKU leaders several times in last few months and tried to remind them the mission of Mahendra Singh, their father. But they didn't listen to me and other leaders", added Chauhan, who is a landlord from Fatehpur in east Uttar Pradesh.
Tikaits live in Sisauli in Muzaffarnagar and a large number of the farmers of UP consider their home village as their capital.
Reacting to the meeting and formation of a new group out of the BKU, Naresh said in Sisauli: "We can bring changes for the farmers only by mounting pressure on the political class in power. In that case, we need the support of all those who are in Opposition. It needs to be understood by those who are playing in the hands of the ruling (BJP) dispensation."
The observers reminded that the BKU was very much political even at the time of its foundation as it had an untold alliance with Ajit Singh, the then leader of Rashtriya Lok Dal.
"Chaudhary Charan Singh, former prime minister, passed away in May 1987 and the BKU was formed in July 1987. Charan Singh and his son Ajit Singh were friends of Mahendra Singh and they worked for the farmers together," said an observer, who didn't want to be named.