SpiceJet plane returns to Mumbai after windshield crack observed
The flight was heading to Gorakhpur in Uttar Pradesh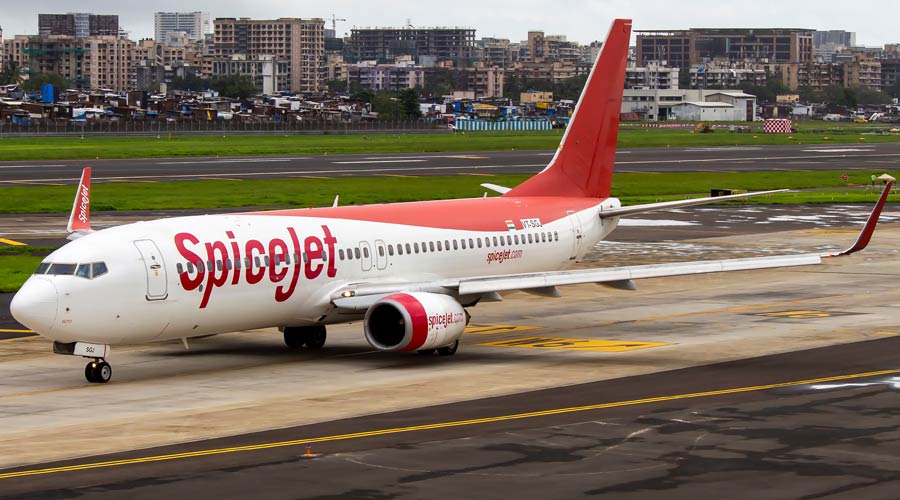 The pilot-in-command decided to return to Mumbai, the spokesperson said.
Representational picture
---
New Delhi
|
Published 28.05.22, 10:44 PM
|
---
A SpiceJet plane, which was heading to Gorakhpur in Uttar Pradesh, returned to Mumbai on Saturday after a crack was observed on the windshield, according to an official statement."On May 28, SpiceJet Boeing 737 aircraft was scheduled to operate SG-385 (Mumbai-Gorakhpur).
During cruise, windshield outer pane was observed to be cracked," the airline's spokesperson said.The pilot-in-command decided to return to Mumbai, the spokesperson said.The air traffic controller was apprised and the aircraft landed safely at the Mumbai airport, the spokesperson added.
More on SpiceJet, it faced a ransomware attack late on Tuesday night that delayed several morning flights on Wednesday, the cascading effect leaving several hundred passengers stranded for hours across the country's airports.
A few flights were cancelled too. Sources said the airline had now shifted to a new server and delinked the old one so that flight operations could become normal.
SpiceJet did not reveal whether it had paid the attacker. Industry sources said the attack was similar to the one on Indigo in December 2020.
Then, too, the airline had acknowledged the attack and said some segments of data servers had been breached. However, little is known yet about the outcome of the probe, or whether any payment was made.
As passengers stuck at the airports on Wednesday expressed frustration, ground staff informed them that "the server is down".
A passenger, Saurav Goyal, tweeted: "Extremely poor customer service by flyspicejet. My flight to Srinagar SG 473 scheduled at 6.25 AM from Delhi today is still at the airport. The Staff has no clue and the poor excuse is 'server down' so cannot take printouts. Passengers are suffering."
After passengers blasted SpiceJet on social media, the carrier put out a statement.