PM stresses on 'desh ka vikas' at virtual meet
Some parties diverting focus from development, says Narendra Modi
Prime Minister's comments come at a time his party's ecosystem has been playing a provocative game in name of religion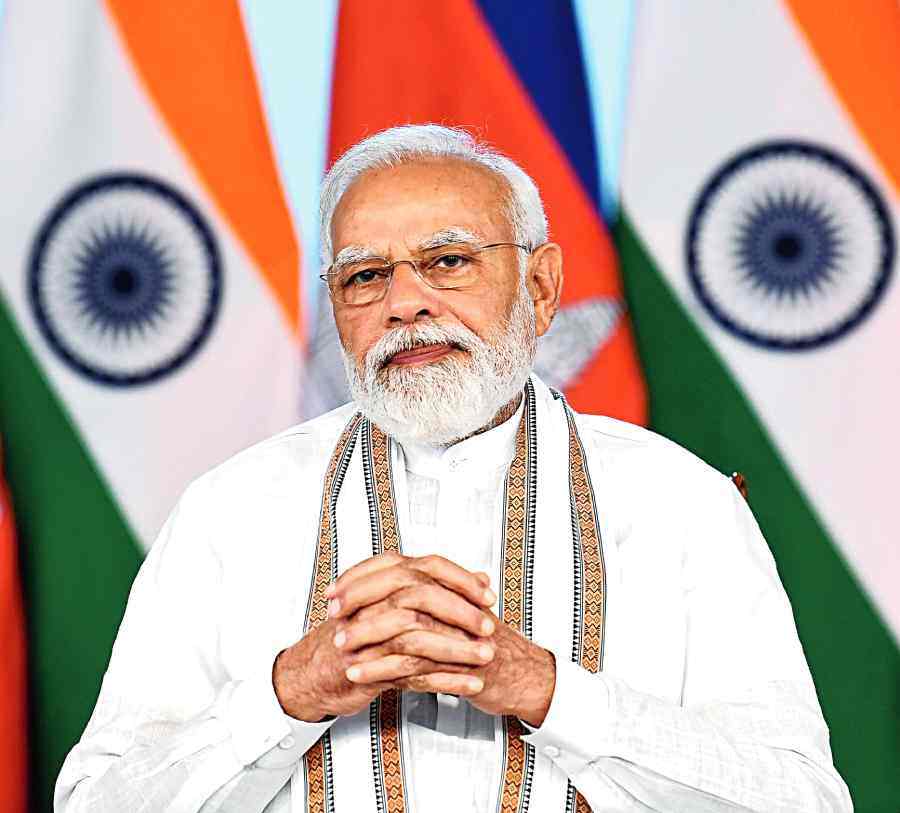 ---
New Delhi
|
Published 21.05.22, 02:35 AM
|
---
Prime Minister Narendra Modi on Friday accused "some parties" and their "ecosystem" of trying to divert people's attention from the "core issue" of the country's development and asked BJP functionaries not to "fall into their trap".
Modi appeared oblivious to the deep irony in his comment, which came against the backdrop of the BJP-RSS using the newly revived Gyanvapi and Idgah mosque controversies as an emotive plank to distract people from the miseries of price rise and unemployment.
"Today, we can see how the ecosystem of some parties are engaged in diverting the country's attention from the core issues," Modi said, addressing virtually from Delhi a two-day meeting of BJP office-bearers in Jaipur.
The meeting, which began on Friday, is part of preparations for the upcoming Assembly elections.
Modi stressed that the core issue was "desh ka vikas" (the country's development) and exhorted party leaders not to get distracted from it despite all kinds of provocation.
"Humein aisi partyon ke jaal mein kabhi nahi fasna hai (We should never fall into the trap of these parties)," the Prime Minister said.
Without mentioning names, he accused "these parties" of picking up "small tensions and weaknesses in society" and "pouring poison" over them to further their own interests.
"Kabhi jaati ke naam par, kabhi kshetravad ke naam par logon ko bhadkate hain (They provoke people, sometimes in the name of caste and sometimes on the pretext of regionalism)," the Prime Minister said, asking the party office-bearers to warn people against such forces.
Modi's comments come at a time his party's ecosystem has been playing a provocative game in the name of religion, using the alleged discovery of a "Shivalinga" on the premises of the Gyanvapi mosque in Varanasi.
The BJP is hoping this issue — and a Mathura court's admission of a plea claiming the Shahi Idgah Mosque in Mathura stands on Krishna's birthplace — will give it an electoral advantage like the Ayodhya movement once did, party sources have said.
Modi did not mention Varanasi or Mathura, which have emboldened some BJP leaders to openly decry a 1991 law that mandates the maintenance of the religious character of all places of worship as they existed on August 15, 1947, barring the Ramjanmabhoomi-Babri Masjid.
Before the mosque controversies received fresh injections of life this week, the BJP was accused of using last month's Ram Navami and Hanuman Jayanti celebrations to provoke communal clashes, polarising people and allowing its state governments to brand Muslims as rioters and target their properties with bulldozers.
Opposition parties have lambasted these developments as efforts to deflect public attention from the Modi government's failures on bread-and-butter issues of governance.
Modi, however, claimed the BJP had established "vikasvad" (the ideology of development) as the mainstay of the country's politics and slammed Opposition parties as "parivarvaadi" (dynastic) and corrupt groupings that were pushing India into backwardness.
He said his government, which completes eight years in a few days, had been devoted to "garib kalyan, seva aur sushashan" (welfare of the poor, service and good governance).
Despite a widely held perception about a major segment of the media having turned pro-government, Modi suggested that his government's achievements were not being highlighted, for which he again blamed the "ecosystem of these parties".
"If you say that we have built 3 crore houses for the poor, it will not appear on the front pages of newspapers or get seen on TV screens," he said. "This ecosystem will not allow it to get publicised."
Modi exhorted his party not to get disheartened by this and keep its focus on "vikas".
The Prime Minister appeared particularly unhappy that his Pradhanmantri Sangrahalaya (Prime Ministers' Museum) project had not received the media coverage he seemed to have expected.