Small traders complain about demonetisation slowdown
Traders and workers in Pune expressed disappointment with the BJP government's decision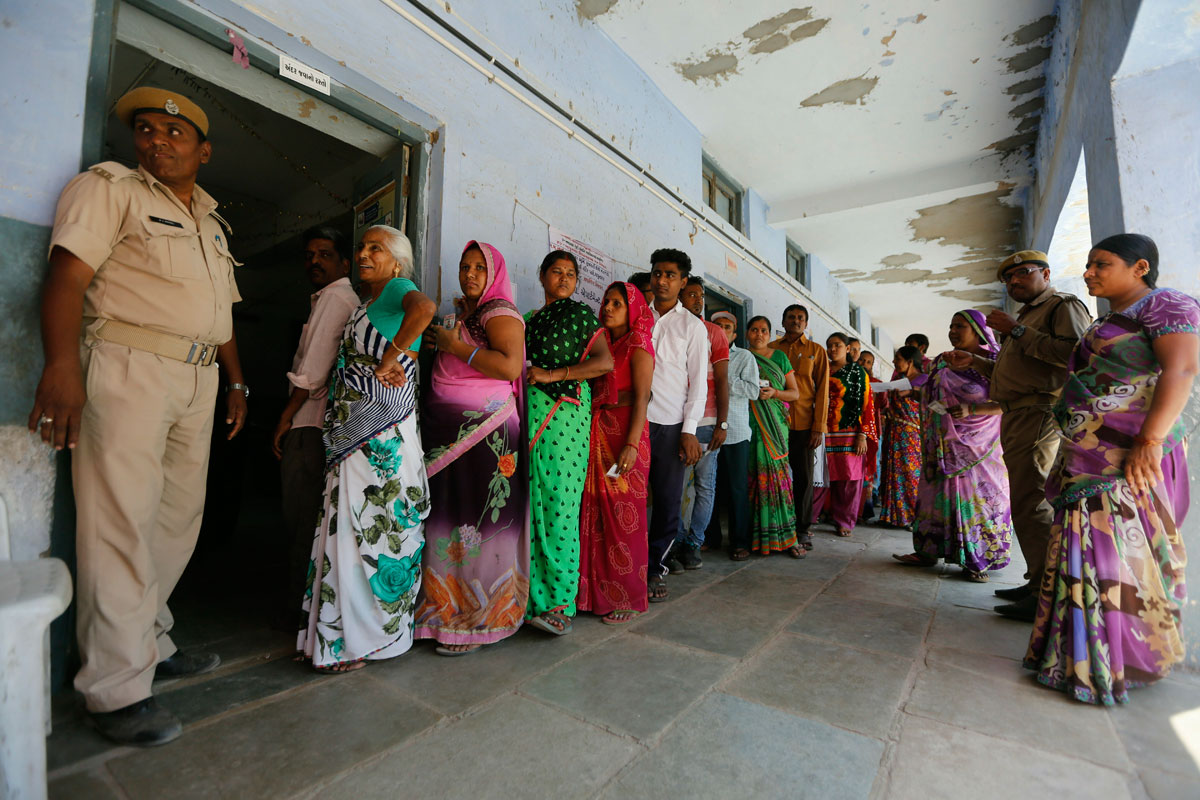 ---
|
Pune
|
Published 24.04.19, 02:18 AM
---
Shashank Pawar, 31, runs Chitra laundry and dry-cleaning shop on Kaka Saheb Gadgil Street here for the last 10 years. Over the last two years, his customers have reduced the number of clothes they send. And they also often do not pay in time.
"The problems started only after demonetisation. My customers are intact, but the flow of work has come down. The customers used to pay in the first week of the next month. Now they are paying in the third week," Pawar said.
His monthly income has come down from about Rs 30,000 before demonetisation to Rs 20,000 since then. "Actually the poor have become poorer. The rich have not been affected at all. They have managed their black money," Pawar said.
Small traders and workers in the unorganised sector bore the brunt of the Narendra Modi government's demonetisation decision. The Telegraph spoke to about a dozen such people in Pune. Half of them expressed clear disappointment with the BJP.
For the Pune Lok Sabha seat, the BJP has fielded Girish Bhalachandra Bapat, the Maharashtra food and supply minister, against Mohan Joshi of the Congress. In 2014, the BJP's Anil Shirole won from Pune with a victory margin of over 3 lakh votes. Bapat, his replacement, is an RSS man. The constituency encompasses the city area only, where the RSS has a strong presence.
As a leading urban centre, Pune attracts many from adjoining areas for jobs. The per capita income in Pune was Rs 1,71,636 in 2013-14, the third-highest among districts in the state after Mumbai (Rs 1,88,739) and Thane (Rs 1,73,150), according to the report on District Domestic Product of Maharashtra published in 2016 by the state government's directorate of economics and statistics.
Sarjerao Muralidhar Wag, 33, works at Bahubali printing press on Kelkar road. A technician who operates the printing machine, he came from Aurangabad about 12 years ago. During demonetisation the business got stalled and did not recover well thereafter, he said. He gets Rs 13,000 per month as salary, apart from overtime.
"Tea has become costlier. A cup of tea costs Rs 10. I drink four cups a day. Sometimes friends come; I spend for them too. Lunch costs Rs 100. I pay Rs 4,000 rent and Rs 1,000 for milk. We spend Rs 1,000 on TV and mobile phones. The school fee for my two children is Rs 3,000 a month. I do not save a single rupee. Before demonetisation, I was able to save money because the prices of everything were less," Wag said.
Jagdish Babajirao Chauhan, 68, who works as a chowkidar at an apartment, said he would never vote for Modi again. His grouse is the same as Wag's: That cost of living has increased.
A gas cylinder, he pointed out, used to cost Rs 320 five years ago. Now, it hovers around Rs 890.
"You have to pay the whole money and get subsidy of Rs 400 later. I do not have so much money. I had a lot of expectations from the Modi government, but the situation has become worse,' Chauhan said. Sometimes people used stoves to cook, he said, but that is no more possible; kerosene sale through ration shops has stopped for the last one year.
Chauhan said Pune residents were not getting adequate piped water till even three weeks ago. The flow of water was very slow. "Because of elections, the flow is all right now. It will again become slow after elections," Chauhan said.
His wife works as a cook in several houses. Both leave home in the morning by bus and return by bus.
"The bus fare has increased also. Now we pay Rs 1,000 a month which was Rs 500 five years ago. Our salary has not increased in the last two years. I get Rs 8,000. My wife gets Rs 5,000. We are unable to save any money. Five years ago I was able to save Rs 1,000 which I deposited in our joint account. Now it is difficult," Chauhan said. "I had voted for Modi with a lot of expectations. He did nothing for people like us. This time I will vote against him."
Similar is the view of Hitesh Patel, who sells ink packets for printers.
"There is huge glut in business after demonetisation. Business and income have been reduced by half," Patel said.
For 79-year-old Suresh Bhatambarekar, ex-serviceman who runs a general store, Modi is the best Prime Minister.
"Nobody is as competent as Modi. He took action against black money that is why Opposition leaders united against him. Demonetisation checked black money in the market," Bhatambarekar said.
He rejected the RBI data that out of the currency notes of the value of Rs 16 lakh crore in circulation, 99.3 per cent came back. More money might have been in circulation, he said.
"I think the RBI did not have correct data on how much currency was in circulation. It might be more than what RBI says," Bhatambarekar said. "I was in the army. I am extremely happy that Modi gave us one rank one pension."
At a tea shop on Kelkar road, Ishwar Kolkar was having a hot cuppa. Originally from Solapur, he works as a civil engineer with a private builder. He said many of his friends have lost jobs as the construction sector is facing "severe glut".
"The cash flow has been reduced in real estate. Earlier a lot of cash was being paid. A lot of projects were going on. Now no new project is being constructed," Kolkar said.
Three of his friends, he said, lost their jobs. Now they are working with another firm with salary cuts.
"Quality job creation is something the next government needs to look at," Kolkar said.
Laxman Menkudle, who a runs a snacks store and hostel for students on Fergusson College Road, said Modi should get a second term in the larger interest of the country.
"Who is there to become Prime Minister? You tell me. Modi should become Prime Minister with support of other parties so that there will be some check and balance," Menkudle said.
Auto driver Santosh Pandare felt the same way: "Modi should get two terms at least. Then you can judge him."
Pune voted on Tuesday