Modi seeks to pacify traders
BJP seeks the support of the community amid fears that many of them were still angry over demonetisation and GST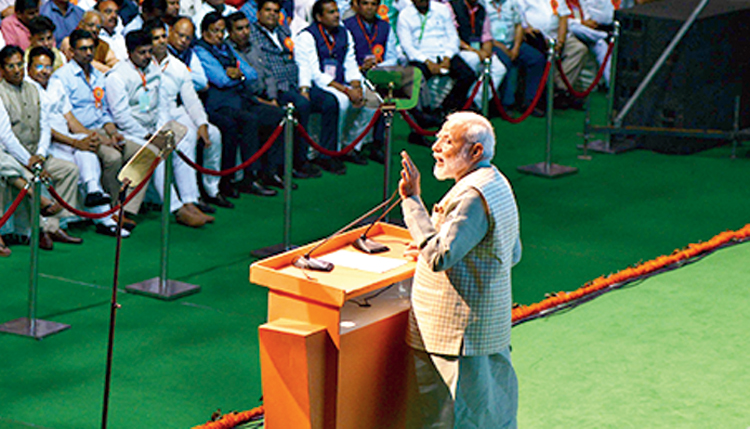 ---
New Delhi
|
Published 20.04.19, 02:44 AM
|
---
Prime Minister Narendra Modi on Friday tried to woo traders, a core support base of the BJP, by promising incentives, showering praise on them and slamming the Congress for allegedly calling all businessmen "chor" (thief).
The Prime Minister stressed that Mahatma Gandhi used to call himself a "baniya" with pride.
"The naamdars (a reference to the Nehru-Gandhi dynasty) don't see anything except themselves. Gandhiji called himself a baniya with pride but the naamdars of the Congress brand all businessmen as 'chor' (thief)," Modi told a traders' convention in Delhi.
The convention was organised by the All India Traders Confederation and was seen as an effort by the BJP to seek the support of the community in the polls amid fears that many of them were still angry over demonetisation and the imposition of the Goods and Services Tax (GST).
"Today's Congress doesn't know history. The naamdars don't know about the traders' contribution to the progress of the country," Modi said.
The Prime Minister said the previous Congress government had had given a wrong impression about traders and claimed that it harmed the interest of the country.
Heaping praise on the community for "hard work", Modi said the country was a "golden bird" because of the business community that had expanded trade far and wide. "You not only do trade but in true sense serve the people," Modi said, evoking chants of "Modi, Modi…."
"Traders are the backbone of the economy. You (traders) are the biggest stakeholders in the economy," he said.
Modi spoke at length about the GST, seeking to address the concerns of the traders and mollify them. He acknowledged that the "government can make mistakes" but added that changes were made according to suggestions by the business community.
"The GST Council works on your suggestions. Earlier, we had to wait for one budget to the next budget but now concerns of traders are addressed in two months," Modi said. He said the GST had brought transparency in trade, which was evident by the number of registered traders getting doubled.
Promising more for the community, Modi said a traders' welfare board would be created and a traders' credit card would be introduced if his government was voted to power again.
Modi said the BJP would formulate a National Retail Policy to boost retail trade and provide accidental insurance up to 10 lakh to all businesses registered with the GST, adds PTI.
Modi also promised that a provision would be made to provide loans of up to Rs 50 lakh without any collateral.