'Govt evasive on MSP law promise'
SKM terms Centre's delay in keeping promises a betrayal
Farmer leaders have said the government made no efforts between Dec 9 and Jan 8 to consult them about farmer representatives who would be on the committee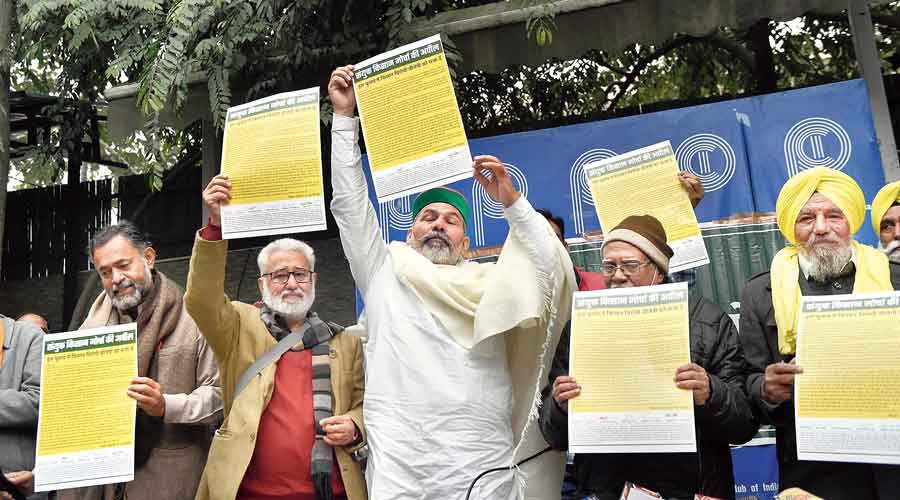 Leaders of farmers in New Delhi on Thursday.
PTI Photo
---
New Delhi
|
Published 05.02.22, 03:28 AM
|
---
The Centre on Friday told the Rajya Sabha that the MSP committee promised to the then agitating farmers on December 9 had not been set up yet because of the Assembly elections that were announced a month later.
The farmers have termed the delay a betrayal by the government, accusing it of failing to keep the promises given in writing on December 9, on the basis of which agitation spearhead Samyukta Kisan Morcha suspended the yearlong movement that very day.
In a written reply to Samajwadi Party MP Sukhram Singh Yadav's question whether the government had formed a committee towards the grant of legally guaranteed minimum support prices (MSPs) for crops, agriculture minister Narendra Singh Tomar said it was "under process".
"As per the changing requirements of the country to change the cropping pattern, to make MSP more effective and transparent, and to encourage natural farming method of agriculture, the process of setting up a committee is under process," the reply said.
"At present, in view of the Assembly elections in some states, the process of concurrence of Election Commission for the formation of committee is under progress."
Later, responding to supplementary questions, Tomar said the government had received a response from the Election Commission, which said the committee should be set up after the conclusion of the elections.
Farmer union leaders, however, underlined that the model code of conduct came into effect only on January 8, a month after the written assurance.
Farmer leaders have repeatedly said the government made no efforts between December 9 and January 8 to consult them about the farmer representatives who would be on the committee.
Tomar said on the floor of the House that the government was committed to the announcement made by Prime Minister Narendra Modi on November 19.
But he and his junior Kailash Chowdhury sidestepped direct questions from the members, including two from the usually middle-of-the-roader Biju Janata Dal (BJD), whether the government would enact a law guaranteeing MSPs as demanded by the Morcha.
Prasanna Acharya — one of the two BJD members — later said the government had been "very evasive" in its reply.
"The government is not coming out with a reply as to whether they will bring a law in this House to ensure a legal coverage to the MSP," Acharya said in his intervention during the discussion on the motion of thanks to the President's address.
"This is one of the demands of the agitating farmers of this country."
Nor did the government provide a specific reply to a question on its old promise of doubling farmers' income. In the 2016 budget, then finance minister Arun Jaitley had announced that farmers' income would be doubled by 2022.
However, Nirmala Sitharaman's budget this year — the target year for Jaitley's announcement — made no mention of the promise.