Sitaram call to halt quiet Covid-19 ballot
He feels that the change in voting rules has been put in place in 'tearing hurry' in view of the Bihar polls scheduled later this year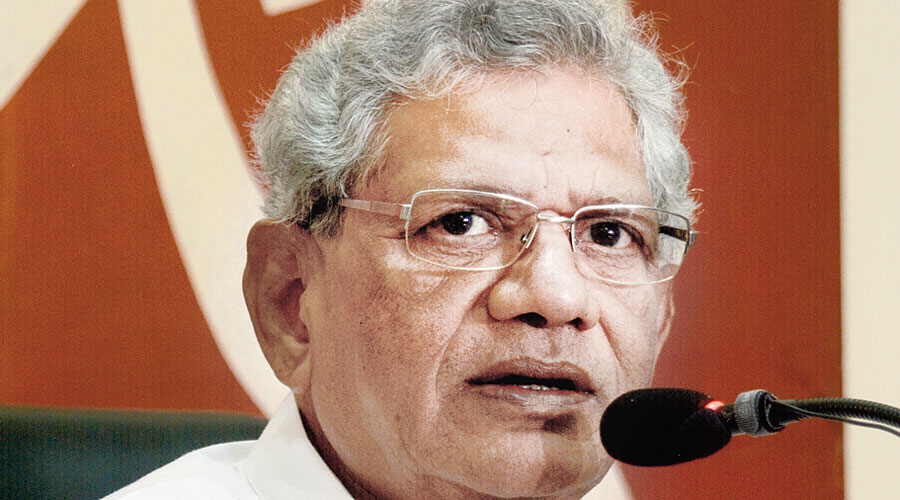 ---
---
CPM general secretary Sitaram Yechury has urged the chief election commissioner to put on hold changes in the rules for postal ballots that include allowing Covid-19 patients to use them, which the leader feels has been put in place in "tearing hurry" in view of the Bihar polls scheduled later this year.
Seeking discussions with political parties, Yechury wrote to chief election commissioner Sunil Arora: "Contrary to past practice, the current changes in the Rules, both in October 2019 and that on June 19, 2020, have not been preceded by any consultation with the political parties whatsoever.
"From the media reports we are constrained to infer that the tearing hurry that the ECI displays is on account of the impending Bihar Assembly elections scheduled to be held in November 2020."
The EC is yet to respond to Yechury's letter.
More than a million voters — mainly from the security forces — had used postal ballots during the 2019 Lok Sabha polls.
Last October, the law ministry had amended the Conduct of Election Rules to allow the disabled, and those above 80 years to use postal ballots.
On June 19 this year, the ministry notified fresh changes to the rules, revising the age threshold to 65 years and also allowing "Covid-19 suspect or affected persons" to opt for postal ballots.
"This assumes great significance because of instances of manipulation and malpractice even with the comparatively low number of postal ballots used by service personnel on election duty," Yechury wrote.
"With the unresolved question of opaque electoral bonds on poll funding, which remains pending before the Supreme Court, where the ECI has itself agreed with us that this poses a major challenge in monitoring and supervising income/expenditure, this new use of postal ballots will further aggravate the situation in potential favour of the ruling party," the CPM leader added.
Last month, Gujarat High Court had cancelled the 2017 election of senior minister and BJP leader Bhupendrasinh Chudasama to the Assembly because of malpractice and manipulation, including violations in procedures for counting postal ballots.
The Supreme Court last month stayed the verdict.
Yechury wrote: "…We would like to unequivocally state that the ECI should not unilaterally proceed further in implementing these changes without proper and transparent consultation with the political parties upholding the best traditions of the institution in ensuring a level playing field, which has remained a foundational principle for conduct of free and fair polls."