Sheikh's kin kept away from grave on birthday
Her immediate family and Abdullah's jailed son Farooq Abdullah and grandson Omar Abdullah too were not allowed to visit the grave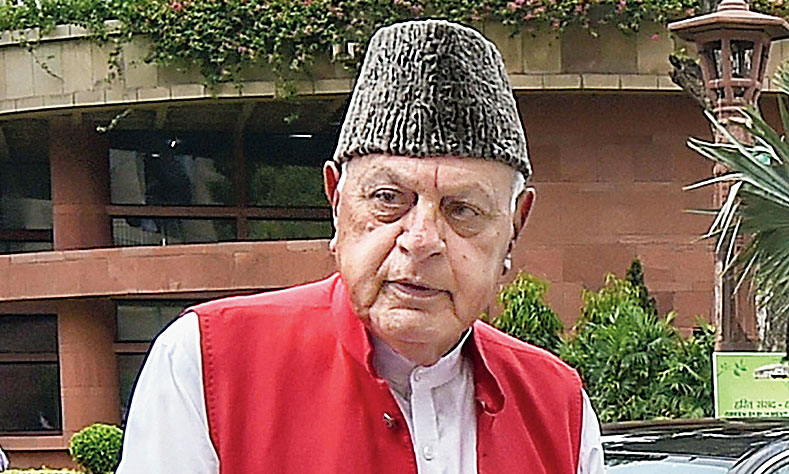 ---
Srinagar
|
Published 05.12.19, 09:49 PM
|
---
 Sheikh Mohammad Abdullah's elder daughter Khalida Shah is distraught at not being allowed to go to her father's mausoleum on his birth anniversary on Thursday, the first time she could not visit the grave on such an important occasion.
Khalida, 81, was not alone in grief. Her immediate family and Abdullah's jailed son Farooq Abdullah and grandson Omar Abdullah too were not allowed to visit the grave on Sheikh's 114th birth anniversary.
Sheikh's only child to visit the grave was Suraya Abdullah, who made it to the place along with a few other National Conference leaders and supporters of the party's founder.
Sheikh has for generations been the subject of scorn for Kashmir's pro-azadi camp, who curse him for handing over Kashmir to India. With the provision of Article 370 that gave the erstwhile state its special status now scrapped, the number of his admirers seems to have shrunk further.
Sadly for him and his family, he is no longer a hero for the Indian state. December 5 is a public holiday in Jammu and Kashmir but the lieutenant governor's administration did not release even the customary statement praising his role. This is the first time the Jammu and Kashmir administration has not mentioned Sheikh on December 5 since his death in 1982.
The authorities imposed restrictions under CrPC Section 144 to prevent people from assembling at the grave. Some people, however, came in ones and twos. No traffic was allowed on the road adjoining the mausoleum.
Khalida, who is reportedly under house arrest, told The Telegraph that she had applied for permission to visit Sheikh's grave but it was rejected. The police do not even admit that she and her family are under house arrest.
"I am very sad that I could not visit my father's mazaar on such an important occasion. Heavens would not have fallen had we been allowed. It is very painful," she said.
"The tragedy is that the Prime Minister and his associates are scared of even dead people." In a statement later, Khalida, who is the widow of former chief minister Ghulam Mohammad Shah, said:Narendra Modi's Kashmir policy stood exposed. "Forget the living, it is our dead who send shivers down his spine."
Khalida said it was her party's job to ensure that the decision to revoke the special status was revoked and the "unfinished task of Sheikh Mohammad Abdullah for a just and fair solution of the Kashmir issue is realised and the aspirations of the people of Jammu and Kashmir are treated with paramount importance".
Speaking to reporters at the mausoleum, Suraya said other family members, including Farooq and Omar, also wanted to come. "But they were not allowed," she said.
Farooq has been booked under the stringent Public Safety Act and lodged at his Gupkar home that has been turned into a jail. Omar is lodged at the Hari Niwas guest house which too has been turned into a jail.