Muthuselvi runs a small grocery store near V.O. Chidambaranar Port in Thoothukudi — the historic coastal city also known as Tuticorin famous for its pearl fishing — that hit the headlines last year for the killing of 14 protesters demanding the closure of a Sterlite Copper plant for environment pollution.
In her late-twenties, Muthuselvi says her business fell after demonetisation, and selling her homemade peanut candy to procurement agents became unprofitable after the Goods and Services Tax (GST) was introduced. In the GST regime, she has to close her shop — which she runs with her ageing in-laws — and travel to the offices of the agents to complete tax formalities, which is not feasible. Hence, she has reduced production of candies, making a small amount that she sells from her store.
And like many families of Thoothukudi, she is upset with the AIADMK-run state government for the police firing last year on protesters demanding closure of the Sterlite plant. Muthuselvi, who insisted she still likes Prime Minister Narendra Modi — crediting him for "curbing black money", and the beautification of the Port Trust area — said her vote will not be for him. The BJP is part of the AIADMK-led umbrella alliance which is being challenged by the DMK-Congress combine, which has fielded Kanimozhi, the daughter of late Dravidian stalwart M. Karunanidhi.
"How can a government kill so many people for protesting against pollution? Shouldn't Modi have said something? I don't know what work Kanimozhi will do, but she speaks well and promised that such killings will not happen, and the factories won't pollute, if she wins," said Muthuselvi.
The electorate has to choose between two political scions. Pitted against Kanimozhi is the BJP's Tamil Nadu president Tamilisai Soundararajan, a doctor by profession whose father Kumari Anandan is a senior state Congress leader. Around 130km away in Kanyakumari, her uncle H. Vasanthakumar is the Congress candidate pitted against the sitting MP, Union minister from the BJP Pon Radhakrishnan. Vasanthakumar, who owns a consumer electronics chain in Tamil Nadu, has declared assets worth Rs 332.27 crore, among the highest in the state.
The key issue in Thoothukudi remains the death of at least 14 persons, including a schoolgirl, in police firing last year during a protest against the expansion of the Sterlite Copper factory — a major pollutant. Kanimozhi repeatedly calls the state and Centre "fascist" for their role in the killings. Tamilisai has expressed regret, but has been on the defensive over the Centre's role in regulating the plant, losing her temper when questioned about the issue on a TV show.
Kanimozhi, followed by her husband G. Aravindaan and son Adithyan in a BMW X5 SUV, addressed a rally on Sunday opposite the Thoothukudi collectorate, where the police firing took place.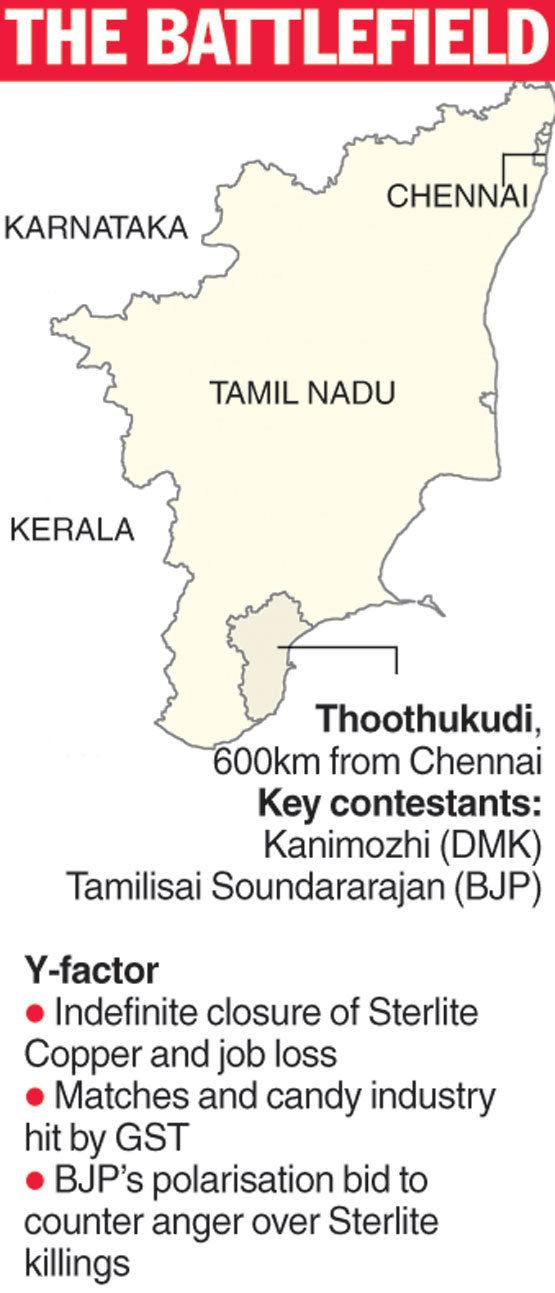 The Telegraph
"No one can forget Sterlite, and the plant was finally closed only under court orders after public fury. Even the DMK did not push for its closure. We are supporting Kanimozhi and the DMK because they have now clearly come out against Sterlite. The BJP government has crippled this industrial hub — particularly cottage industries like candy, and matches — with GST and demonetisation," CPM activist M. Gnanadurai said.
The closure of Sterlite is a setback to the town's economy. Industry bodies estimate job losses at more than 20,000, and the declared revenue loss is Rs 1,400 crore.
R. Sriram, one of the city's best known chartered accountants, told this paper: "There are several industries and thermal plants here, all of which were started under regimes of the Dravidian parties, and have contributed to making this a cosmopolitan place. If pollution were the sole criteria then none of them can function… There have been protests in favour of reopening the plant too. Also, Hindu groups have come together against the DMK like never before."
Videos of Kanimozhi's old speeches promoting atheism are being circulated, and posters have appeared in the city questioning her roots in the Nadar caste, which is dominant. Most of the main contestants are from the caste, and Kanimozhi's mother Rajathi Ammal is also from the community. However, this has inadvertently led to counter-communalism.
Residents of the Dalit-dominated Antonyarpuram settlement told this paper that they were indebted to late AIADMK supremo M.G. Ramachandran as well as late Prime Minister Indira Gandhi for giving them land here. "The BJP will only get Hindu votes. We Dalits don't consider ourselves Hindu, so we won't vote for them. Had there been an AIADMK candidate, we may have voted for them — only out of gratitude for MGR. Our wages have remained fixed at Rs 300 for women, and Rs 325 for men, while that in other industries like construction has gone up to Rs 600 per day," said former Independent councillor M. Selvaraj, who was leading the Ambedkar Jayanti celebrations.
Most youths now work at the port, or in related firms. "We want permanent jobs. Salaries of Rs 20,000 are too low to live here. Only Sterlite has shut. What prevents the government from filling vacancies in PSUs here? We don't have expectations from anyone, but the ruling parties in the state and Centre have failed us," container terminal worker S. Subburaj said.
Two of the six Assembly segments face bypolls on April 18 and 19, after their respective AIADMK MLAs were disqualified for siding with the TTV Dhinakaran-led faction. In Vilathipuram's Upper Shanmugapuram village — dominated by Reddiyar and Naicker castes — which also has a bypoll, villagers say that neither Sterlite nor caste credentials matters.
"All we know is that during Congress rule, we got fair prices on our sugarcane, chillies and firewood. Now traders don't directly procure from our homes. We have to go to Sayalgudi town to sell our produce because the traders have to do GST formalities. The prices have remained low since demonetisation. Even MNREGA wages haven't been paid for a month," said Poochiappan, whose clothes business in Kerala failed in the aftermath of GST. "We don't know much about Sterlite, nor Kanimozhi. But this time we have to make Rahul Gandhi PM or the Centre may make more irrational policies," he added.
Thoothukudi votes on April 18