Scarred by 2002 riots, Muslims lament Congress' indifference
'Before the 2017 Assembly elections, the Congress would tell their candidates to keep 'daadi-topi walas' at a distance,' Kalim Siddiqui of Dalit Muslim Ekta Manch said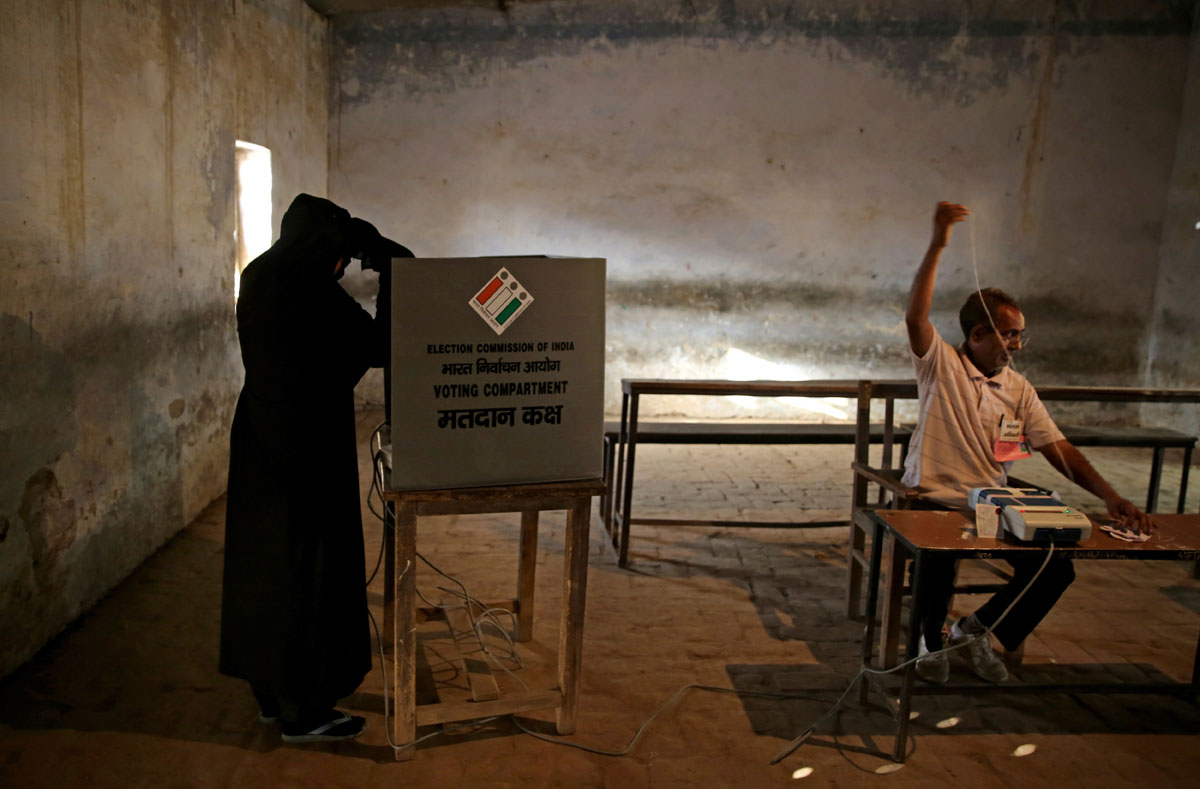 Muslims try to take tentative steps out of their political isolation — while voting for the Congress out of compulsion in successive elections
(AP)
---
Godhra
|
Published 23.04.19, 02:04 AM
|
---
If there is one common refrain in Godhra, Ahmedabad and Mehsana, which saw violence during the Gujarat carnage of 2002, it is that people have moved on and made — read bought — peace in an essentially mercantile society. Only difference is in the interpretation of "moved on"'.
Though Godhra continues to suffer the economic blowback of the international uproar over the carnage with big names in business unwilling to set up shop in the area in Panchmahal district, the right wing within the majority community justifies the violence as a means to lasting "peace". A common refrain is: "There has been no large-scale riots since 2002; the minorities have been silenced. They go about their businesses and the two communities live in peace." Needless to say, mostly in separate areas with interdependent businesses.
The minority community does not contest this while silently mourning their political isolation as the Congress — despite its claim to secular credentials — distanced itself from the Muslims here till a couple of years ago.
"Before the 2017 Assembly elections, the Congress would tell their candidates to keep 'daadi-topi walas' (bearded men with caps) at a distance during their public meetings," Kalim Siddiqui of Dalit Muslim Ekta Manch told The Telegraph.
According to him, the Patidar and post-Una Dalit movement of the past couple of years gave Muslims a chance to join the mainstream.
"What happened to Dalits in Una had happened to Muslims earlier; they had even been killed. But it was not easy for anyone to talk of minority rights here. So, Muslims joined hands with Dalits and found some voice. Jignesh Mevani became a source of support; Muslims, though still politically isolated, found a way to draw a response from the system."
Another organisation that has come up in recent years is the Minority Coordination Committee; again to draw the Muslims, in particular, out of political isolation and make them part of the conversation.
"They are just happy to be able to survive and pray, and we are trying to help them find their voice through dialogue," said the Ahmedabad-based Committee's Mujahid Nafees. "It is a Catch-22 situation. The government gets away with doing little for them by saying that Muslims have no demands and it is only a handful of intellectuals and NGOs who make a noise about such issues. So we decided to get people from the community to post one lakh postcards to the government articulating their demands. We even told the Congress to stop treating Muslims as their 'keep' and take up issues of the community openly."
Kammarali R. Suthar, chairman of the Mehsana District Congress minority department, said the reason why Muslims stopped raising demands was because they know the BJP government will turn a deaf ear. "In Congress, we can fight and get a hearing," Suthar said.
While Muslims try to take tentative steps out of their political isolation — while voting for the Congress out of compulsion in successive elections — Sangh parivar workers insist that all is hunky dory. "We now even joke with them about Godhra and after," said one RSS worker.
In fact, one of them privately admitted that their boys were being quietly encouraged to woo Muslim girls to counter "love jihad".
In the same breath, the same man — opposed to quotas including mandatory admission of children from economically weaker section in schools under the Right to Education law — also articulates the Ambedkarite logic for using marriages to break down caste barriers: "If you want to build an understanding, then you must make them your relatives."
Whichever way the right-wingers on both sides try to rationalise such relationships, they put the two communities — which in towns such as Godhra live cheek-by-jowl with just a road acting as a dividing line — on edge. The spectre of 2002 rises and what comes to the rescue is the mercantile nature of this society. Both sides know that strife is bad for business, and better sense has prevailed most times though the families continue to bear the brunt.
As do rationalists like Shujat Wali, who take on fundamentalists on both sides. Stating that communal enmity has decreased, he lamented the tragedy in Muslims accepting their second-class citizenship. "They don't oppose; they don't go for election rallies in common areas; they have lost their power to speak," Wali said.
Gujarat votes today