Probe into expenses of officials on stay, food, transport
Bihar Assembly polls: Election authorities order probe into inflated bills
Several district magistrates did not take calls or said they had joined their posts just around a month ago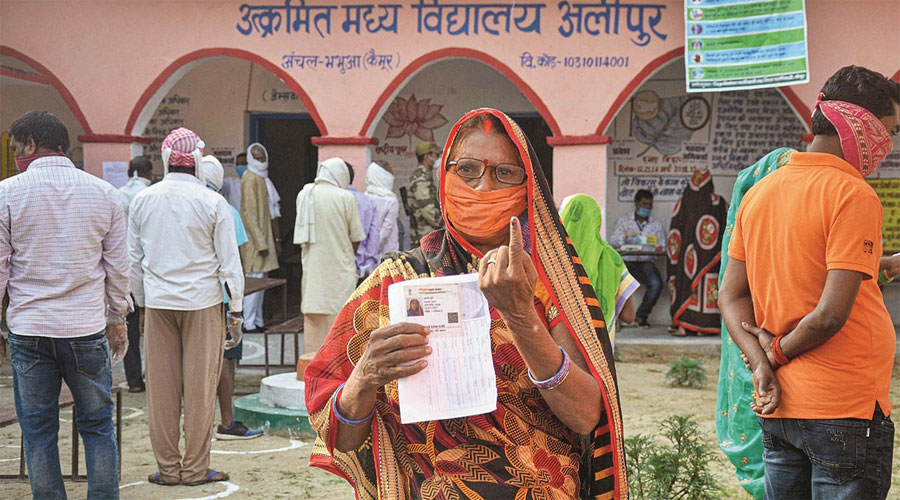 A voter shows her finger marked with indelible ink after casting her vote for the first phase of Bihar Assembly Election, amid the coronavirus pandemic, at Bhabhua police station in Kaimur district on Wednesday, Oct. 28, 2020.
PTI
---
Patna
|
Published 16.02.21, 03:07 AM
|
---
Election authorities have ordered a probe into inflated bills submitted by private contractors and agencies for logistical services rendered during the Bihar Assembly polls, parts of which have already been paid raising suspicion of a corrupt nexus involving officials.
A senior election department official said that in some districts, the bills for the transport, lodging, food and water of election personnel, police and central paramilitary forces and the movement of poll-related material during the October-November 2020 polls were nearly 10 times higher than those submitted during the April-May 2019 Lok Sabha elections.
He said that while the bills this time were expected to be higher because of the requirements of social distancing — such as an increased number of booths and personnel and more complicated arrangements for lodging and transport — "it cannot account for around a 10-time increase".
"We have asked all the district magistrates to verify the bills submitted for expenditure during the Assembly elections," the principal secretary of the state election department, H.R. Srinivasa, who is also the Bihar chief electoral officer, told The Telegraph on Sunday.
"Inflated bills have been submitted in several districts, particularly East Champaran, Kaimur, Gaya, Banka, Sitamarhi, Darbhanga and Patna."
He said he had ordered probes in each of Bihar's 38 districts during a videoconference with all the district magistrates earlier this week.
District officials in Patna told this newspaper that two private agencies had furnished bills for arranging the accommodation of paramilitary forces at places where they never stayed during the polls. Also, the registration numbers of 10 purported "goods vehicles" used for transporting staff revealed them to be two-wheelers.
Patna district magistrate Chandrashekhar Singh said a preliminary inquiry had found tent-house contractors submitting bills worth Rs 42 crore for arranging the stay of 215 central paramilitary companies. However, similar arrangements for 60 paramilitary companies during the general election had cost around Rs 2.3 crore.
"A committee of district officials that verified the expenditure bills for the Assembly elections has cut the amount under this head down to Rs 32 crore from Rs 42 crore. But it's still too high," he said.
"The expenses should have been Rs 10-12 crore. We have stopped the payments and will probe every aspect of the matter."
Officials in East Champaran said a contractor had submitted bills of around Rs 21 crore for each of the district's 12 Assembly constituencies.
East Champaran district magistrate Shirsat Kapil Ashok told this newspaper: "Although the number of booths was increased by around 1.5 times and the deployment of paramilitary forces was four times higher compared to the Lok Sabha elections in our district, we are looking at an average expenditure of Rs 3 crore per Assembly constituency as a reasonable figure. This takes into account the various social-distancing measures adopted because of the pandemic. We have initiated the probe."
Several district magistrates did not take calls or said they had joined their posts just around a month ago. A few said they would be able to comment only after consulting documents.
"The entire issue should be rigorously probed and punitive action taken against the errant contractors and companies," a senior poll panel official said on the condition of anonymity. 
"The probe should also cover the payments already made to ascertain whether the wrongdoers acted in collusion with government officials to get the bills passed."
Poll panel sources said the number of booths had been increased by around 63 per cent to 1.06 lakh to ensure social distancing during the Assembly elections.
The number of paramilitary companies was increased from 700 during the seven-phase general election to 1,200 for the three-phase state polls. In some sensitive districts like East Champaran, the paramilitary deployment was higher compared to others.
The Assembly polls were held across 11 days, compared with 38 days during the Lok Sabha polls in Bihar, but the central forces came a little early to ensure there were no last-minute hitches while arranging the pandemic-dictated logistics. More polling personnel were deployed too.