SC pulls up Centre for abruptly changing NEET pattern
The bench said doctors can't be treated like 'footballs' by 'insensitive bureaucrats' and warned that the court would pass strictures if authorities failed to justify their action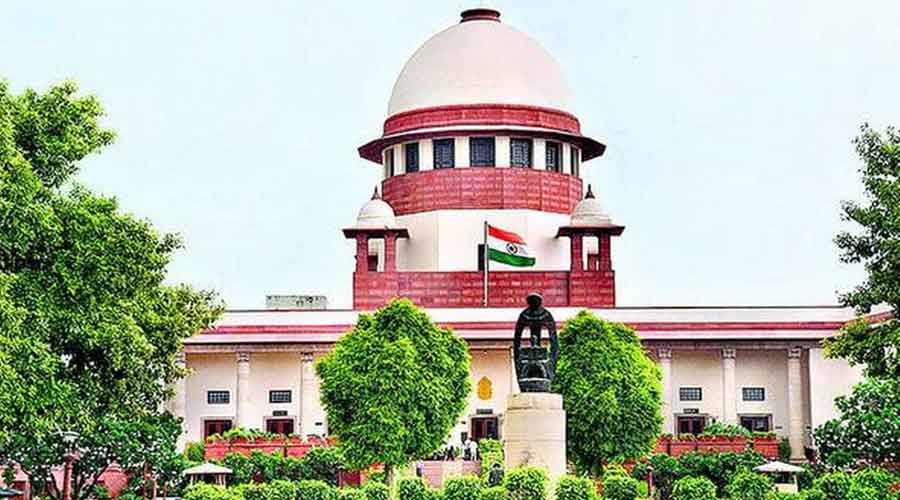 Supreme Court of India
File picture
---
New Delhi
|
Published 28.09.21, 01:14 AM
|
---
The Supreme Court on Monday pulled up the Centre for abruptly changing the pattern of the NEET Super Speciality Examination 2021, saying young doctors can't be treated like "footballs" by "insensitive bureaucrats".
The bench of Justices D.Y. Chandrachud and B.V. Nagarathna warned that the court would pass strictures if the
authorities failed to justify their action or rectify their mistake. It posted the next hearing to October 4 to enable the government to explain its stance.
The NEET-SS is held for admission to super-specialty DM and MCh courses, and the applicants have to be postgraduate doctors.
"Don't treat these young doctors as footballs in the game of power. We can't put these doctors at the mercy
of insensitive bureaucrats. You should put your own house in order. Just because somebody has the power, he can't wield the power in any manner," Justice Chandrachud told senior advocate Maninder Singh, who appeared for the National Board of Examination (NBE), and advocate Gaurav Sharma, who was representing the National Medical Council (NMC). Additional solicitor-general Aishwarya Bhati appeared for the Centre.
"If you don't issue instructions (to restore the original pattern), we will pass strictures if we are not satisfied with your reasons for the last-minute change," Justice Chandrachud said.
The court made the observation while dealing with a joint petition filed by 40-odd doctors challenging the abrupt changes made to the pattern of this year's entrance examination.
Under the original pattern, 60 per cent of the questions were from super-speciality subjects and 40 per cent from general medicine.
Senior advocate Shyam Divan, representing the aggrieved doctors, said the notification was issued on July 23 for the exam, which was to be conducted on November 13-14.
But suddenly the NBE issued a circular on August 31 at the behest of the NMC, seeking to change the pattern by ensuring all the questions were from general medicine, Divan said.
The aggrieved doctors argued that changing the pattern after issuing the notification for the exam amounted to changing the rules after a game had started.
Singh initially argued that the new pattern had been in vogue till 2018 and the authorities merely restored it.
But an unimpressed court said the candidates had been preparing for several months and a sudden change in the pattern would affect their prospects.
"These young doctors might be put at risk due to the last-minute changes," Justice Nagarathna said.
Singh and Sharma sought a week's time to file their responses.
The court later asked Bhati to facilitate a meeting of the authorities concerned and work out a solution.