Salute for IAF from Rahul Gandhi and Arvind Kejriwal
Standing ovation from legislators in Delhi Assembly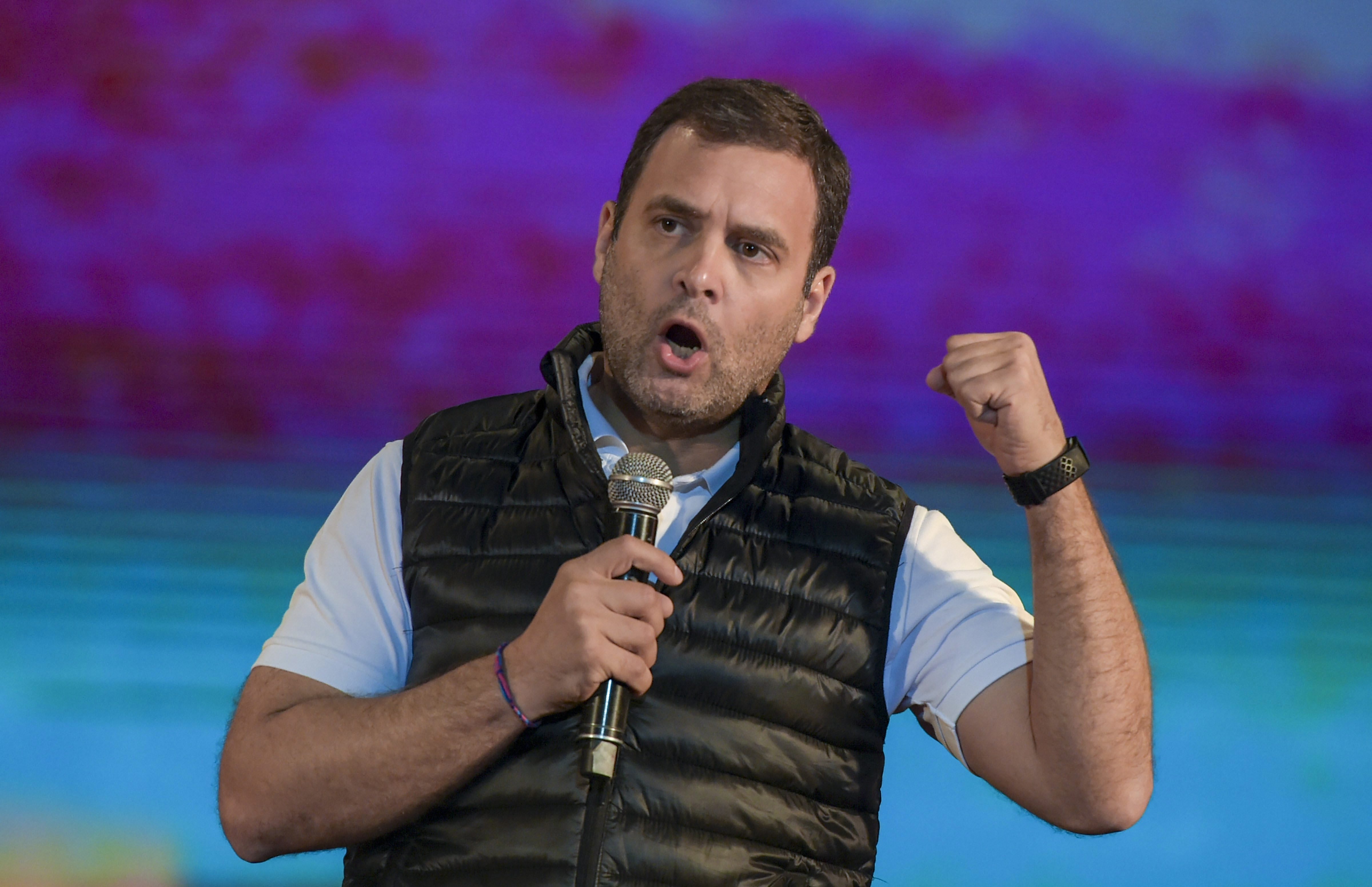 Rahul Gandhi saluted IAF pilots soon after reports of the bombing started trickling in.
PTI
---
Srinagar
|
Published 26.02.19, 07:51 AM
|
---
Leaders cutting across party lines hailed the airstrike on a Jaish-e-Mohammad facility near Balakot in Pakistan's Khyber Pakhtunwa province early on Tuesday.
Congress president Rahul Gandhi saluted IAF pilots soon after reports of the bombing started trickling in.
🇮🇳 I salute the pilots of the IAF. 🇮🇳

— Rahul Gandhi (@RahulGandhi) February 26, 2019
The Congress Twitter handle, too, was full of praise.
We salute the @IAF_MCC for their consistent & determined effort to keep Indians safe.
Jai Hind. https://t.co/RmfHQNlwH4

— Congress (@INCIndia) February 26, 2019
Delhi chief minister Arvind Kejriwal said the pilots have "made us proud".
I salute the bravery of Indian Air Force pilots who have made us proud by striking terror targets in Pakistan

— Arvind Kejriwal (@ArvindKejriwal) February 26, 2019
West Bengal chief minister Mamata Banerjee tweeted, 'IAF also means India's Amazing Fighters. Jai Hind.'

Bahujan Samaj Party leader Mayawati said that had the Modi government given a free hand to the armed forces earlier, incidents like the ones in Pulwama, Pathankot and Uri would have been avoided. 'Salute and respect for the bravehearts of the Indian Air Force for their bold action against Jaish terrorists,' she said.
Legislators from various parties attending the Delhi Assembly budget session gave a standing ovation to the IAF.

While Delhi Assembly Speaker Ram Nivas Goel congratulated the IAF, deputy chief minister Manish Sisodia dedicated the budget to the soldiers who had been killed in the Pulwama attack.
'We are proud of our armed forces and I would like to dedicate our budget to the jawans who sacrificed their lives in the Pulwama terror attack,' he said in his budget speech. "I am presenting the budget at a time when the country is proud of the IAF strike after the Pulwama attack," he added.
'This budget is to fulfil the dream of the martyrs, for their families and their children who can gain better education,' Sisodia said.
BJP MLAs went a step further and started raising pro-Narendra Modi slogans. The Speaker, pointing out that they should be hailing the IAF pilots instead, marshaled them out of the House as they chanted 'Inquilab Zindabad, Bharat Mata ki Jai and Vande Matram'.
The Opposition parties, however, accused the Speaker of not giving time to laud the strikes. 
National Conference leader Omar Abdullah said the strike is a 'totally new ball game' as this is the first time that air power has been used during peace time to hit terrorist targets in the neighbouring country. 
We've entered a whole new paradigm with the Balakote air strike. The post Uri strike was to avenge our losses, Balakote was a "preemptive strike to prevent an imminent JeM attack". Totally new ballgame.

— Omar Abdullah (@OmarAbdullah) February 26, 2019
A number of firsts from Balakote, the two most obvious are the first time air power has been used to strike in side Pakistan during peace times (last time in 1971 was during war) & first time visible, acknowledged use of force to preempt a perceived terror strike.

— Omar Abdullah (@OmarAbdullah) February 26, 2019
Abdullah added that the local administration now needs to ensure the safety of people living along the border and the Line of Control if the situation escalates. 'Now we have an obligation to ensure that our people living near the international border & line of control are not caught in any Pakistani response,' he said in a tweet. 'I'm in touch with my party colleagues in frontier areas to lend all possible help & assistance, both to the administration as well as to any people caught up in any Pakistani misadventure,' he added.
People's Democratic Party president Mehbooba Mufti expressed hope that the 'objectives' of both New Delhi and Islamabad had been served, since they were making contradictory claims about the bombing.
Post pre dawn strikes carried out by IAF, conflicting reports coming in. Official communique by FS claims that terror training camps were bombed while Pak denied this & said that the planes made a hasty retreat after being spotted. Hope objective of both sides has been served.

— Mehbooba Mufti (@MehboobaMufti) February 26, 2019
People's Conference chairman Sajad Gani Lone said on Tuesday that the IAF air strike on terror camps in Pakistan will set a benchmark for deterrence and eventually end the cycle of violence.
'Pacifist to the core I am. But the reality as it stares in our faces is that this retaliatory action will actually be the start of the unlearning process for Pakistan. This will set the benchmark for deterrence. And eventually crowd out cycle of violence,' Lone said in a tweet.