Operation 'Modiji Zindabad'
Tweets from Union ministers draw bitter response from students
After an IAF plane arrived with Indians, a student asked how the operation could be called an 'evacuation' since the govt had hardly helped to get them out of Ukraine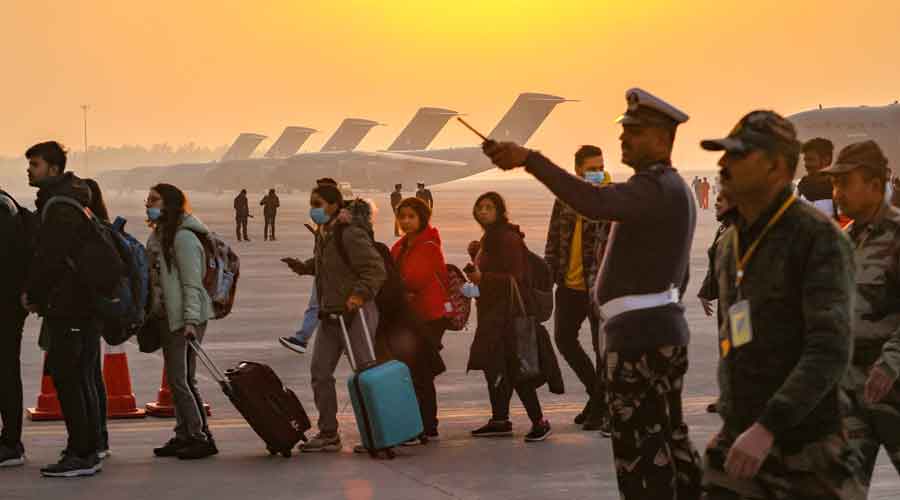 Indian nationals arrive at Hindon Air Force Station in Ghaziabad on Thursday.
PTI Photo
---
New Delhi
|
Published 04.03.22, 03:19 AM
|
---
The flood of self-congratulatory tweets from Union ministers sent to countries bordering Ukraine, and from their colleagues receiving the returning students in India, have drawn bitter responses from several students who had to make it out of the war-torn country on their own.
On Thursday, after an Indian Air Force plane arrived with Indians from Bucharest in Romania, which borders Ukraine, a woman student asked how the operation could be called an "evacuation" since the government had hardly helped get the Indians out of Ukraine.
"How are you calling it an evacuation if you (only) brought us back from there (Romania)?" the student from Odessa — which was bombed from the beginning of the conflict — told NDTV.
"Someone from the embassy should have been sent to guide the students (but) even that was not done," she said outside the Hindon airbase in Uttar Pradesh, near Delhi, where the flight had landed.
She added: "When we were lucky enough to get through to the helpline, they told different people different things. If you ask more questions they say, 'Sorry sir, we do not have information'. We didn't want free flights; we wanted to safely reach the border."
Such videos reflecting the students' scepticism can be seen attached to replies from Twitter users to almost every propaganda tweet from government and BJP handles.
News agency ANI has tweeted a video of deputy defence minister Ajay Bhatt leading a bout of sloganeering inside the IAF aircraft from Bucharest after it landed.
As the minister says "Bharat Mata ki…", the evacuees respond with "Jai".
Bhatt then says, "Mananeeya Modiji zindabad (Long live honourable Modiji)."
Hardly any of the evacuees join in, but many smile.
Bhatt adds: "Only our country and our honourable Prime Minister said that every child and citizen of mine should come back safe to our motherland with spirited faces… forget the difficulty you have faced...."
The Union government had issued a mild advisory on February 15.
The advisory asked Indians whose stay in Ukraine was "non-essential" to "consider" leaving. After flights got booked full, India on February 18 announced three Air India flights for February 22, 24 and 26. Russia invaded Ukraine on February 24 and the country's airspace was closed.
In contrast, the US issued an advisory on January 23 asking its citizens to "consider departing now".
But the government has been defending itself, saying the students were initially reluctant to leave because of ongoing offline courses in Ukraine and Indian officials had persuaded colleges there to switch to online courses so that the youths could return home.
The Modi government's deployment of Twitter-savvy ministers in the countries bordering Ukraine — criticised by some former bureaucrats as an unnecessary, headline-thirsty move — too presents a contrast with the low-publicity evacuation of 1.7 lakh Indians from Kuwait in 1990 following the Iraqi invasion.
On the buses outside the Hindon airbase, a male student appeared to take a dig at the publicity drive by the ministers, saying: "Taking a back entry and coming to the plane and showing you are big is not good."
Civil aviation minister Jyotiraditya Scindia has tweeted videos of himself holding the hand of an injured student and leading her to the front of a flight from Bucharest.
Nothing beats the joy of seeing 219 of our people happily embark on the flight after a perilous journey from Ukraine. We got them to take off from Suceava (near the Siret border) instead of travelling 480km to Bucharest.
1/2 pic.twitter.com/ujvPE1LB47

— Jyotiraditya M. Scindia (@JM_Scindia) March 3, 2022
Scindia and his junior minister V.K. Singh have been talking to the students about their pets, which too are being flown back, and tweeting videos of these conversations.
And it's a touchdown at the Hindon airbase.
The @IAF_MCC aircraft lands with #IndianStudents
All of you have been through a lot. It's time to reunite with family and friends.
Nothing like your motherland.
Jai Hind!#OperationGanga pic.twitter.com/CA359r7T17

— General Vijay Kumar Singh (@Gen_VKSingh) March 3, 2022
This led to a tense moment with a Romanian politician at the relief camp in Snagov. In response to queries, Scindia took more than a minute to explain how a husky had been sent back to India and how dogs needed to be ferried in aircraft with pressurised hulls.
He was interrupted by Snagov's primar or mayor, Anghel Mihai, who said: "Please explain to them when they leave (for) home…. Hey, I provide shelter here; I provide food for these guys, not you."
In the video, uploaded on social media, an Indian woman student is seen clapping during the exchange.
Videos have also been widely shared of Scindia and Union minister Smriti Irani speaking to the returning students in Delhi in several Indian languages.
All this fanfare seems to run counter to what appeared an effort by their ministerial colleague Pralhad Joshi to belittle the Indian medical students in Ukraine by suggesting they weren't good enough to practise in India. Joshi was waving away complaints that the high fees charged by private medical colleges in India had forced these students to enrol abroad.
At Delhi airport on Thursday, a student off a flight from Budapest, Hungary, mocked the roses being handed to the returning Indians on arrival.
Divyanshu Singh told NDTV: "Now that we are here, we are being given this. What is the point? What will we do with this?... Such displays would not be needed if there was timely action. Our families were very worried."
Of the official count of 22,000-odd Indians in Ukraine, 18,000 have left the country. More than 6,400 have been brought back on special flights and the rest will be flown back over the next few days.