RSS has dumped Modi, says Mayawati
The BSP chief alleged that the RSS is unhappy as Modi's false promises have created resentment among the masses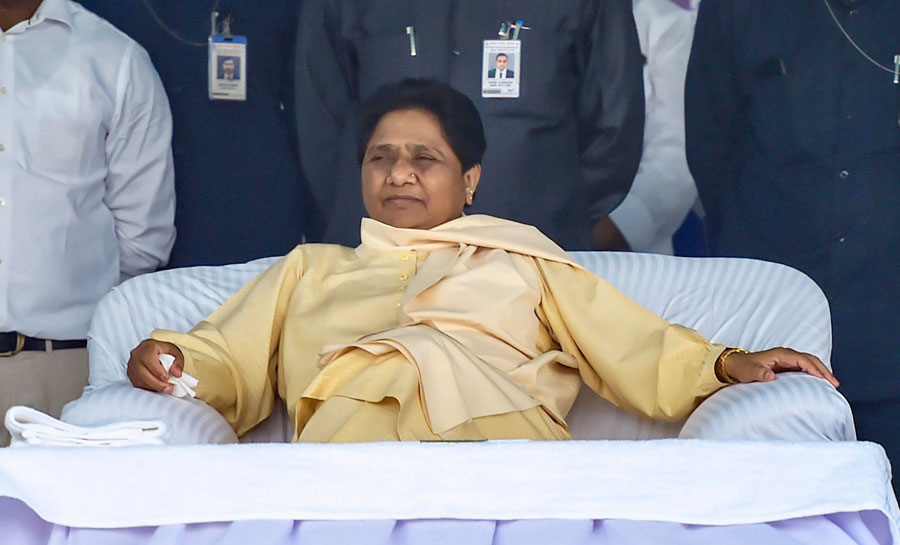 Bahujan Samaj Party chief Mayawati
(PTI)
---
Lucknow
|
Published 14.05.19, 11:16 PM
|
---
Bahujan Samaj Party chief Mayawati on Tuesday claimed the Rashtriya Swayamsevak Sangh had abandoned Narendra Modi and this was proof that he has failed as a Prime Minister.
"RSS workers are not campaigning for the BJP in this election. You will not find them this time, perhaps because the Sangh is unhappy with Modi's false promises that have created huge resentment among the masses," the former Uttar Pradesh chief minister told reporters in Lucknow before leaving for Salempur to hold a joint election rally with Samajwadi Party president Akhilesh Yadav and Rashtriya Lok Dal leader Ajit Singh.
Sangh activists have not been as active in this election as they had been in 2014. Rather, they have been working on select constituencies in the state, including Varanasi, Modi's parliamentary seat.
Mayawati demanded that the Election Commission ban politicians from visiting temples between campaigns.
"Worshiping in temples is in fashion in this election in which leaders are spending huge money. The EC should ban temple hopping by leaders as it is a violation of the model code of conduct," she said.
The model code bans appeals for votes in the name of religion and says mosques, churches, temples or other places of worship "shall not be used as forum for election propaganda" but there is no prohibition on visits by leaders to religious places.
For the record, it is mostly BJP and Congress leaders who have been visiting one temple or the other every day in between campaigns.
Uttar Pradesh chief minister Yogi Adityanath has visited more temples than others. Barred from campaigning for three days last month following provocative speeches, Adityanath had visited half-a-dozen temples during that time and the media had been asked to publicise the trips.
Mayawati also said the poll watchdog should include the money spent on road shows in election expenses of candidates. Election expenses now include the cost of hiring a ground for a rally but the EC has no provision to calculate the money spent on processions.
"Modi ki naiya doob rahi hai (Modi's ship is sinking)," Mayawati said, predicting Modi's defeat on May 23, when the Lok Sabha election results are scheduled to be declared.
On Monday, Mayawati had dubbed the Prime Minister a "wife deserter" and appealed to the women of the country not to elect "such a person" as Prime Minister.
Modi had left Jashodaben soon after their marriage in 1968, when both were teenagers, but there was no legal separation. Jashodaben, now a retired schoolteacher, lives with her brothers in Gujarat's Mehsana district and has never complained publicly.
Modi officially acknowledged her for the first time before the 2014 general election, naming her in his nomination papers after the poll panel banned candidates from leaving any column blank.