Rs 1-lakh fine on biker for flouting norms in Odisha
The rider who hails from Amarpur in Madhya Pradesh used to sell plastic drums in Rayagada town on his motorcycle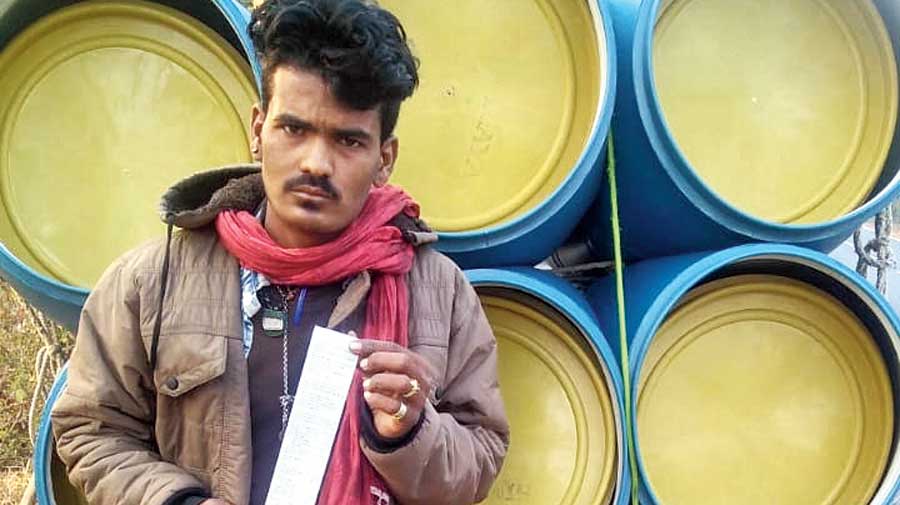 Prakash Banjara shows the e-challan
Telegraph picture
---
Bhubaneswar
|
Published 15.01.21, 12:29 AM
|
---
The Odisha transport department has slapped a Rs 1.13 lakh fine on a motorcycle rider in Rayagada for violations under the Motor Vehicles Act.
The rider, 20-year-old Prakash Banjara, who hails from Amarpur in Madhya Pradesh, used to sell plastic drums in Rayagada town in southern Odisha and its adjoining areas on his motorcycle.
Traffic inspector Yudhisthira Lenka, who slapped the fine on Prakash, told The Telegraph: "When we found the motorcycle plying without a registration number on Wednesday, we blocked his way. He was also not wearing a helmet and his bike had no valid insurance."
He said: "While he was fined Rs 5,000 for using a vehicle without registration papers and fitness certificates, Rs 500 was charged under general offence category, Rs 5,000 for driving without valid driving licence, Rs 2,000 for not having an insurance, Rs 1,000 for riding without helmet and Rs 1 lakh for sale of vehicle by the dealer without registration papers. The total amount stands Rs 1,13,500."
He added: "We have seized the motorcycle. We have asked the rider to collect the registration number from the dealer. If the rider produces all the valid documents on Friday, we will reduce the fine."
However, Lenka said the Rs 1 lakh fine will be collected from the dealer.
"We will soon begin the legal process and communicate with the dealer in Madhya Pradesh from whom he had bought the vehicle. But as Prakash was riding the motorcycle when our official seized it, the e-challan was issued against the rider. Through him only, we can reach the dealer concerned. Until and unless the fine amount is settled, the vehicle will not be released," he said.
Prakash, a hawker, told this newspaper: "I pleaded with the authorities not to impose such a huge fine. They didn't listen to me."
My elder brother Tofan purchased the motorcycle by availing of finance from a private bank in July 2020. We used to pay Rs 2,200 as instalment per month. We have contacted them and asked them to send all the documents of the vehicle."
He added: "I have made only one real mistake of not wearing a helmet. As I was carrying drums, I was going slow and feeling awkward in wearing a helmet. But it's a new vehicle and we will get all the documents shortly."
On the other hand, Rayagada regional transport officer Dilip Kumar Dalai said: "We are bound by law. If we don't strictly implement the law, many issues will crop up. We will certainly try to help Prakash but it will be done within the ambit of law."