Royal Bengal tiger found dead in Bihar
Findings of the post-mortem indicate 'either the animal was baited by poachers and then killed, or it died in afracas with some other tiger or tigress'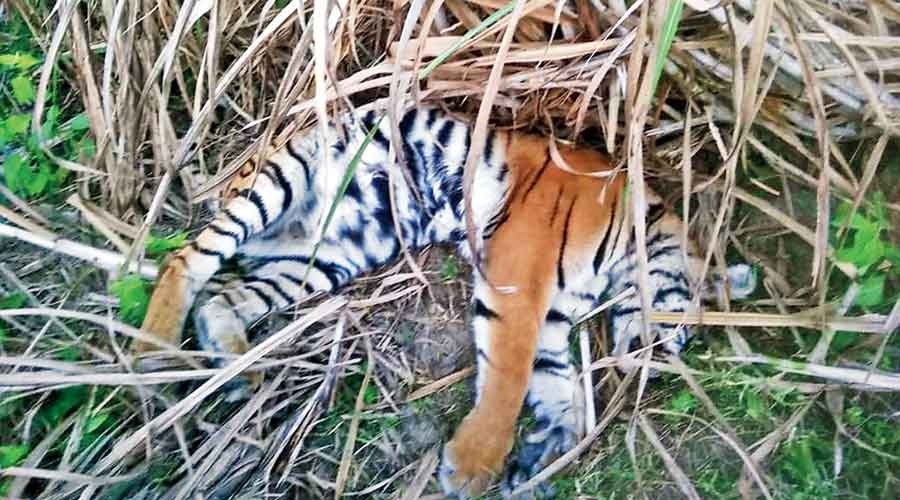 The tiger that was found dead at Valmikinagar Tiger Reserve in West Champaran district of Bihar
Sanjay Choudhary
---
Patna
|
Published 01.02.21, 12:06 AM
|
---
A Royal Bengal tiger was found dead at the Valmiki Tiger Reserve (VTR) in Bihar's West Champaran district, with forest officials saying circumstantial evidence pointed to the involvement of poachers.
A patrolling party of forest officials found the carcass late on Saturday in the forested areas of the VTR division-I. Its post-mortem was conducted on Sunday.
"The tiger was about five-years-old. Its post-mortem has revealed injuries and cut marks on its front and hind legs. A half-eaten goat was also found nearby. Portions of the goat were found in the tiger's stomach in the post-mortem," VTR director and conservator of forest Hem Kant Roy told The Telegraph.
Roy said the findings of the post-mortem indicate "either the tiger was baited by poachers with the help of a goat and then killed, or it died in afracas with some other tiger or tigress. We are not ruling out any possibilities right now."The VTR director said that no body parts of the tiger, including its nails and teeth, were missing.
The forest department has sent samples of the carcass to the Wildlife Institute of India (WII), Dehradun; Indian Veterinary Research Institute (IVRI), Izzatnagar; and the Bihar Veterinary College, Patna for further research on the cause of its death. Combing operations are being conducted in the tiger reserve and people living in villages nearby are being questioned.
The VTR is spread over 899sqkm, including 598km of core area and 301km of buffer or peripheral area in West Champaran district.
It lies contiguous to the Chitwan National Park in Nepal across the border and adjacent to the Sheopur Range of Sohagibarwar wildlife sanctuary in Uttar Pradesh.
It was declared a tiger reserve in 1994, and currently has anywhere between 28 to 37 tigers. The animals keep moving freely to and fro to the Chitwan National Park.