Row over Odisha guv's suggestion favouring entry of foreigners in Puri temple
Former minister Bijay Mohapatra says centuries-old traditions of the temple should not be tinkered with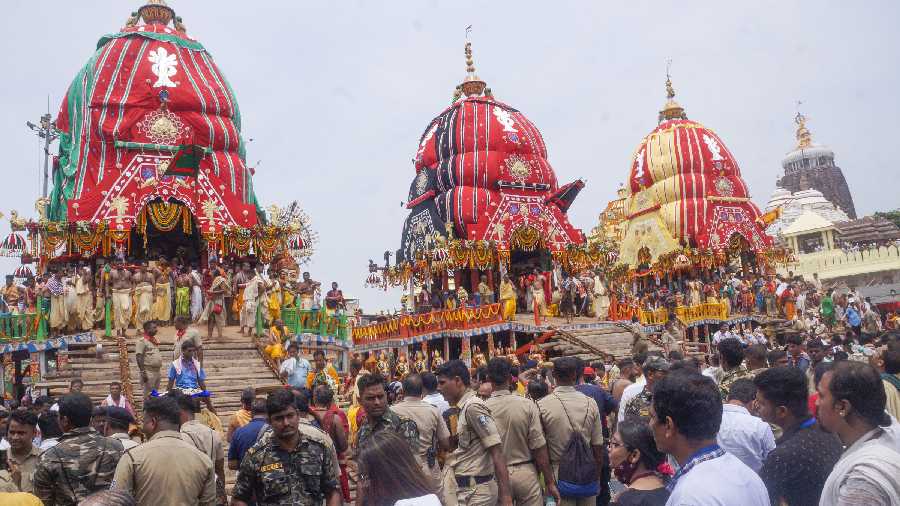 Jagannath Temple
File picture
---
Bhubaneswar
|
Published 17.01.23, 10:56 AM
|
---
Odisha Governor Ganeshi Lal has stoked a controversy by suggesting that foreigners should be allowed entry into the Jagannath temple of Puri, with several traditionalists and political leaders criticising the proposal and rejecting it outright.
Former minister Bijay Mohapatra said centuries-old traditions of the temple should not be tinkered with.
"Everyone, including non-Hindus, can have a darshan of the sibling deities -- Lord Balabhadra, Devi Subhadra and Lord Jagannath -- when they step out of the temple on the occasion of Ratha Jatra every year. There should not be a dispute over such matters," the BJP leader maintained.
Several servitors in Puri echoed Mohapatra.
Senior Congress MLA Suresh Routray said "interferences in religious practices should be avoided".
Lal, while addressing a function at Utkal University on Thursday, had said, "If the foreigners are meeting the Gajapati Maharaja of Puri, servitors and the shankaracharya, there is no point in depriving them of Lord Jagannath's darshan inside the temple. It is a suggestion." The 12th century shrine, one of the four dhams, bars the entry of non-Hindus.
A sign board at the temple gate states, "Only Hindus are allowed." A Puri based socio-cultural organisation, Shree Jagannath Sena, had staged a protest against the governor's remark in the temple town on Saturday.
"We have a lot of respect for the governor. But his proposal is unacceptable. He should refrain from the commenting on sensitive issues linked to faith and religion," Sena convener Priyadarshan Pattnaik said.
Shree Jagannath Temple Administration (SJTA), a government body that oversees the upkeep and maintenance of the temple and its operations, is yet to issue a statement on the matter.
The governor, who left for Ujjaini in Madhya Pradesh earlier on Sunday, could not be reached for his reaction.
A Raj Bhavan spokesperson, on being approached, said that the "governor has just made a suggestion, and nothing beyond that. He did not give any order." Meanwhile, Odisha former minister Damodar Rout came out in support of Lal's suggestion and said there should be no restriction on the 'darshan' of the deities by anyone, as Lord Jagannath is the "master of the universe".
"Lord Jagannath is regarded as the origin of all religions. Guru Nanak came here for a darshan of the deity. Similarly, Sri Chaitanya visited Puri in 1508 and propagated Vaishnavism on his return."