There's room in sanctuaries for more tigers, but...
Researchers say future tiger populations would hinge on efforts to minimise the risk of human-tiger conflicts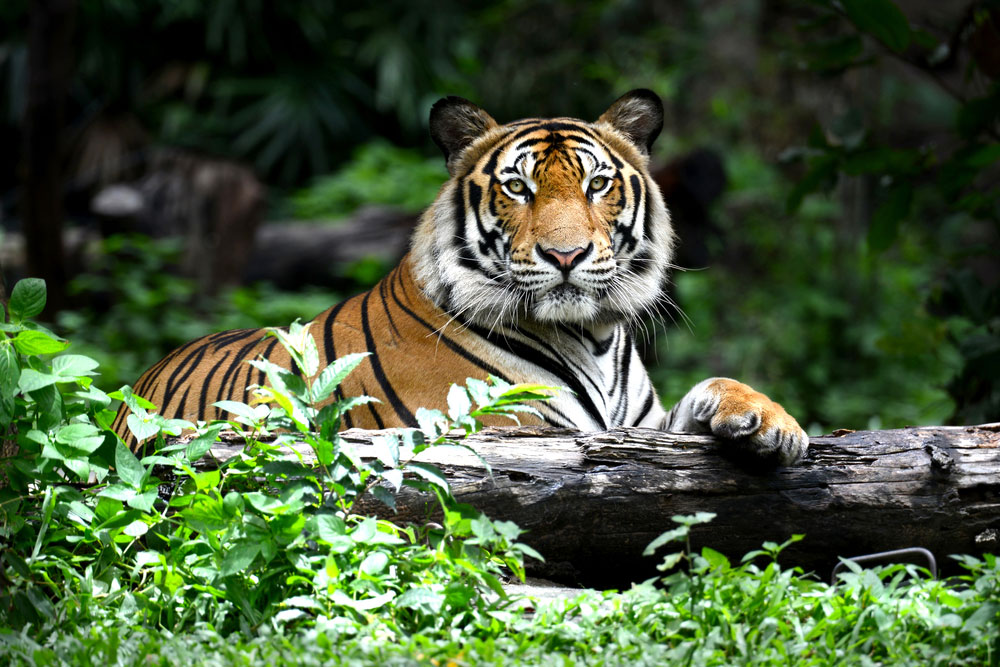 ---
---
Eight forest patches in India can collectively support more than four times their current tiger populations, although the timelines for these increases could range from years to decades, new research has suggested.
The tiger population in the eight sanctuaries distributed across eastern, central, northern and southern India could increase from the current estimated count of 62 to 287, according to the study by researchers with the World Wide Fund for Nature.
But, the researchers say, future tiger populations at these sites would hinge on conservation efforts to maintain enough prey and, among other measures, minimise the risk of human-tiger conflicts.
"Averting and managing human-tiger conflicts will be critical to increasing tiger numbers," Joseph Vattakaven, a tiger biologist at the WWF's unit for tigers who coordinated the study conducted by over 40 scientists from 10 countries, told The Telegraph.
Two tigers were killed in India over the past week — one shot dead in Maharashtra for allegedly turning into a man-eater, the other killed by angry villagers in Uttar Pradesh after it had attacked a man. Both incidents have amplified concerns about human-wildlife conflict.
India's estimated tiger count increased from 1,706 in 2010 to 2,226 in 2014, a population rise widely cited as a measure of success of Project Tiger launched in 1972. But conservation scientists caution that habitat loss has meant that there is increasingly less space for tigers.
The eight Indian sanctuaries are part of 18 tiger "recovery sites" in Asia that the WWF researchers assessed to determine how many tigers each site might support with available prey and conservation efforts.
The exercise comes against the backdrop of a goal tiger range countries had set for themselves in 2010 to double the world's tiger population from 3,200, as estimated then, to over 6,000 by 2022.
The study, published this week in the journal PLOS One, has estimated that the 18 sites, which at present support 165 tigers, have the potential to harbour 585 tigers.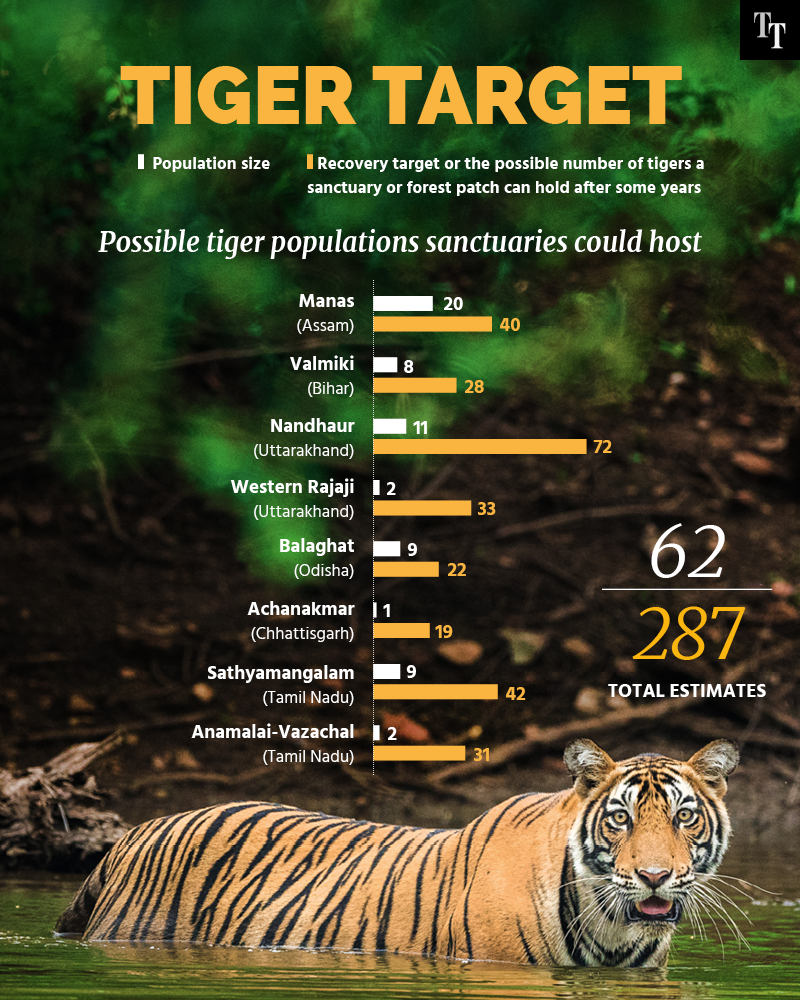 At four sites — Nandhaur and Western Rajaji (both in Uttarakhand), Shuklaphanta in Nepal and Srepok in Cambodia — the tiger population could increase to the recovery targets within 15 to 20 years, the study suggests.
At all the other sites, significant population recovery could take 30 to 50 years, and critically depend on the growth of prey populations.
The goal to double the tiger population emerged at a conference in St Petersburg, Russia, amid concerns that tiger numbers had declined by over 97 per cent over the past century.
"Through this study, we're trying to answer: where and how quickly can tiger populations increase and what needs to be done at specific sites," Vattakaven said. "Such an exercise could help channel resources to where there is greatest potential for population recovery."
The researchers say interventions will need to be site-specific. The Nandhaur sanctuary, for instance, is currently depleted of prey and supports 11 tigers. If the site is repopulated with prey, tiger numbers could increase to over 70.
Western Rajaji has had only two female tigers for about a decade. The researchers estimate that the population recovery there will require bringing more tigers there, and the rise to a recovery target of over 30 could take about 20 years.
But they caution that even in areas such as Western Rajaji or Yok Don in Vietnam and Srepok in Cambodia, in need of tiger supplementation through reintroductions, the success of recovery will depend on first improving protection and management practices.
Wildlife specialists believe India will need to significantly expand well-protected tiger habitats in the coming decades.
"There are about 300,000 square kilometres of potential habitat, but we are pouring all the money, resources and efforts into the same 10 per cent area which already has tigers at high densities," said Ullas Karanth, director of the Centre for Wildlife Studies, Bangalore, who was not associated with the WWF study.
"India needs to focus on massive funding of voluntary relocation of human settlements in new landscapes to make room for expanding conflict-free tiger habitats," Karanth added.