Man-eater by tail: no cut-and-dried answer
Lens on 'urban conservationists' to let man-eaters remain in forests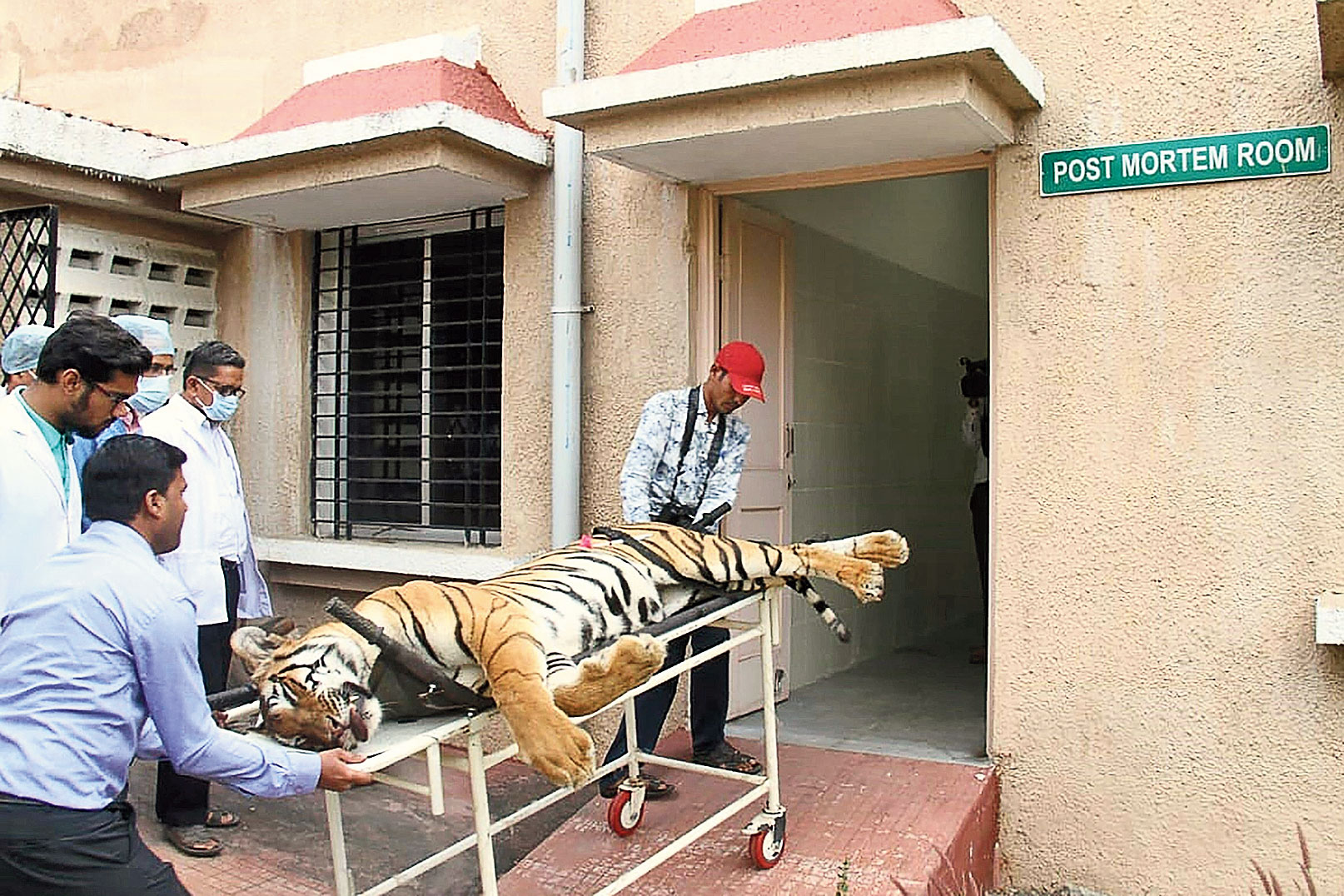 ---
---
The revenge killings of two tigers — one in Maharashtra, the other in Uttar Pradesh — have rekindled concerns among wildlife experts about India's failure to minimise and manage human-wildlife conflict that could worsen amid habitat fragmentation and development projects.
A hunter assisted by forest staff last Friday shot dead a tigress that had since 2016 allegedly killed 13 people in the forests around Ralegaon, Maharashtra, while villagers bludgeoned to death on Sunday a tiger near Dudhwa, Uttar Pradesh, that had attacked a person.
Police officials have claimed the Ralegaon tigress, Avni, was shot dead only after a tranquilliser failed to work. But the killing has triggered an outpouring of condemnation on social media by sections of the public and Maneka Gandhi, the Union minister for women and child development, has described it a "ghastly murder" by a "trigger-happy shooter".
But conservation biologists assert that while persistent pressures on historical wildlife habitats — whether from highways or human settlements, farmland or railway lines — could intensify conflict between people and elephants, leopards, or tigers, man-eating tigers need to be removed.
"When man-eaters emerge, they should be trapped or shot," Ullas Karanth, director at the Centre for Wildlife Studies and adjunct professor at the National Centre for Biological Sciences (NCBS), Bangalore, who has studied tigers for nearly three decades.
India's tiger counts have increased — 1,411 in 2006, 1,706 in 2010, and 2,226 in 2014 — and are widely cited to measure success of Project Tiger launched in 1972. But conservation officials say habitat loss has meant that there is increasingly less space for tigers.
Scientific studies suggest that a population of 80 to 100 tigers with about 20 breeding females requires about 800sqkm inviolate space. But average available space in protected areas is about 212sqkm, an official with the National Tiger Conservation Authority said.
"Given that about 10 per cent of all potential tiger habitat is now in high density reserves, we can expect a dozen or so such tigers to emerge every year," Karanth said. "Such man-eaters should be eliminated so that local communities do not turn hostile to all tigers, because of rare man-eating tigers."
Karanth and others argue that pleas by "urban conservationists" to let man-eaters remain in forests are unjustified. "When thousands of local people are at potential risk from a single tiger, it is not fair for those who are not at risk to expect man-eaters to be allowed to roam free," he said.
The Union environment and forests ministry has said there is no data to indicate any surge in human-wildlife conflict over the past few years. Statistics on accidental deaths released by the National Crime Records Bureau show that the number of people killed annually by all animals has ranged from 864 to 1,233 between 2006 and 2015.
The NTCA has registered on average two human casualties or deaths between 2013-14 to 2015-16 — 36 in 2013-14, 34 in 2014-15, and 32 in 2015-16. Elephants are linked to more human casualties or deaths — 413 in 2013-14, 392 in 2014-15, and 419 in 2015-16.
"With increasing wildlife populations, a significant percentage of animals live outside our protected areas which have very limited scope for expansion in area," said Ravi Chellam, a senior wildlife biologist in Bangalore and a specialist on lions.
"We have large tracts of land where humans and wildlife are forced to coexist — their paths will intersect."
Chellam points out that roughly 40 per cent of an estimated count of over 600 Asiatic lions reside outside the Gir protected area in Saurashtra. "They coexist with villagers and cattle. We also have the example of the Borivali national park populated with leopards right in the centre of a metropolitan area."
Conservation scientists also say there is need for forest and wildlife departments to rapidly engage with local communities affected by human-wildlife conflict. "They need to respond to potential threats before they escalate, work with local communities to assuage fears," said Vidya Athreya, a wildlife biologist with the Wildlife Conservation Society.
Experts point out that local communities have over the centuries learnt to live alongside wild animals but that tolerance has changed amid habitat loss and policies that seek to entirely remove local communities from protected areas. Many believe that the momentum to expand protected habitats has already stalled because local people are turning hostile to conservation.
Some members of local communities appear to appreciate factors driving the human-wildlife conflict. "We've taken over their traditional land," said Mahesh Prasad, a resident of a village about 15km from Almora in Uttarakhand where wild leopards have killed over 10 dogs over the past month. "We're the encroachers."