R-Day parade: Six army contingents to showcase uniforms and weapons
Defence ministry sources said Beating Retreat ceremony would for first time witness a laser-mapping display and a show involving indigenously developed drones this year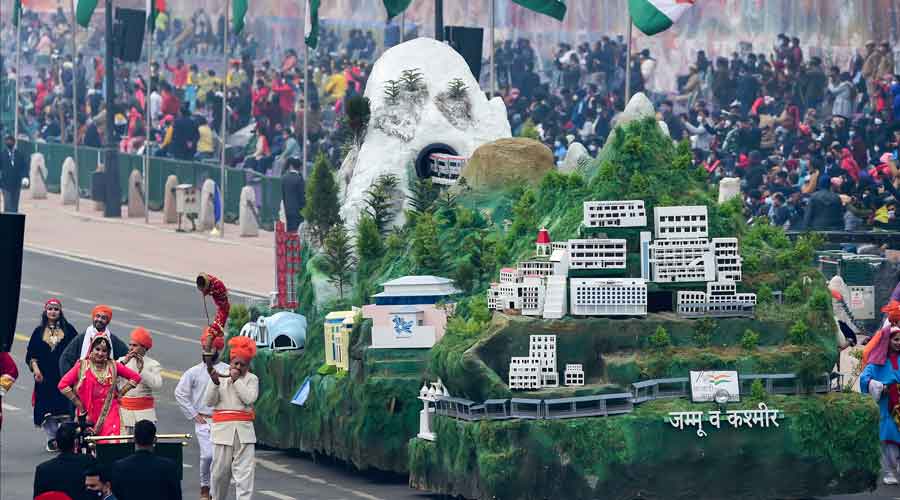 Jammu and Kashmir tableau on display during the full dress rehearsal for Republic Day Parade 2022 at Rajpath in New Delhi on Sunday.
PTI Photo
---
New Delhi
|
Published 24.01.22, 02:52 AM
|
---
The six army contingents at the Republic Day parade will showcase the various uniforms and weapons used from the 1950s till the present day to trace the force's evolution.
The nod to history and heritage contrasts sharply with the Narendra Modi government's decision on Saturday to drop from the Beating Retreat ceremony the Christian hymn, Abide With Me, that has been played at the January 29 event every year since 1950.
Defence ministry sources said the Beating Retreat ceremony would for the first time witness a laser-mapping display and a show involving indigenously developed drones this year.
Major General Alok Kakkar, Chief of Staff (Delhi area), told a news conference that the Republic Day parade would start at 10.30am instead of the usual 10am.
He said the army's first marching contingent, made up of Rajput Regiment soldiers, will wear a 1950s uniform and carry .303 rifles. They will be followed by the Assam Regiment, sporting a 1960s uniform and wielding .303 rifles.
The third marching contingent, made up of troops from the Jammu and Kashmir Light Infantry, will wear a 1970s uniform and carry 7.62mm self-loading rifles.
The fourth and fifth marching contingents will be from the Sikh Light Infantry and Army Ordnance Corps, respectively, and will don the current olive green uniform and carry Insas rifles.
The sixth contingent, made up of Parachute Regiment soldiers, will wear the new combat uniform unveiled at the Army Day parade earlier this month, and carry Tavor assault rifles.
Each marching contingent will have 96 soldiers instead of the usual 144 in a nod to the Covid protocol.
Overall, 16 marching contingents will participate — six from the army, one each from the navy and the air force, four from the central armed police forces, two from the National Cadet Corps, and one each from Delhi police and the National Service Scheme.
Asked about the dropping of Abide With Me, Kakkar said: "Our charter is to organise the event. I cannot comment on the selection of tunes."
The hymn is known to have been a favourite with Mahatma Gandhi. The Beating Retreat ceremony on January 29 evening marks the end of the nearly weeklong Republic Day celebrations.