Rename your Muslim leaders: Yogi ally to BJP
Minister calls out Uttar Pradesh chief minister Adityanath's penchant to rename cities, says it is a bid to divert attention from job crisis and poverty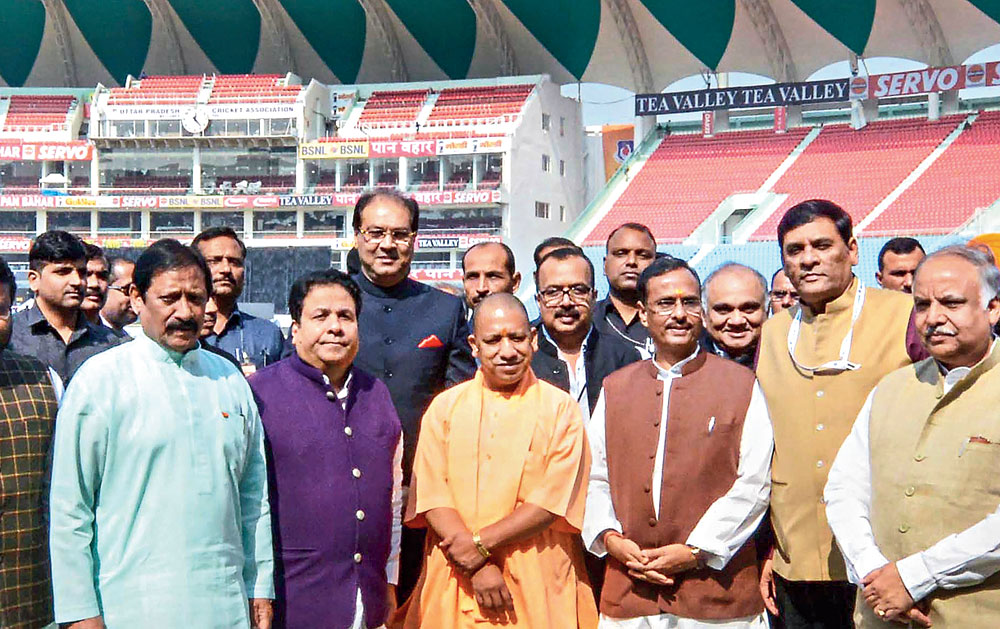 Yogi Adityanath (centre) at the newly inaugurated Atal Bihari Vajpayee Ekana International Cricket Stadium in Lucknow on Tuesday.
(PTI)
---
Lucknow
|
Published 10.11.18, 10:08 PM
|
---
One of Yogi Adityanath's ministers and allies on Saturday advised the BJP to change the names of its frontline Muslim members before renaming places founded by Muslim rulers.
"Mukhtar Abbas Naqvi is Union minister for minority affairs, Syed Shahnawaz Hussain is BJP national spokesperson and Mohsin Raza is Uttar Pradesh minister for minority affairs. I demand that the government and the BJP change their names before carrying on renaming cities that have Muslim names," backward class welfare minister Om Prakash Rajbhar told reporters in Lucknow.
Rajbhar, president of the Suheldev Bharatiya Samaj Party which has four Assembly seats and claims to represent the Most Backward Castes, said the renaming spree was a "drama" to divert people's attention from the "real issues" of joblessness and poverty.
"The government changed the name of Mughalsarai railway station, Faizabad district and Allahabad because Muslim rulers had founded these places. But the hypocritical BJP politicians don't think of changing the names of their own Muslim leaders," he said.
Mughalsarai has been renamed after RSS ideologue Deendayal Upadhyay while Allahabad and Faizabad have been renamed Prayagraj and Ayodhya. A move is afoot to rename Ahmedabad as Karnavati.
Rajbhar was replying to a question about the name changes and a fresh demand from some BJP politicians to rename Muzaffarnagar as Laxminagar.
He said the BJP government would never be able to give the country what Muslim kings had given it: "Can we delete from history that Sher Shah Suri built the Grand Trunk Road and Shah Jahan gave us the Taj Mahal and the Red Fort?"
No state BJP leader was ready to comment. A party spokesperson said on the condition of anonymity that senior leaders were watching Rajbhar's activities.
Rajbhar had a fortnight ago accused the BJP of misleading and dividing the people by talking of a Ram temple before the general election.
He had earlier this year accused the BJP of forgetting the people after its poll victories and called Adityanath's government corrupt and non-functional, his perceived closeness to BJP president Amit Shah forcing the chief minister to swallow the barbs.
He had recently accused the BJP of reneging on a promise to him to earmark a part of the OBC quota for the Most Backward Castes.