Yogi erases Faizabad, using Persian and Arabic
UP CM speaks of Ayodhya being our aan, baan and shaan, and PM Modi uses same phrase to laud ITBP men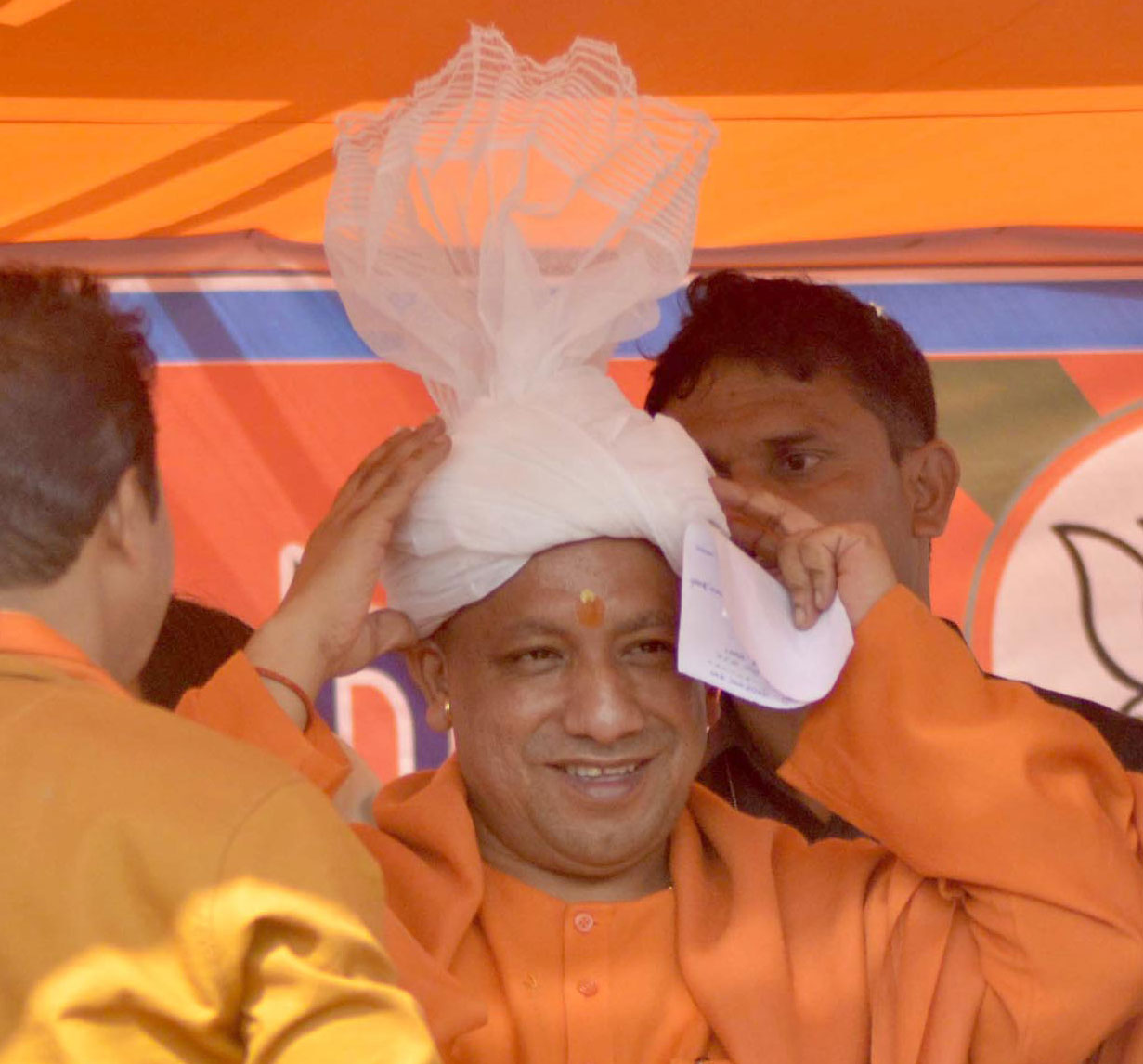 ---
|
Lucknow
|
Published 07.11.18, 08:31 PM
---
Parveen Babi had delivered the phrase with elan in Shaan, the 1980 blockbuster. Now, Yogi Adityanath and Narendra Modi are doing so with gusto.

The Uttar Pradesh chief minister and the Prime Minister have taken a liking to a phrase — "aan, baan aur shaan" — linked to India's multicultural past at a time a systematic drive has been unleashed to cleanse the country of reminders of its Islamic history.
Mughalsarai Junction has become Pt. Deendayal Upadhyaya Junction, Allahabad is Prayagraj, Faizabad is turning into Ayodhya and Ahmedabad may become Karnavati.
If the drift radiates an ill-concealed aversion towards Muslim names, the two tallest sons of Uttar Pradesh and Gujarat have, unwittingly or otherwise, also been borrowing from Persian, Arabic and Urdu to articulate their pursuits.
Uttar Pradesh chief minister Adityanath held forth on "aan, baan aur shaan" on Tuesday while rechristening Faizabad as Ayodhya. Less than twenty-four hours later on Diwali, Prime Minister Narendra Modi chose the very same triumvirate while celebrating with troops near the China border.
Aan (bravery), baan (speech) and shaan (self-respect) trace one link or the other to Persian, Arabic or Urdu, according to scholars.
"Baan" is derived from "vaani" in Sanskrit, one scholar said, while another said the word is also found in Urdu. Urdu itself is a testimony to the coexistence of Hindi, Persian and Arabic.
The etymology suggests Adityanath has mercilessly replaced Faizabad with Ayodhya while paying lip service to a phrase that has admirably assimilated multiple cultures.
Addressing a public meeting in Ayodhya on Tuesday, the chief minister had said: "Ayodhya hamaari aan, baan aur shaan ka prateek hai (Ayodhya symbolises our bravery, speech and self-respect.)"
Had the chief minister not prefaced the use of the phrase with the announcement of the name change that seeks to bury history, his willingness to embrace the phrase could have been seen as a laudable attempt at inclusiveness and assimilation.
Unlike Adityanath, Modi used the phrase for a noble cause. The Prime Minister told Indo-Tibetan Border Police (ITBP) jawans in the Harshil valley of Uttarakhand on Diwali that the security forces were the country's "aan, baan aur shaan".
The irony of Adityanath and Modi — who preside over an establishment that is busy airbrushing history — spicing up their homilies with a mix of Persian, Arabic and Urdu is not lost on academics.
They pointed out that the words "aan" and "shaan" were intrinsically connected to Islamic culture.
These scholars wondered in mirth whether the two BJP leaders understood the origin and meaning of the words or the perspective in which the phrase was used at one point.
Tariq Saeed, a professor of Urdu at Aligarh Muslim University, said: "Besides the origin of the two words ('aan' and 'shaan'), what is more important is that sycophants and stooges of the Rajput kings used the phrase during ancient and medieval times to keep their masters happy. There were sycophantic writers in the courts of Rajput kings who wrote stories in the honour of their masters and frequently used the phrase."
The professor also drew attention to the present-day plight of Ayodhya. "As far as the aan, baan aur shaan of Ayodhya is concerned, I can say that the temple town is in a sorry state. It has no glory because businesses are not coming up in and around Ayodhya and the city has been in a dilapidated state for centuries," Saeed said.
Anil Kumar Singh, an associate professor of Hindi literature at Saket Degree College in Ayodhya, said the phrase "aan, baan aur shaan" didn't have a serious meaning. "It was mostly meant to pamper landlords," he said.
Khaja Ikram, Urdu professor at JNU, said the word "shaan" had its roots in Arabic and was later included in Persian and then in Urdu. "Aan" and "baan" are used in Hindi as well as Urdu, Ikram added.
Maulana Saud Alam Qasami, a professor of theology at Aligarh Muslim University, said: "'Aan' and 'shaan' have Persian origins. But 'shaan' has also been used liberally in Arabic. 'Baan' has been in frequent use in Urdu between Awadh and Delhi since time immemorial."
It is not known who inspired Adityanath and Modi to develop a taste for the phrase.
Fans of Shaan, the superhit movie, recall that the audience used to lap it up when Parveen would say just before a song in the film: "'Sirf pyar karne wale jante hain ki aan, baan aur shaan se jina kise kehte hain'."