Released from Tihar, Bhim Army chief Chandrashekar Azad visits Jama Masjid
A Delhi court has restricted him from protesting and allowed him to stay in Delhi for only 24 hours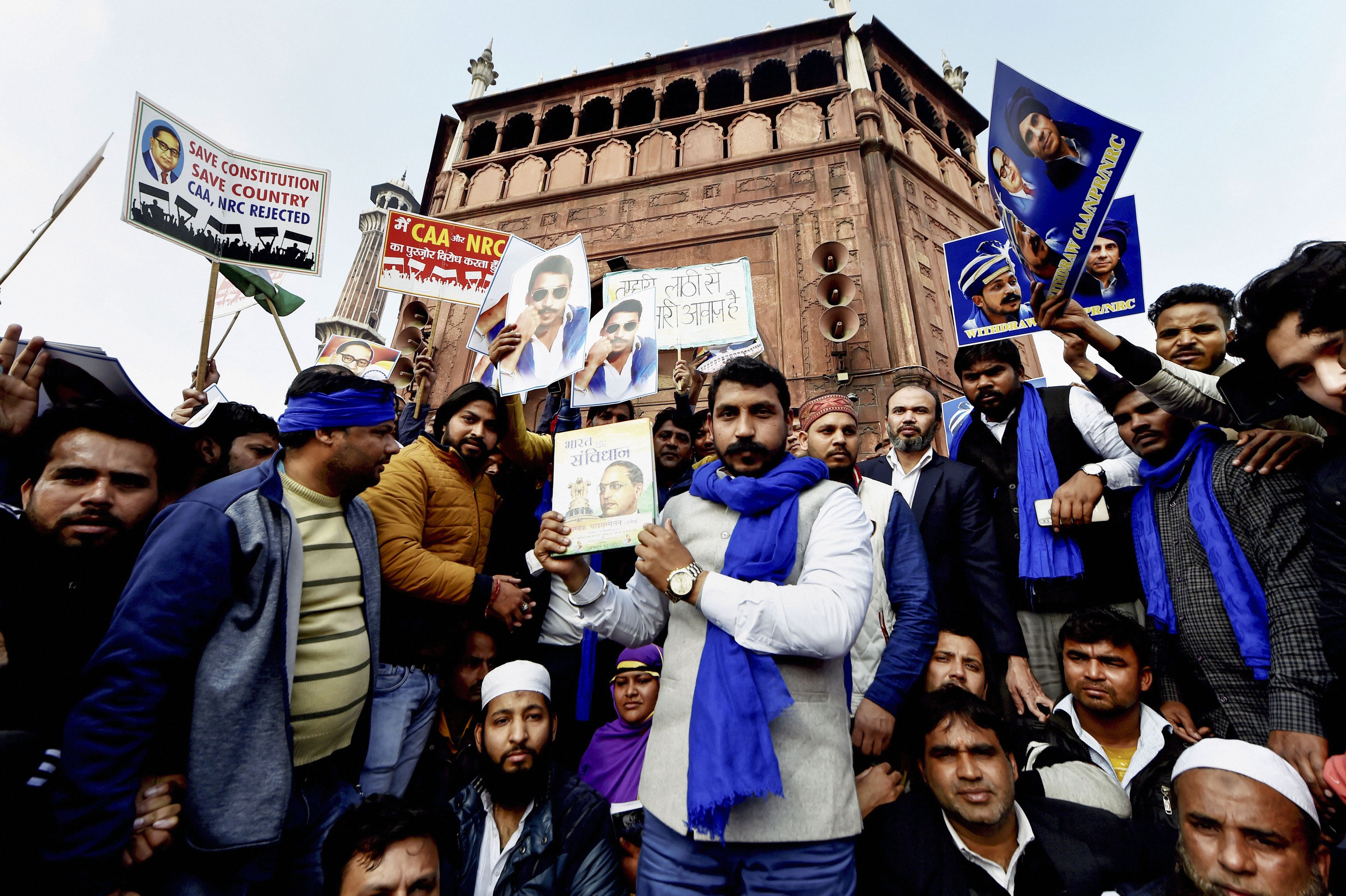 ---
New Delhi
|
Published 17.01.20, 10:23 AM
|
---
Holding a copy of the Constitution of India, Bhim Army chief Chandrashekhar Azad reached the historic Jama Masjid after Friday prayers. Amid posters of Babasaheb Ambedkar, Azad walked up the stairs of Jama Masjid.
The Bhim Army chief was released on bail from Tihar Jail on Thursday on several conditions restricting him from protesting and allowing him to stay in Delhi for only 24 hours. Azad has been restrained by the court from visiting Delhi for four weeks thereafter.
The court order on Wednesday specifically instructed him to not hold any dharna in Delhi. Additional sessions judge Kamini Lau had granted relief to Azad on furnishing a bail bond of Rs.25,000.

Some news websites and people on social media said that Azad's visit to Jama Masjid is a violation of the court order. However, he was granted permission to visit the mosque.
The Bhim Army chief's counsel, advocate Mehmood Pracha, had sought permission for him to visit Jama Masjid, Jor Bagh and Guru Ravidas Temple to his obeisance.
"In this regard, it is clarified that the applicant/accused is free to visit these places after his release within 24 hours of his release and it shall be ensured that thereafter he is escorted to his permanent address," the order said. His permanent address is in Saharanpur, Uttar Pradesh.
It was also pointed out that he has violated the court order preventing him from protesting, however, there have been protests on the stairs of Jama Masjid every day which, for the past one month, is bigger on Friday prayers.
After his release last night, Azad visited a dargah in Jor Bagh and the Ravidas Temple earlier this morning.
दोस्तों जय भीम, मैं वापिस आ गया हूँ आपका प्यार साथ है तो किसी जेल की परवाह नहीं। बाबा साहब के संविधान को हम सब मिलकर बचाएंगे, किसी को डरने की जरूरत नहीं है। जब तक मैं जिंदा हूं तब तक कोई संविधान विरोधी कानून लागू नहीं होगा। जय भीम,जय संविधान,जय भारत #RavanisBack

— Chandra Shekhar Aazad (@BhimArmyChief) January 16, 2020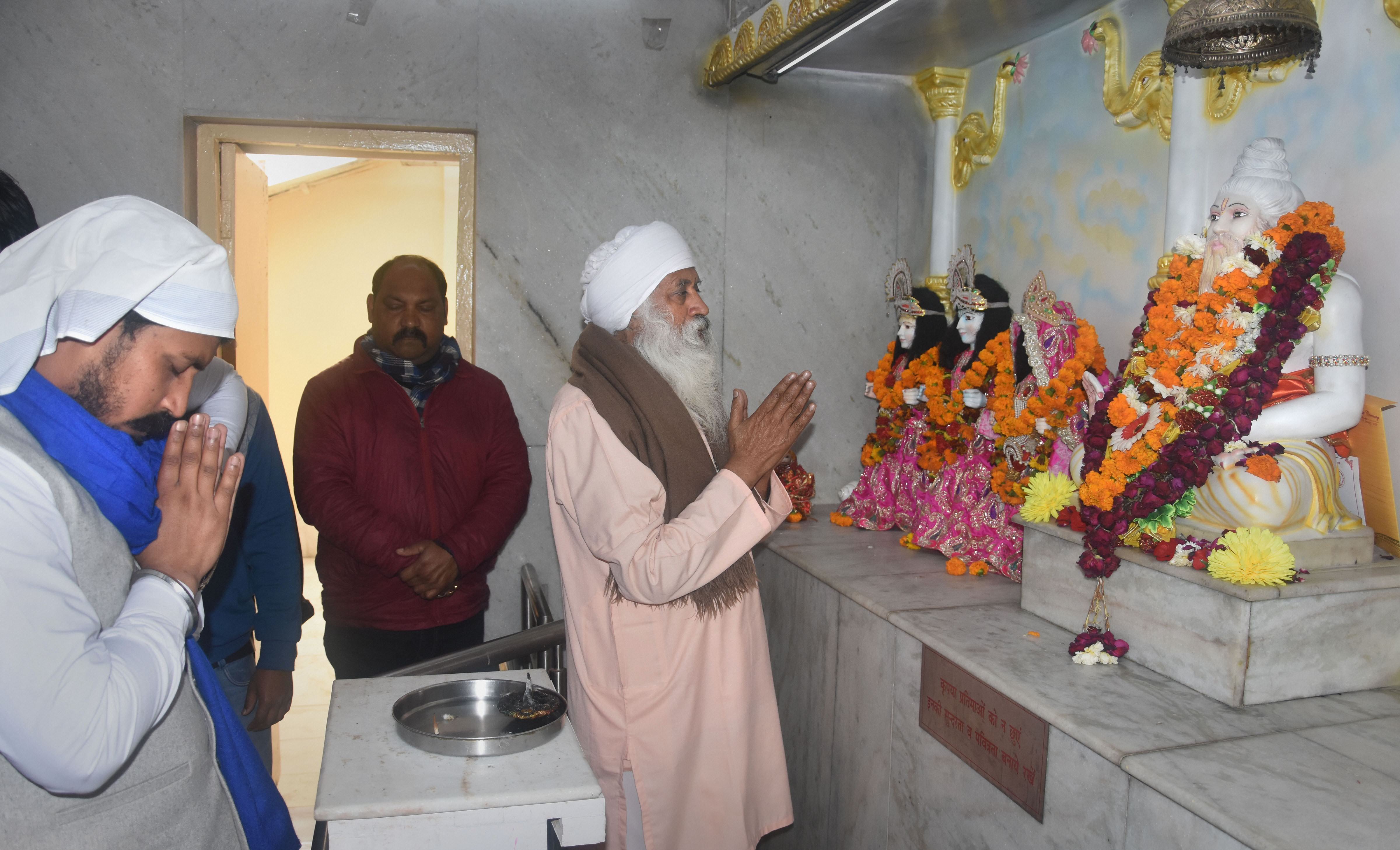 Azad was welcomed with slogans of 'Humara neta kaisa ho? Azad bhai jaisa ho' as a crowd gathered around him on the stairs of the mosque.

He called for repeal of the Citizenship (Amendment) Act, calling it a 'black act.' He further appealed to people from every religion to join anti-CAA protests to show that they are not led by Muslims alone.
"This is a movement for the dignity of this constitution, for our existence. To strengthen it is the responsibility of every citizen," the popular Dalit leader said. Azad pointed out that Article 51A of the Constitution says that it is the fundamental duty of every citizen to respect and abide by the Constitution.
Azad was arrested on December 21 last year after he surrendered to the police after a long-drawn stand-off.
The Bhim Army chief had called a protest march from Jama Masjid on December 20. He had emerged from a crowd of protesters with a copy of the Constitution after the Friday prayers at the Masjid.
On the same evening, a police crackdown was carried out in Daryaganj that left several injured. Police had also detained many people, including minors.
In a tweet, before he was arrested, Azad had said that he surrendered in exchange for the release of the detainees. Minors who were picked by the police were released late in the night but a case was registered against the adults.
सभी लोगों को रिहा कर दिया जाए मैं गिरफ्तारी देने को तैयार हूँ। साथियों सँघर्ष करते रहना और संविधान की रक्षा के लिए एकजुट रहना। जय भीम जय संविधान

— Chandra Shekhar Aazad (@BhimArmyChief) December 20, 2019
Azad was sent to a 14-day judicial custody by the Chief Metropolitan Magistrate on duty on December 21. He was charged with provoking violence and instigating the crowd in Daryaganj.