Delhi court directs Tihar to treat Chandrashekhar Azad at AIIMS
The medical report disclosed that Azad has a medical condition called Polycythaemia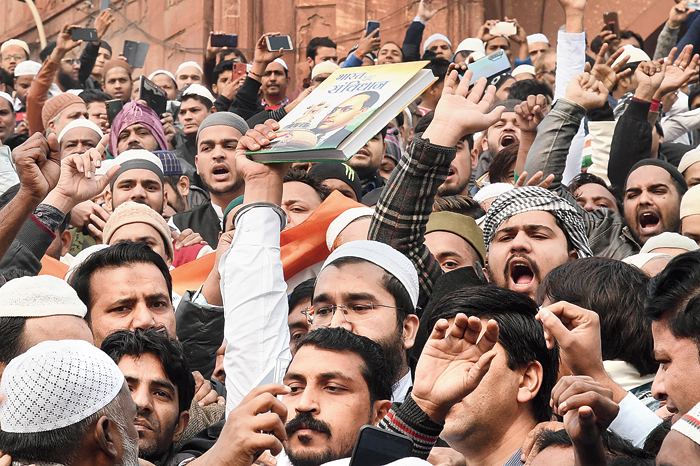 ---
New Delhi
|
Published 09.01.20, 02:08 PM
|
---
A Delhi court directed Tihar jail authorities to treat Bhim Army chief Chandrashekhar Azad at AIIMS. The court also blamed the jail authorities for medical negligence and for not providing the required treatment to Azad.
The Tis Hazari Court was hearing Azad's application seeking treatment on Thursday. The hearing was adjourned on Wednesday as the investigating officer had failed to produce Azad's medical report. 
"The jail authorities argued that he shouldn't be sent to AIIMS, but I told the court that it is the best hospital and he should be sent there. He is not a hardened criminal, he is a political prisoner. He is already being treated there, so it is prudent to send him to AIIMS," said Mehmood Pracha, Bhim Army's legal adviser.

Pracha said it was shocking that both the Tihar jail and Delhi Police were opposed to the idea of Azad being sent to AIIMS.
Last week, the Bhim Sena chief's doctor Harjit Singh Bhatti, who works at the Manipal hospital in Delhi, had raised concerns about his deteriorating health. Speaking to The Telegraph, Bhatti said that Azad required continuous medical attention for his 'life-threatening' condition.
"He has a blood disorder which needs continuous monitoring of haemoglobin and haematocrit. If these are not kept under control, it would lead to thickening of blood, which could result in cardiac arrest or stroke," said Bhatti.
After our continuous efforts & pressure created by millions of fellow Indians, finally @BhimArmyChief Chandrashekar is taken to Deen Dayal Upadhyay Hospital for medical check up & investigations. We are waiting for his reports & will continue to insist to bring him to AIIMS.

— Harjit Singh Bhatti (@DrHarjitBhatti) January 6, 2020
The report from AIIMs submitted on Thursday disclosed that Azad has a medical condition called Polycythaemia, where the body's hematocrit (the volume percentage of red blood cells in the blood) is elevated. According to Bhatti, his health condition was diagnosed about a year ago.

"Most shocking was when the Tihar jail lawyer said he got to know about polycythaemia only in the court yesterday. And his report said otherwise. It said that Chandrashekhar told them about it. There is a deliberate attempt to aggravate his medical condition," said Pracha.
Pracha told the court symptoms – skin irritation, watering eyes and blurred vision – which show his deteriorating condition.
'I met him on Tuesday. His hands and legs were swollen and he had a breathing problem,' said the advocate.
Pracha said that the senior medical officer of the jail told the court that he wasn't aware of his condition despite his own report saying that Azad told them about his condition.
"…the above said inmate came to Jail Dispensary with alleged history of assault with complaints of low backache, body ache and difficulty in walking. He had stated that he was a patient of Polycythaemia but no records were available with him," the report said.
Tihar Jail's medical report mentioned that Azad was taken to Deen Dayal Upadhyay Hospital on January 6 after he complained of itchiness and sleep deprivation but concluded that his condition was "stable and satisfactory".
Pracha alleged that the jail doctor's report can't be reliable. He also said that he doesn't know whether Azad was indeed taken to the DDU hospital as claimed.
Azad was arrested on December 21 after he surrendered to the police after a long-drawn stand-off between Azad and the police.
The Bhim army chief had called a protest march from Jama Masjid on December 20. He had emerged from a crowd of protesters with a copy of the Constitution after the Friday prayers at the Masjid.
On the same evening, a police crackdown was carried out in Daryaganj that left several injured. Police had also detained many people, including minors.
In a tweet, before Azad was arrested, the Dalit leader had said that he surrendered in exchange of release of the detainees. Minors who were picked by the police were released late in the night but a case was registered against the adults.
सभी लोगों को रिहा कर दिया जाए मैं गिरफ्तारी देने को तैयार हूँ। साथियों सँघर्ष करते रहना और संविधान की रक्षा के लिए एकजुट रहना। जय भीम जय संविधान

— Chandra Shekhar Aazad (@BhimArmyChief) December 20, 2019
Pracha was there with Azad when they had occupied the stairs of Jamia Masjid on December 20. He and Himanshu Valmiki, Bhim Army's Delhi president, had announced the formation of a Samvidhan Suraksha Samiti (Committee for the protection of the constitution) the next day to continue the protest against the Citizenship Amendment Act and National Register of Citizens.

Azad was sent to a 14-day judicial custody by the Chief Metropolitan Magistrate on duty on December 21. He was charged with provoking violence and instigating the crowd in Daryaganj.
Three days ago, Congress leader Priyanka Gandhi Vadra had also come out in support of Azad, saying the government has no grounds to keep Chandrashekhar in jail. She also supported the decision of him being sent to AIIMS.