Record 99.04% students pass CBSE Class X exams
The results were announced on Tuesday, and over 2.58 lakh pupils have scored over 90 per cent marks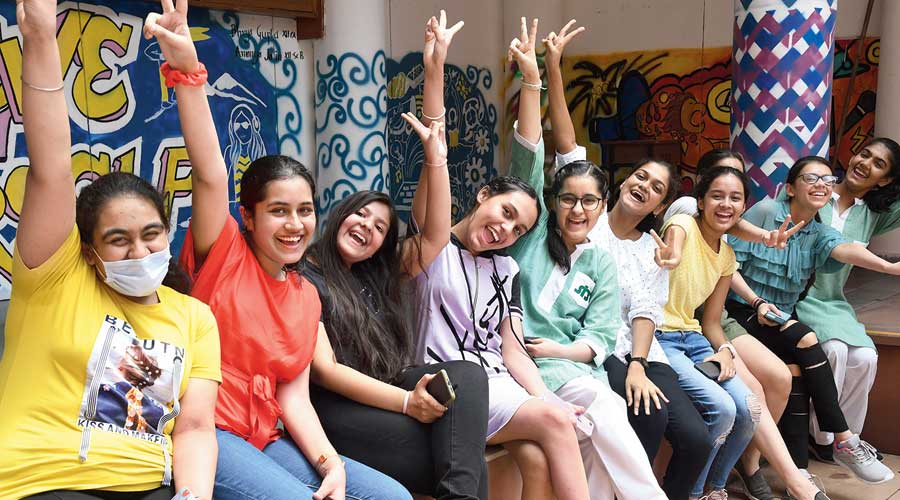 Students celebrate in New Delhi after the CBSE Class X results were declared on Tuesday
Prem Singh
---
New Delhi
|
Published 04.08.21, 01:49 AM
|
---
A record 99.04 per cent students have passed the Central Board of Secondary Education (CBSE) Class X exams, whose results were announced on Tuesday, and over 2.58 lakh pupils have scored over 90 per cent marks.
The pass rates in 2020 and 2019 had been 91.46 per cent and 91.1 per cent, respectively. Last year, 1.84 lakh students had secured over 90 per cent marks, while in 2019 around 2.25 lakh had done so.
Nearly 21.13 lakh candidates had registered for the Class X exams this time, of whom the results of 20.97 lakh students have been declared. The results of the remaining students are under process.
Around 2.01 lakh students have scored between 90 and 95 per cent, while 57,824 students have got over 95 per cent marks. Among the 16 regions, Thiruvananthapuram in Kerala recorded the highest pass rate, at 99.99 per cent, while Guwahati in Assam clocked the lowest, at 90.54 per cent.
The Class X board exams, like the Class XII tests whose results were announced last month, had not been held owing to the pandemic.
The CBSE marked the Class X students on the basis of performance in school-based exams (80 per cent weightage) and internal assessment (20 per cent).
Internal assessment included performance in projects, notebook writing, homework and classroom (mostly online) activities. Each school formed a panel of teachers to award the remaining 80 marks in each subject based on the following break-up — 40 marks for the pre-board exam, 30 marks for the half-yearly exam and 10 marks for periodic tests.
Several academics were of the opinion that learning levels had declined this time. Ameeta Mulla Wattal, the chairperson of the DLF Schools, said: "The major concern is that learning has taken a big hit. Online learning is not effective. There is boredom and exertion. Now we need to reopen schools. Schools have reopened the world over except in India."
Sangeeta Bhatia, the principal of KIIT World School in New Delhi, said this year's results were aimed more at ensuring that students did not come under more stress during all-encompassing adversities due to the pandemic.
"I see certain provisions have been made for de-stressing the students in this difficult period when schools have remained closed for almost the entire academic session. But the results do not matter much. What matters are the skills acquired and the depth of learning that will help them move forward in life," she said.
Students usually continue in the same school where they have studied till Class X, so there won't be too many problems over admission to Class XI, Bhatia said.