Rasul Miya and his song on Mahatma Gandhi's assassination
He was a poet, playwright, lyricist, folk singer and social and political activist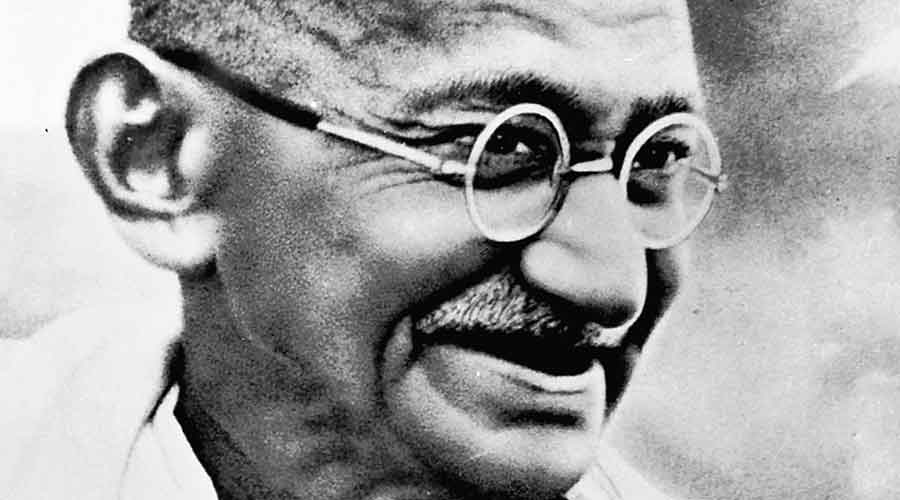 Mahatma Gandhi.
File photo
---
Published 16.05.22, 03:07 AM
|
---
When it comes to Bhojpuri literature or music, many people are only familiar with the vulgar songs raking in "likes" on YouTube and social media. But there is more that remains unknown outside.
Bhojpuri literature, especially folk music, is profoundly rich and covers a wide range of social, cultural and political issues such as dowry, child marriage, migration, freedom, communalism and caste.
Migration has always been central to Bhojpuri literature. Over the last two centuries, large numbers of people have migrated from this region. Bidesiya, a play written by Bhikhari Thakur that marks the trend, has been adapted into a film. Mahendra Misir and Master Nazir, too, are known for writing on migration and many other issues.
But before them, there was Rasul Miya whose work was not limited to cultural and social issues. He wrote also about the political problems of the time. His poetry is full of agony over issues such as colonialism, feudalism, the Partition, Hindu-Muslim unity and Mahatma Gandhi's assassination.
Rasul Miya was a poet, playwright, lyricist, folk singer and social and political activist. He was born in 1872 in a village called Jigna in Gopalganj district (neighbouring Siwan) of Bihar and died in 1952. His father and other family elders, too, were members of a drama company known as Naach in the region.
He learnt from his elders but did not follow their tradition. He incorporated contemporary political ideas into his songs. His poetry bore the influence of Mahatma Gandhi.
'Kalkatwa' connection
Bihar and eastern Uttar Pradesh have a very old relationship with Calcutta. Since colonial times, this region has not had much employment opportunities, so people migrated to countries like Fiji and Suriname as "girmitiya mazdoors" (indentured labour), to the Gulf countries (called Pardesi) as unskilled labour, and to Calcutta in search of a prosperous life.
Therefore, migration was a very important reason why such literature came into being. In a way, Calcutta was seen as evil because it always snatched the male members of the household.
The people of this region often call the city "Kalkatwa" — a name that carries a negative connotation that is far removed from the "Kalkattey" of Mirza Ghalib, who loved the city.
As Bhikhari Thakur wrote: "Hey sajni re hey sajni, piya gaile Kalkatwa he sajni (Oh, my darling, my beloved has gone away to Calcutta)."
As his father, too, had migrated to Calcutta, Rasul Miya used to go there quite often and perform on stage. The city had a huge number of migrant labourers from Bihar and Uttar Pradesh.
Once, before Independence, Rasul Miya performed in a police station in Calcutta, singing a song that inspired many Indian personnel to quit the British-led force.
"Chhod da gorki ke ab tu khusami balma/ Ekar kahiya le karab ghulami balma (Give up serving the British/ How long will you be slaves to them)," he sang.
The exodus, mainly by personnel from Bihar and eastern Uttar Pradesh, drew the attention of the British. The colonial government arrested Rasul Miya because it felt threatened by his songs. He was taken to a police station through a red-light zone. Later, sex workers of the area pawned their jewellery to secure Rasul Miya's release.
On the day of the Mahatma's assassination, Rasul Miya was in Calcutta and was about to perform at a factory. Gandhi's death shook him. But when he was asked to cancel his show, he insisted that he would perform but would change the content.
He changed the entire performance on the spot. One of the songs he sang was: "Ke maral hamra Gandhi ke goli ho dhamadham teen go/ Kalihe azadi milal aaj chalal goli (Who killed my Gandhi, firing three shots/ We got freedom just yesterday and fired the bullets today)."
Rasul Miya never met the Mahatma but staunchly believed in his ideas. It's people like Rasul Miya, who registered their protest despite having many limitations, that we need to remember today while dealing with political majoritarianism.
Fearlessness
Other Bhojpuri poets and drama companies portrayed social evils. Bhikhari Thakur, the "Shakespeare of Bhojpuri", wrote on subjects like child marriage and dowry.
Mahendra Misir's songs are still popular and help understand the pain of migration, while Master Aziz was a champion of Hindu-Muslim unity through his songs and was known as "Kabir of Bhojpuri".
But Rasul Miya's venture into political issues reflected his fearlessness. He wrote against the zamindari system and on the Partition, communal politics, religion and caste, as well as on his philosophy of life.
Why do we need to remember him?
First, when we are dealing with hatred against minorities — especially Muslims but also Dalits — we need to know about a Muslim poet-lyricist who wrote Ram Ka Sehra.
(Sehra is a genre of Urdu poetry. In Poorbi culture, during Muslim and Hindu marriages, sehras are sung for the bridegroom when he arrives at the bride's door.)
People like Bhikhari Thakur and Mahendra Misir are remembered through books, statues and government facilitation but Rasul Miya has been forgotten. Even his family does not have a single photo of him. Rasul Miya should be remembered the same way as figures like Gaddar, Faiz and Paash.
Although Rasul Miya had been easily forgotten because of the lack of records, the author Subhas Chandra Kushwaha has revived his memory and legacy.
He went to Rasul Miya's home and collected his songs and details about his life orally from his relatives and other residents of the village.
Chandan Tiwari, a Bhojpuri folk singer, is known for reinventing forgotten Bhojpuri folk songs. He has made Rasul Miya popular and familiar again by singing his songs and making them accessible to the masses.