Ram temple is Rashtra Mandir, says Adityanath
His comment comes at a time Sangh parivar has filed court cases demanding handover of the sites where the Gyanvapi and Shahi Idgah stand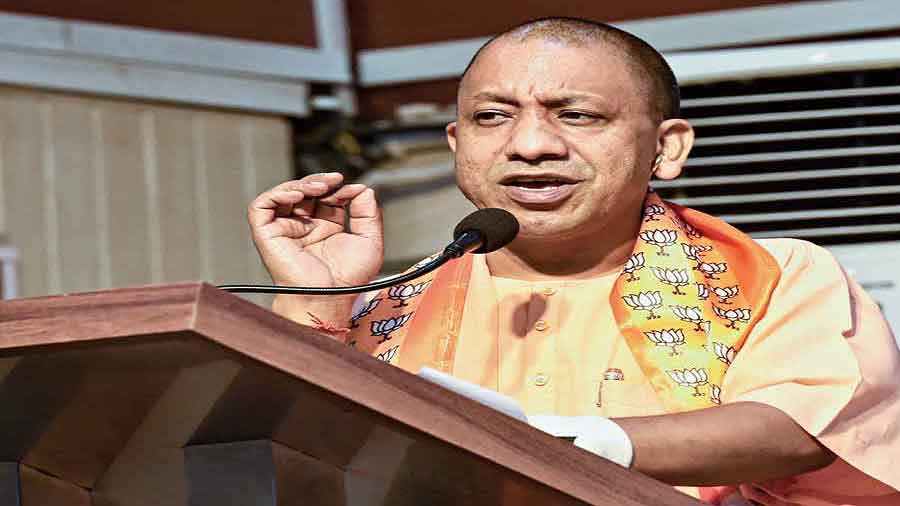 Yogi Adityanath in Lucknow on Wednesday.
PTI
---
Lucknow
|
Published 02.06.22, 01:29 AM
|
---
Uttar Pradesh chief minister Yogi Adityanath on Wednesday said the under-construction Ram temple in Ayodhya would be known as the "Rashtra Mandir (national temple) of India", a comment that may be deemed at odds with the spirit of the country's secular Constitution.
The Ram Mandir will be the Rashtra Mandir of India. Hindus have been waiting for centuries to see the day when this temple is complete. It symbolises the unity of India," Adityanath told reporters in Ayodhya after laying the foundation stone for the temple's sanctum sanctorum.
Dwijendra Tripathi, an All India Congress Committee member, asked how anyone could dub a particular temple as the "national temple"."India belongs to several crore gods and goddesses. India also belongs to the people of other religions," he said.
Prime Minister Narendra Modi had laid the foundation stone for the main temple on August 5, 2020, after the Supreme Court in November 2019 handed over to Hindus the site where the Babri Masjid was demolished by kar sevaks in December 1992.
Adityanath's "Rashtra Mandir" comment comes at a time Sangh parivar supporters have filed court cases demanding handover of the sites where the Gyanvapi and Shahi Idgah mosques stand in Varanasi and Mathura, respectively, alleging they had been built after destroying Hindu temples.
The BJP is expected to let these campaigns – and the construction of the Ram temple – to stretch till the Lok Sabha polls of 2024 so that it can extract electoral mileage out of them.
"Three generations from the Goraksh Peeth have worked to realise this dream. The Ram temple's construction is being speeded up," Adityanath, head of the Goraksh Peeth in Gorakhpur, said.
Adityanath's guru, Mahant Vaidyanath, and the previous guru, Digvijaynath, had been at the forefront of the campaign for the Ram temple.Senior priests in Ayodhya who didn't wish to be quoted said it was unusual for a separate foundation stone to be laid for the sanctum sanctorum.
Tripathi said the chief minister appeared unwilling to let Modi "take the entire credit for the temple" and that his stress on "three generations from Goraksh Peeth" having fought for the temple too reflected this objective.