BJP worried as protests spread to UP
Rail recruitment protest: Angry job-seekers bring Bihar to standstill
Police action on protesting students galvanised the movement further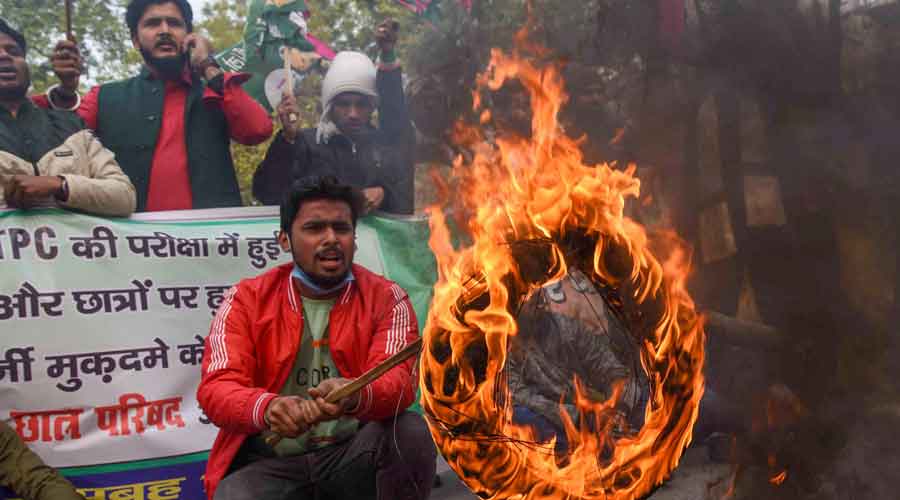 Jan Adhikar Party activists burn tyres to block a road during the Bihar bandh called by students over alleged discrepancies in Railway Recruitment Boards Non-Technical Popular Categories exam, in Patna on Friday.
PTI Photo
---
Patna
|
Published 29.01.22, 02:00 AM
|
---
The anger of job-seekers at alleged irregularities in railway recruitment exams crystallised into a Bihar bandh on Friday with protesters blocking highways and railway tracks and forcing shops and other establishments to remain closed.
With the Opposition joining the bandh and Bihar ruling ally Janata Dal United also taking up the youths' cause as the protests spread to poll-bound Uttar Pradesh, the BJP appeared to be on shaky ground. Sources said the Prime Minister's Office held a meeting with senior rail officials on Friday.
The Railway Recruitment Board's Non-Technical Popular Categories (NTPC) exam has been marred by allegations of irregularities. Candidates have complained that questions were easy at some centres and difficult in others.
The railways' decision to opt for "normalisation" of marks created a further mess with candidates with less marks qualifying, and several qualifying in multiple categories of posts. The students are demanding that the results be cancelled and re-issued.
Police action on protesting students galvanised the movement further. Rail and road traffic was disrupted at several places in Bihar on Friday. Almost all the Opposition parties, including the Rashtriya Janata Dal, Congress and the Left, had earlier declared their support for the bandh. Their members joined in to express solidarity.
Over 1 crore youths across the country had applied for around 35,000 posts. The exam results were declared on January 14 and 7.05 lakh candidates were selected for the second leg of tests. However, the candidates alleged serious discrepancies in the results.
They first protested on social media platforms, but started demonstrating at railway stations and tracks from January 24 after no one addressed the issues raised.
On Friday, protesters marched in Patna forcing shops and other business establishments to close.
Many of them gathered at Dak Bungalow Square, the nerve centre of Patna, shouted slogans and blocked roads. They entered into scuffles with police personnel deployed there.
Several protesters, including CPI-ML legislature party leader Mehboob Alam and Paliganj MLA Sandeep Saurabh, were arrested. Administrative officials cited violation of Covid-19 guidelines and traffic disruption as the reasons behind the arrests.
"Four leaders of the Jan Adhikar Party and two MLAs of the CPI-ML are among the people arrested," city magistrate Rohit Kumar said.
CPI-ML state secretary Kunal condemned the arrests and said: "The government is not desisting from atrocities and its efforts to quell the rightful protest. It has forgotten that such acts do not stop any agitation. We will keep giving a befitting reply to such moves through our unity and peaceful protests."
A large number of students protested at Darbhanga railway station and Samastipur, which disrupted the movement of trains for hours. They burnt tyres on roads in Muzaffarpur to block the movement of vehicles.
Protests were staged at many places in Vaishali district and an effigy of Union railway minister Ashwini Vaishnaw was burnt at Bhagwanpur. The police detained RJD legislator Mukesh Roshan for participating in the protests.
The police and other security forces staged a flag march in and around Gaya junction that had seen violent protests and arson by aggrieved NTPC exam candidates earlier this week.
National highways, passing through many districts, including Madhepura, Sitamarhi, East Champaran, West Champaran, Saran, Rohtas, Kaimur, Saharsa, Banka, Begusarai and Bhojpur,were blocked at many places.
BJP Rajya Sabha member and former deputy chief minister Sushil Kumar Modi appealed to the youths not to stage protests as the "central government is ready to accept their demands".
"Railway minister Ashwini Vaishnaw has assured that 3.5 lakh more candidates will be declared qualified (for the next level, in addition to the 7 lakh who have cleared Phase 1). The results will be on a one student-one result basis instead of one student qualifying in several categories," Sushil said.
He claimed that political activists, not students, participated in the bandh, but acknowledged that such a massive agitation "would not have taken place had the RRB addressed the grievances of candidates on time".
Patna-based coaching institute teacher and YouTuber Khan Sir who has been booked by the police for inciting students to launch an agitation, released a video on Friday asking them not to participate in the protests as their demands had been met.
The central government has formed a committee to probe the results and listen to the grievances of the NTPC candidates.
The ruling parties of Bihar such as chief minister Nitish Kumar's JDU and former chief minister Jitan Ram Manjhi's Hindustani Awam Morcha Secular vied with the Opposition parties to assuage the feelings of students and gain the goodwill of youths.
"Students becoming agitated in Bihar, Uttar Pradesh and other states is a reaction against the irregularities in the RRB NTPC examination process and results. A probe committee has been constituted to look into the irregularities in the RRB. We expect speedy justice for the students and candidates," JDU national president Rajiv Ranjan Singh aka Lalan Singh said.
Singh demanded that the FIRs against Khan Sir and other owners of coaching institutes for competitive exams be withdrawn.
"Khan coaching and other such institutes in Patna shape the future of poor and talented youths in Bihar and other parts of the country. The railways and the police should immediately withdraw the FIRs against them. I appeal to the angry students to maintain peace," Singh said.