Rahul Gandhi to Kerala: Want to learn from you
The Congress chief said Kerala is a land of multiple ideas that knows how to love each other and love different faiths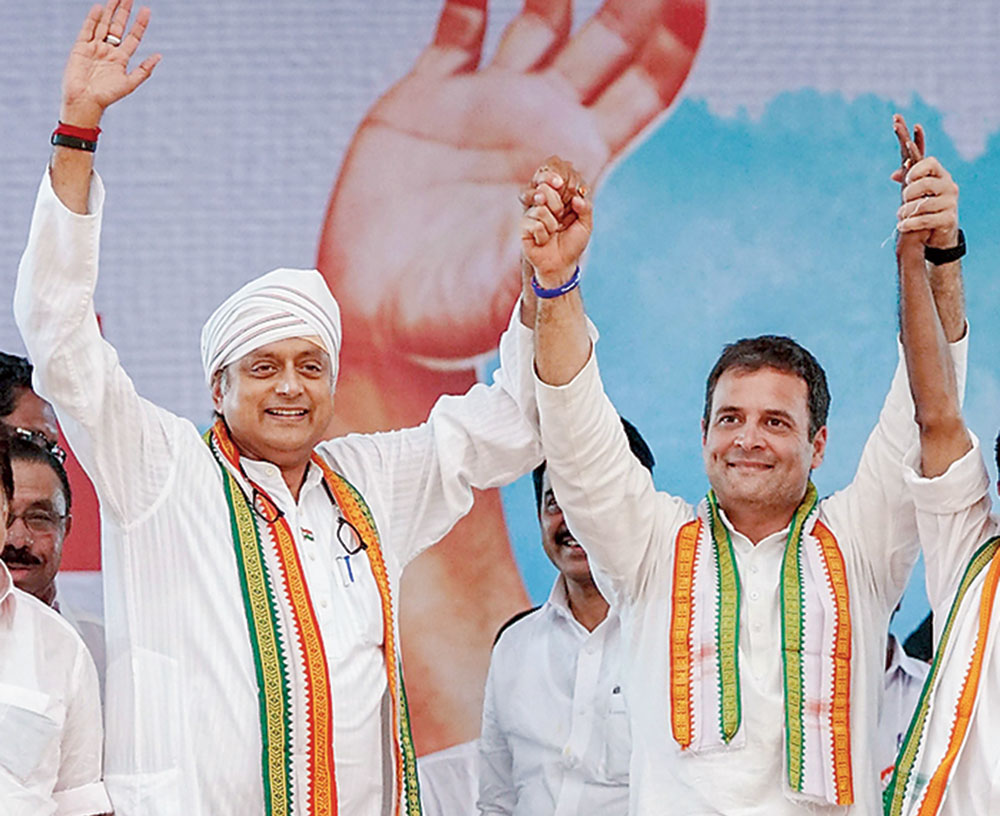 Rahul Gandhi and Shashi Tharoor, with headgear covering his bandage, at an election rally in Thiruvananthapuram on Tuesday.
(PTI)
---
Kalpetta(Kerala)
|
Published 17.04.19, 01:58 AM
|
---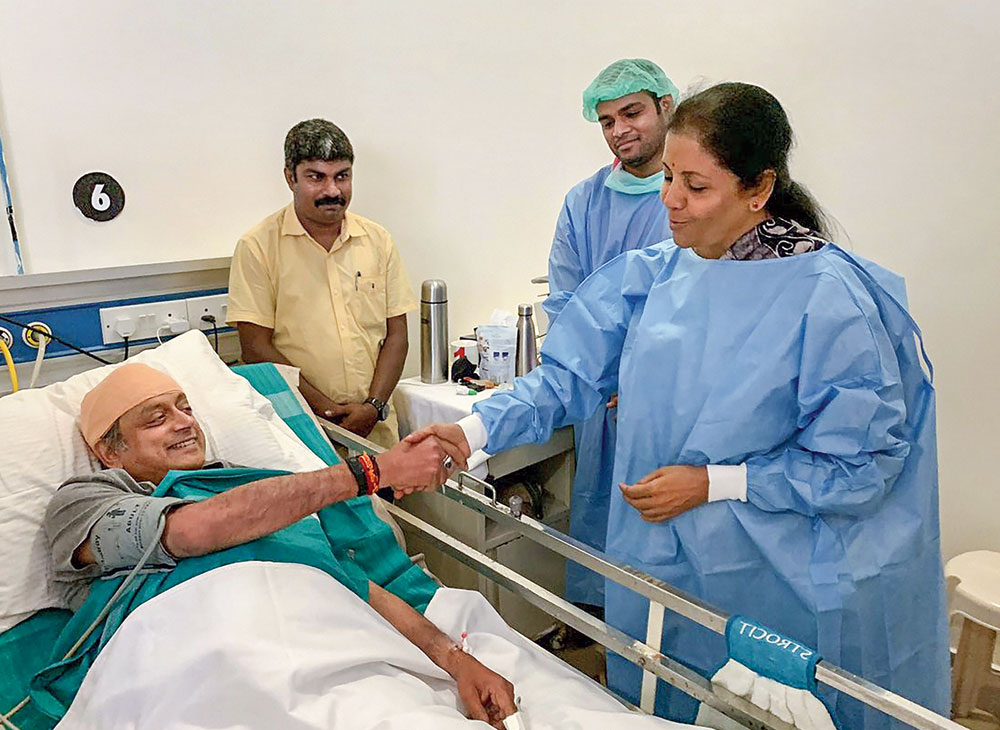 Congress president Rahul Gandhi on Tuesday said his party would never want to eliminate its staunchest rivals like the RSS and the BJP, which have been working for an India without the Congress.
"The BJP says 'Congress-mukt Bharat', and we say we will fight the BJP and the RSS on their ideas but will respect the idea that they too should be allowed to have an idea," the Congress president told a massive rally in Kerala's Pathanamthitta.
The Congress would fight the BJP and the RSS with "love and affection" and do everything to defeat them but not eliminate them.
"We are in a big fight against the BJP that believes one idea, one thought, one language and one history should run the country. (But) we believe that the voice of India should run this country," he said.
"Every history, every language, every tradition should be respected. India is big enough that no idea needs to be crushed," Rahul added.
On a hectic day when he addressed four public meetings in the state, Rahul underlined the importance of accepting every peaceful idea and fighting every idea that is dangerous and communal.
On his first extensive tour of Kerala after filing his nomination papers from Wayanad on April 4, Rahul spoke about why he opted for a southern constituency besides Amethi in Uttar Pradesh.
"Some days back when I filed my nomination, I made it very clear that I am here to fight the BJP and to send a message that India is not one idea, but India is many ideas and south India also needs to be represented," he said.
Kerala is a land of multiple ideas and faiths, he said, "you know how to love each other and love all different faiths".
"I chose Kerala because you respect other people's ideas. And the Congress believes in allowing all people to express their faith, belief and sentiments," Rahul said. "I'd like to say that it is an honour for me to represent the voice of Kerala. View me as a brother who is representing what is in your heart."
"Your spirit, your history, your way of looking at the world is a guide for the country," he said, lauding the state's people for maintaining amity between the three main faiths.
A "selfish" reason that made him choose a seat in Kerala was: "I wanted to spend some time listening to you and learn from your wisdom. I wanted to understand how you accommodate so many different ideas."
At the rally in the capital Thiruvananthapuram, Rahul promised to fill 22 lakh government jobs within one year of forming the next government. Another 10 lakh jobs could be easily given to youths from India's panchayats, he said.
"I will not come here and lie to you and tell you I will give you two crore jobs like Mr Narendra Modi does. I will tell you the truth. The truth is Rs 15 lakh cannot be put in your bank account, but Rs 3.6 lakh can be put in five years," he said, referring to the Congress's election promise of giving Rs 72,000 each year to the country's poorest families.
Rahul made a strong pitch for Thiruvananthapuram MP Shashi Tharoor, who is seeking a third consecutive term. "I would like to say as the Congress president that he has represented you extremely well in Parliament," Rahul said. "He is an asset to Kerala and to the Congress party. So you have to make sure he wins the election."
This also appeared to be a direct message to some senior Congress leaders who had stayed away from campaigning for Tharoor, who then complained to the high command.
Tharoor was present at the rally with a heavily bandaged head after spending a day in hospital. He was injured when a balance collapsed on him during a temple ritual on Monday.
From Thiruvananthapuram, Rahul flew to Kannur in the north where he would address leaders on Wednesday morning before heading for a day-long campaign in Wayanad.