In lotus bloom in 'mini-Pakistan', a lesson for Amit Shah
One can blame the people of Wayanad for not acknowledging rights of tribals, elephants and tigers, but Wayanad was never communal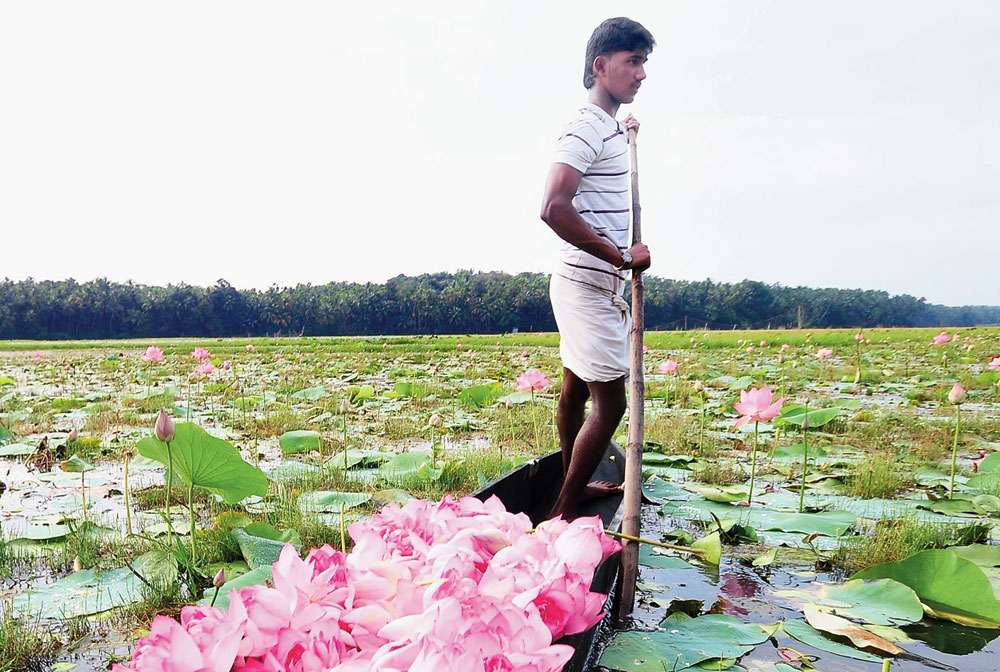 A boatman in Edakkulam ferrying lotus flowers
Picture by Najeeb Shah
---
Published 13.04.19, 01:45 AM
|
---
Edakkulam is a small Muslim-majority village in Kerala where thousands of lotuses bloom every day. Located on the fringes of — though it is not a part of — the Wayanad Lok Sabha constituency, from where Congress president Rahul Gandhi is contesting, Edakkulam has been a traditional bastion of the party's ally, the Indian Union Muslim League (IUML), whose flag — green with a crescent — has made BJP chief Amit Shah see red.
Speaking at a rally in Nagpur last Tuesday, Shah had taken a potshot at Rahul for selecting Wayanad, saying "when a procession is taken out there, it is difficult to make out whether it is an Indian or a Pakistani procession".
For the Sangh parivar's campaign managers, Wayanad is a "mini-Pakistan" since the IUML flags — which they claim is similar to that of the neighbouring nation — were on display at Rahul's roadshow in the constituency on April 4. Never mind the striking dissimilarities between the two flags, the BJP's ground troops say "Pakistani flags" were waved during Rahul's rally.
IUML is not a major force in Wayanad, where the census data show that Muslims make up only 28.68 per cent of the electorate. Christians constitute 21.34 per cent of the electorate in the hilly constituency while Hindus remain the major force with 49.48 per cent. The real strongholds of IUML are the adjoining Lok Sabha constituencies of Malappuram and Ponnani. Edakkulam and Thirunavaya are part of the Malappuram constituency, which has always elected the IUML candidate.
The Sangh parivar can call Edakkulam a mini-Pakistan in the changed scenario of religious distrust. But the managers of Hindu temples across Kerala think otherwise. Tended carefully with dedication by the Muslim community of Edakkulam, lotuses grow in all water bodies, mainly ponds and lakes, of the village. This ensures a dedicated and undisrupted supply to all major temples across the state on a daily basis for pujas and other religious rituals. More than a business, it was a custom of the village which began long back when the Zamorin of Kozhikode ruled the roost. Even at Guruvayur Sri Krishna Temple, the priests are sure that Edakkulam will meet their flower requirements on any day in spite of all the emergencies and hurdles.
A short distance away in Tirur, betel leaf farmer Bava Mooppan is upset and is cursing the terrorists from Pakistan, who masterminded the Pulwama attack, for eclipsing his livelihood. The Tirur paan or betel leaf they grow has a huge demand in Pakistan. Bava used to export five tonnes of betel leaf each week to the neighbouring country. Whenever diplomatic relationships between India and Pakistan turn sour, the betel leaf farmers of Tirur become a worried lot. Now after the Pulwama attack and the subsequent air strike by India, Pakistan has imposed a 140 per cent import duty on betel leaf from India. The betel leaf of Tirur has no takers.
Among the districts of Kerala, neither Malappuram nor Wayanad had seen any communal riot in the past. When Babri Masjid was demolished, Muslims of this "imagined Pakistan" remained sane voices, vocal about the need of amity and peaceful co-existence. IUML leaders do face charges of corruption. They are also criticised for their lavish lifestyle ignoring the poor. The party with very little women's representation has a long history of gender bias. It also faces accusations of running the administration of Kerala bypassing the major alliance partner, Congress, whenever in power. But thus far nobody has accused IUML of being communal. In fact, its social contributions are in the area of effectively fighting extremist and terrorist elements among the Muslim masses.
A non-believer born and brought up in Wayanad in a Christian family that migrated, my childhood and teenage had seen not a single occasion when Wayanad turned communal. It always had a composite culture. It remained calm when Babri Masjid was demolished. More than religion, the common concerns of the migrant majority in Wayanad comprising people from all religions was the ability to fight challenges, mainly from climate change, adverse weather conditions and wildlife. In the fight for survival, all the settlers had done injustice to adivasis, the real natives of the forest terrain. The craze for easy money had created a situation in Wayanad where cash crops resulted in habitat loss. Food crops have taken a retreat while international cartels and deals have caused an unexpected slump in the prices of cash crops. Wayanad may be the only region of the country where people organised long protest marches carrying placards "seeking justice from tigers". Large-scale deforestation has escalated human-wildlife conflict in the region. Along with it, habitat loss is forcing tigers and elephants to move into human settlements.
One can blame the people of Wayanad for not acknowledging the rights of tribals, elephants and tigers. For not lending ears to saner advice against agricultural practices which would increase impact of climate change. But Wayanad was never communal. Its composite culture did not have space for Pakistan. Apart from Hindus, Christians and Muslims, Wayanad is home to scores of tribals and a large number of Jains. Tamilians and Kannadigas and a sizeable population of Sri Lankan repatriates and refugees have also made the place their home.
Probably Amit Shah is unaware, but the people, cutting across religious barriers, of Wayanad are traditional beef-eaters. The Brahmagiri Development Society, perhaps the lone and largest cooperative of its kind in the entire country, is located in Wayanad. Its main objective: manufacturing and marketing of quality beef at affordable prices.
The writer, who hails from Wayanad in Kerala, is a journalist who reports from across south India