Rahul Gandhi expected to step down, Congress Working Committee to take decision
If Rahul continues, he will have to undertake major changes in the organisation and adopt a more consensual approach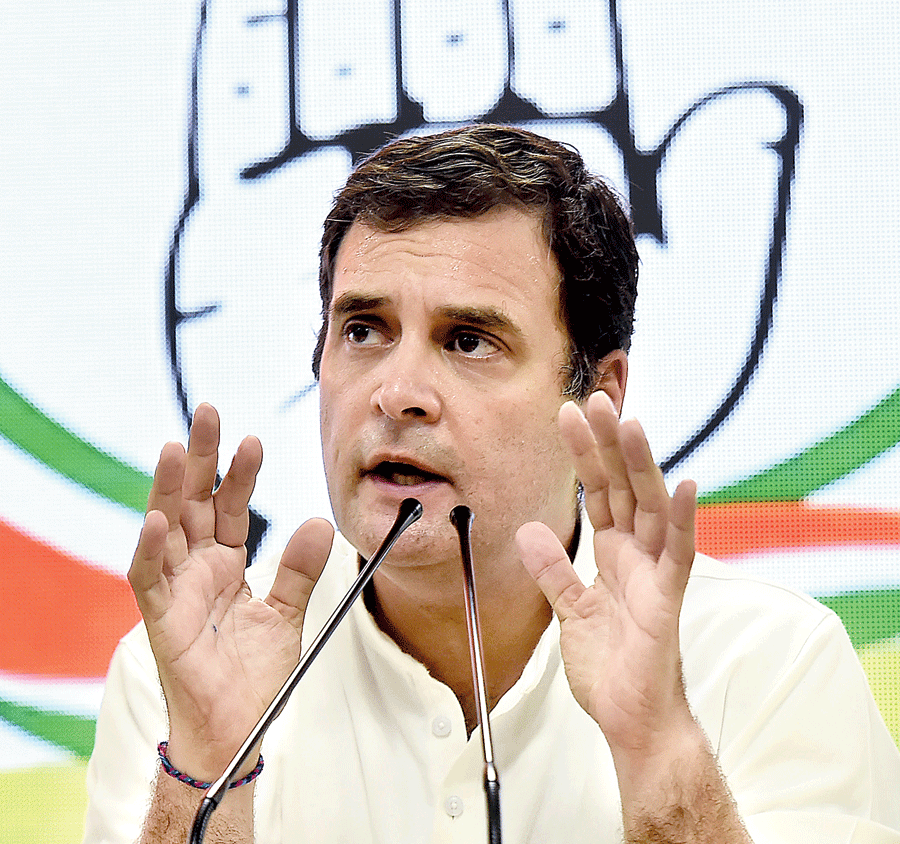 Rahul Gandhi in New Delhi on Thursday.
(Prem Singh)
---
New Delhi
|
Published 24.05.19, 10:39 PM
|
---
The Congress Working Committee will meet on Saturday morning amid speculation that Rahul Gandhi, who has taken "cent per cent" responsibility for the crushing election defeat, could resign as party president.
While Rahul is expected to offer to step down, it is unclear whether the CWC — the highest decision-making body of the Congress — will agree.
Successive debacles in 2014 and 2019 have triggered unrest in the party and there are voices against Rahul's leadership, even though the majority of leaders and workers believe he is the best bet.
Contradictory signals were coming out on Friday and the refusal of a large number of leaders to speak on the subject betrayed uncertainty. Off the record, some said "business as usual" was impossible and that only a substantial change would inspire confidence among workers and voters.
But the ordinary party workers, who expect the leadership to introspect honestly, are not in favour of looking beyond the family. While some do wonder if Priyanka would be a better choice, the majority want Rahul to continue.
Many leaders, on the other hand, are not speaking with clarity and are reluctant to defend Rahul. His own defeat in Amethi has made Rahul more vulnerable.
Some leaders are indirectly mounting pressure on him by calling for chief ministers Kamal Nath and Ashok Gehlot to be held accountable for the routs in their states. Uttar Pradesh unit chief Raj Babbar, Odisha head Niranjan Patnaik and Karnataka campaign committee chief H.K. Patil have put in their papers.
Former external affairs minister Salman Khurshid's tweet suggested an internal churning: "There are moments in history when faith must prevail over atmospherics. When even intuition should not let you budge. This is one such moment for people who trust Rahul Gandhi. Enormity of struggle cannot undermine value of our allegiance. We shall overcome."
Denying any rebellion in the party, general secretary Avinash Pande told The Telegraph: "Rahulji has exposed Narendra Modi's failures both outside and in Parliament in the most effective manner. He also rebuilt the party organisation and led a powerful campaign in the election. There is no question of even considering a replacement. He will continue to lead the party."
But this is not the overriding sentiment. One leader said: "We are not saying Rahul is incapable and his role wasn't effective. But what is the team he has made? Paid employees in his office have become more powerful than senior leaders with experience of three-four decades. That technician Sam Pitroda headed the committee to monitor the campaign. One data analyst (Praveen Chakravarty) dished out political wisdom. Most senior leaders were kept out of the planning."
Sources said Sonia Gandhi's role would be critical andshe might act as arbiter. But even if Rahul continues, he will have to undertake major changes in the organisation and adopt a more consensual approach.