Rahul asks about Modi's intent on Kashmir
The Congress chief was interacting with students of Stella Maris College in Chennai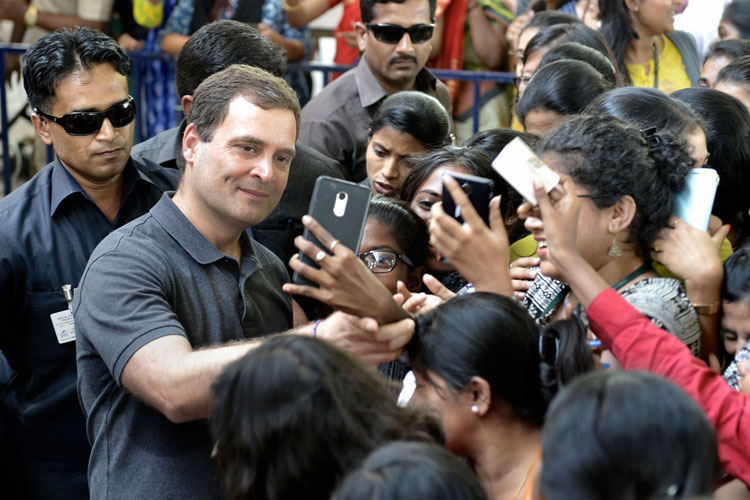 ---
---
Congress president Rahul Gandhi on Wednesday questioned Prime Minister Narendra Modi's intent on Kashmir, asking whether he was sincerely interested in solving the problem or was using it as a political instrument.
Interacting with students of Stella Maris College in Chennai, Rahul said: "It is a question of faith. If the Prime Minister truly wants to embrace the people of Jammu and Kashmir, the people of Jammu and Kashmir will also embrace the Prime Minister. If the Prime Minister doesn't want, the people too will not embrace him."
The Congress chief was responding to a question asked by a Kashmiri student about his plan to address the alienation among youths of the state.
He said: "It has to be from the heart. Do you actually want to solve the problem? Do you actually care for the people of Jammu and Kashmir? Do you actually want to reach out to them or are they just a political instrument for you?"
Rahul added: "The first step is building that bridge. If you look between 2004 and 2014, that bridge was built. The attitude changed after that. Pakistan will look for every opportunity to create trouble but you will have to engage with the people, show them a better future. It is possible."
The Congress has repeatedly said the RSS-BJP cannot solve the Kashmir problem and that Modi had completely messed it up in the last five years.
In response to another question about terrorism and whether fighting with Pakistan was the only solution, Rahul said: "Jammu and Kashmir was on fire in 2004 but we decided to fight terror strategically. We isolated Pakistan using diplomacy and engaged with the local population and took several measures. I took industrialists to the state, launched programmes for students and we finished terrorism."
Arguing that the alliance between the BJP and the PDP solely for power was a huge mistake, he said. "Modi's policies are setting Jammu and Kashmir on fire. Modi pushed people away and that allowed Pakistan to carry out attacks in Jammu and Kashmir. Why did you not stop our 45 CRPF jawans from being killed by terrorists? Why did you wait for that to happen and then say we will do it now? They do it for public opinion, for scoring brownie points."
The Congress president dwelt on the ideological battle with the BJP, alleging that the RSS-BJP wanted to impose one idea, one culture on everybody.
He also linked economic growth with peace, saying: "You can't have a fearful, discriminatory atmosphere in the country. Economic growth is directly related to the mood of the country."
He then reeled out details of wrong decisions like demonetisation and bank frauds involving Nirav Modi, Mehul Choksi and Vijay Mallya.
When a student asked why he had not added the name of Robert Vadra to that list, Rahul quipped: "What about him? The government should investigate every single person but law should not apply selectively. The Prime Minister himself is named in government documents suggesting he was directly responsible for parallel negotiations with Dassault. The CBI chief is sacked at midnight. Ex-French President says 'Modi told me contract will go to (Anil) Ambani'. Investigate Vadra but why not Modi? There is unlimited proof (in Rafale) but not a word from agencies."
He pointed out that Modi had never stood before a crowd of 3,000 and offered himself for questioning, drawing rapturous applause from the students who had been cheering him from the word go.
His request to the students to call him Rahul rather than "Sir", his statement that he had come to listen, not lecture, and insistence on freedom, gender justice and equality appeared to strike a chord with the audience.
He egged on the students to ask tough questions, challenge him and make him uncomfortable. While some girls later referred to his humility, simplicity and friendliness, others said he looked "cute and handsome".
One student said: "We could identify with him, he talks sense, he is the right choice and he is the future leader.