One party of inter-govt agreement can't remain aloof
Rafale: Cong questions Modi and Rajnath's silence on French probe
'France is investigating what it calls 'corruption', 'influence peddling', 'money laundering' and 'favouritism' in the Rafale deal, INC spokesperson Pawan Khera said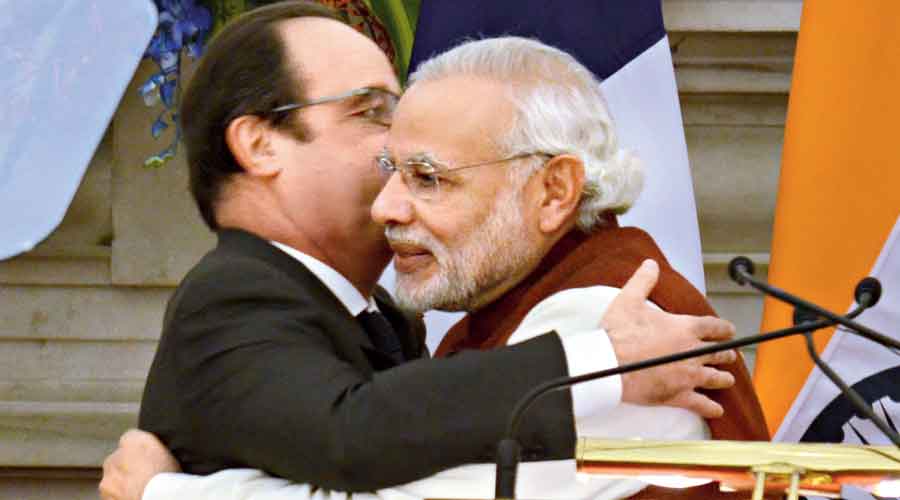 Prime Minister Narendra Modi and then French President Francois Hollande are locked in a hug in Hyderabad House, New Delhi, on January 25, 2016, after it was announced that the two countries had inked a memorandum of understanding on the Rafale fighter aircraft. In September that year, the inter-governmental agreement on 36 Rafale aircraft was signed
File picture
---
New Delhi
|
Published 05.07.21, 01:53 AM
|
---
The Congress on Sunday questioned the silence of Prime Minister Narendra Modi and defence minister Rajnath Singh on the French investigation into the Rafale deal, asking how one party to an inter-  government agreement could remain aloof when the other had initiated a probe.
"France is investigating what it calls 'corruption', 'influence peddling', 'money laundering' and 'favouritism' in the Rafale deal," Congress spokesperson Pawan Khera said.
"How does all this happen in a government-to-government deal in which no middleman was supposed to be involved? And in an inter-governmental deal, how can one party remain silent when the other has ordered an investigation?"
Khera said the deal now looked like an open and shut case of corruption.
"What does the Prime Minister have to say? After all, the deal was between France and India and one side suspects corruption. Rajnath Singh wasn't the defence minister then but he should come out with the facts now," he said.
"Why was the anti-corruption clause deleted? Is it even imaginable that the Government of India would remain silent when the entire world is looking at the deal being investigated? It is ironical that the beneficiary is investigating and the country which lost huge money is silent."
Khera added: "Let me make one thing abundantly clear — this is not a loss to France, it is a loss to India. It is not France that has been cheated or robbed, rather it is every single Indian taxpayer who has been cheated and robbed."
LIVE: Congress Party Briefing by Shri @Pawankhera, Spokesperson AICC https://t.co/XTv8bBsH0M

— Congress (@INCIndia) July 4, 2021
Rahul Gandhi had tweeted in the morning: "Why is the Modi Government not ready for a JPC (joint parliamentary committee) probe? 1. Guilty conscience 2. Friends need to be saved 3. JPC doesn't need Rajya Sabha seat 4. All these are correct."
JPC जाँच के लिए मोदी सरकार तैयार क्यों नहीं है?

— Rahul Gandhi (@RahulGandhi) July 4, 2021
Then Chief Justice of India Ranjan Gogoi, who had headed a three-judge bench that dismissed a petition seeking a probe into the deal, had been nominated by the President to the Rajya Sabha nearly four months after he had retired from the Supreme Court.
Referring to the Rafale deal, Priyanka Gandhi tweeted: "Three things cannot be long hidden: the sun, the moon, and the truth — Lord Buddha."
Three things cannot be long hidden: the sun, the moon, and the truth.

- Lord Buddha #RafaleScam

— Priyanka Gandhi Vadra (@priyankagandhi) July 3, 2021
Former finance minister P. Chidambaram alluded to a chronology alleged in French media reports that hints at secret, parallel processes that undermined the official negotiations.
"There are new dates revealed in the Rafale aircraft deal: 25-03-2015, 26-03-2015, 08-04-2015, 10-04-2015, 09-11-2015, January 2016, September 2016, 28-11-2016," Chidambaram tweeted, adding that the Prime Minister "can tell us what events happened on these dates".
"If there is no mystery, why not tell the whole story in one sitting? Why should 'events' and 'facts' tumble out of the cupboard one by one?" Chidambaram tweeted.
राफेल विमान सौदे में खुलासा:

25-03-2015
26-03-2015*
08-04-2015
10-04-2015
09-11-2015*
जनवरी 2016
सितंबर 2016
28-11-2016*
[नई तारीखें हैं (*)]

निश्चित रूप से, पीएम और, अगर पीएम नहीं हैं, तो तत्कालिक रक्षा मंत्री हमें बता सकते हैं कि इन तारीखों पर क्या घटनाएं हुईं?

— P. Chidambaram (@PChidambaram_IN) July 4, 2021
Rajnath's predecessor Nirmala Sitharaman and Modi have stated multiple times that the question of corruption cannot arise as it was a government-to-government deal.
On Sunday, the Congress said: "It is clear the deal was negotiated between the governments of France and India. Now, given that the French public prosecution services, PNF, has initiated an investigation into corruption allegations against the previous and probably the current President of France, who was one of the parties to this deal, why is no inquiry being ordered on the role, on the undeniable role of the key functionaries of the Government of India, which is the other side of this multi-crore inter-governmental agreement?"
Khera said: "Inter-governmental contracts happen for three major reasons: (A) To ensure the lowest price for procurement; (B) To do away with any middlemen; (C) To ensure there is no corruption. But, in case of this inter-governmental deal, charges of 'corruption', 'influence peddling', 'money laundering', 'favouritism' among others are being investigated in France (along with) its government representatives responsible for the finalisation and execution of this inter-governmental deal."
Khera alleged that fighter jets worth Rs 570 crore were purchased for over Rs 1,600 crore, using taxpayer money. "One has to question, why is the person who caused the loss to the Indian exchequer not being investigated?" he said.