French dare to do what we did not
Rafale: France appoints judge to probe 'corruption' in deal
The latest decision reverses an earlier decision by the country's anti-corruption agency AFA not to refer the matter to prosecution authorities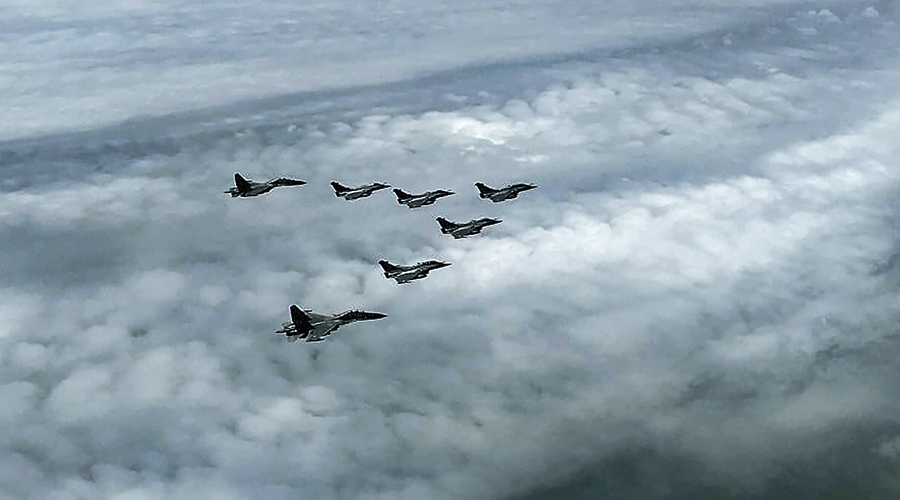 The probe was ordered after the French anti-corruption NGO Sherpa lodged a complaint with the tribunal of Paris, alleging corruption, influence peddling and favouritism in the deal following a series of "exposes" by French portal Mediapart.
File picture
---
New Delhi
|
Published 04.07.21, 01:59 AM
|
---
The national financial prosecutor's office of France has appointed a judge to investigate "corruption" in the Rs 59,000-crore Rafale deal with India.
The inquiry has been ordered in France in spite of a French company, Dassault, standing to gain a huge amount and the government expected to earn political capital from the deal.
India, which is paying money for a deal that involves national security, has not ordered any probe despite a clamour from the Opposition and a section of civil society.
The main judgment of a Supreme Court bench headed by the then Chief Justice of India, Ranjan Gogoi, had said while dismissing a petition to review its order upholding the Rafale deal: "This court did not consider it appropriate to embark on a roving and fishing enquiry."
The French too were initially reluctant to order a probe. The latest decision to appoint a judge reverses an earlier decision by the country's anti-corruption agency AFA not to refer the matter to prosecution authorities even after an audit of Dassault's accounts of 2017 revealed it had spent 508,925 euros under the heading "gifts to clients".
A news agency report from Paris quoted PNF (the financial prosecutor) as saying a judge had been tasked with investigating the deal, which has been enmeshed in controversy since Prime Minister Narendra Modi's surprise announcement in 2015 of the new agreement for 36 ready-to-fly Rafale jets.
The probe was ordered after the French anti-corruption NGO Sherpa lodged a complaint with the tribunal of Paris, alleging corruption, influence peddling and favouritism in the deal following a series of "exposes" by French portal Mediapart.
On Saturday, in a possible reference to the Modi government being told to submit in court details of the defence deal in sealed covers, a social media user posted: "Today's best tweet went something like — France is opening that sealed envelope."
Reliance timing
The news of the probe in France coincided with another French expose that claimed Rafale maker Dassault's partnership with a company in Anil Ambani's Reliance group predated Modi's announcement of the fighter jet deal by a mere 15 days.
Anil Ambani's Reliance group had not offered any response in public till Saturday evening. If the sequence of events as reported by Mediapart is established, it will throw up questions whether sensitive information was leaked in advance.
No one in the Indian government appeared to have any inkling of the new deal till Modi made the announcement on April 10, 2015. According to the Mediapart report, Dassault and Reliance had signed their first memorandum of understanding on March 26, 2015.
Although Dassault was still technically in negotiations with India's state-owned HAL on the offset clause, there was no mention of this in the MoU, which spoke of a possible joint venture with Reliance, including programme and project management, research and development, design and engineering, assembly and manufacture, besides maintenance and training.
The Congress, which had during the 2019 general election accused the Prime Minister of violating procedure to favour Reliance, on Saturday claimed vindication and repeated its demand for a joint parliamentary committee probe. 
The 2015 deal endorsed by Modi had junked an earlier arrangement being negotiated from the UPA's days for 126 fighter jets, 18 of them in flyaway condition from Dassault and the remaining to be built in India in collaboration with HAL.
The terms of the new deal, formally signed in September 2016, had an offset clause under which the supplier had to spend half the money in India. Dassault Aviation ended its negotiations with HAL and created a joint venture with Anil Ambani's Reliance group company. The joint venture, Dassault Reliance Aerospace Ltd, will undertake some Rafale sub-assemblies in the performance of the offset obligations and also make elements of Falcon 2000.
Choice of Reliance
On Friday, Mediapart cited documents it had accessed to state that Dassault's only interest in partnering with Reliance was the Indian company's "political influence".
The report said Dassault had offered "remarkably generous financial terms" for the establishment of the joint venture. Ordinarily, partners in a jointly owned subsidiary are expected to provide equal funds as capital, the Mediapart report said, adding that was not the case with Dassault Reliance Aerospace Ltd.
Of the 169 million euros the partners agreed to invest in DRAL, Dassault, which held a 49 per cent stake, pledged to provide up to 159 million euros, or 94 per cent of the total. Reliance, with a 51 per cent stake, was to provide just the remaining 10 million euros.
What Reliance was expected to bring to the table was an understanding of the Indian marketplace, production facilities and the "marketing for programmes and services with the GOI (Government of India) and other authorities (such as local states) in compliance with applicable laws".
Industry sources in India said on Saturday that a skewed investment share need not always mean foul play. Local partners are chosen also on the basis of their contacts, facilitation skills and access to land.