A lock on India Gate, a putdown for the Qutab Minar, amnesia about the Victoria Memorial.
The University Grants Commission has sent universities a list of 100 "tourist destinations" for organising student visits as part of the Centre's Ek Bharat Shreshtha Bharat programme. Some academics have questioned the move as dictatorial, and the choice of sites as biased.
"Which places students should visit should be left to individual institutions; why should the UGC or the government prescribe it?" said Abha Dev Habib, former member of Delhi University's executive council.
Pankaj Jha, history professor at Lady Shri Ram College, underlined the absence of many famous sites associated with Muslim and colonial rule as well as those reflective of independent India's achievements.
"There is a greater emphasis on the sites of ancient (apparently Hindu) history rather than medieval (apparently Muslim) or modern (apparently colonial but also Independent India) period," Jha wrote in response to a query from The Telegraph.
A host of ancient Buddhist sites figure on the list too.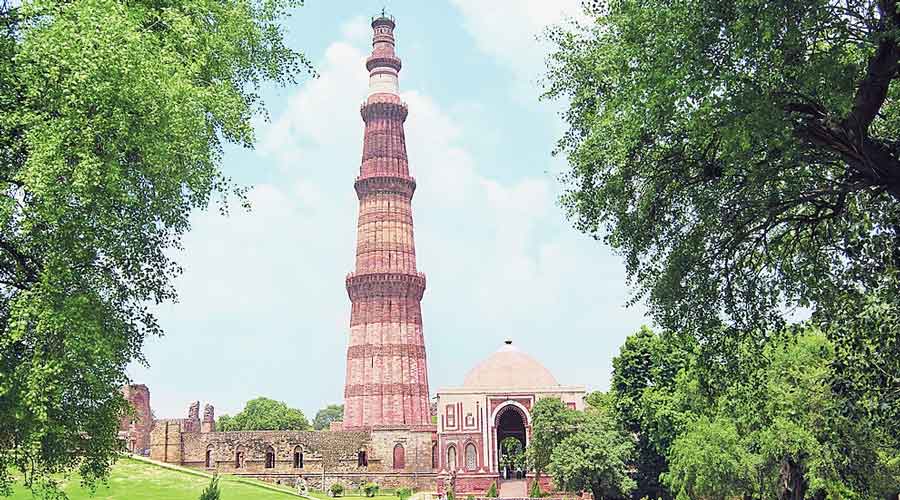 The Qutab Minar. File photo
"The claim is that it would make students 'understand the rich culture and diversity of the country', but this top-down dictum for all students hardly promotes diversity. This is a clear attempt to promote uniformity not just of practice but also of thinking," Jha wrote.
While Bijapur and Murshidabad, both associated with the medieval period and Muslim rule, are on the list, the Red Fort and Humayun's Tomb in Delhi have been snubbed. Agra, however, gets a mention under "monuments included in list of World Heritage and Iconic Sites" although the Taj Mahal is not named.
Delhi — Old and New — with its layers and layers of history buried and alive across hundreds of monuments has been entirely ignored. Ditto Calcutta, the capital of British India till 1911, and Mumbai, hub of finance and films and the birthplace of the Indian Railways.
Colonial structures like the two Victorias — Memorial and Terminus — are missing as are the Cellular Jail in the Andamans and Rashtrapati Bhavan, India Gate and the Gateway to India. Goa has two mentions, though — Old Goa and Colva Beach.
The nudge to all the universities came in a letter, dated September 22, from UGC secretary Rajnish Jain that said the National Education Policy proposes to strengthen and promote the spirit of Ek Bharat Shreshtha Bharat among students.
"A list of 100 tourist destination shared by the ministry of tourism is enclosed. Educational institutions are required to send students under Ek Bharat Shreshtha Bharat Programme to study the destinations and their history, scientific contributions, traditions, indigenous literature and knowledge, etc, as a part of augmenting their knowledge about different areas to understand the rich culture and diversity of the country," Jain wrote.
"All the higher educational institutions are requested that the visits may be organised only when Covid restrictions are lifted fully. Meanwhile students can be encouraged to learn about these locations and have activities digitally."
The letter added: "A report of the activities undertaken may be sent to ministry of education."
Jha said the UGC move was in line with the government's recent attempts to closely "control and regulate" academic activities in institutions of higher education. So, all students of all streams, all regions, and all universities have been asked to visit the same set of sites, he said.
"Are most of our achievements confined to the ancient period? Did the residents of this subcontinent stop growing after the ancient period? Did we never learn or did anything remarkable in the medieval and modern period?" Jha asked.
The Northeast is heavily represented on the list, with Imphal, Aizawl and Itanagar featuring under the head "capital of state" — although Itanagar has been placed in Nagaland rather than Arunachal Pradesh — and Agartala, Dimapur, Dibrugarh and Silchar mentioned for their "airports".
Shillong makes it under "identified for wi-fi based on footfalls" — a strange and unexplained description that occurs about 30 times on the list, covering sites from Chilika Lake and Nagarjunakonda (Buddhist site in Andhra Pradesh) to Fort Kochi and the Jain pilgrimage spot of Sravanabelagola in Karnataka.
But Bangalore gets a thumbs-down, despite its contribution to Indian science (IISc and Isro) and the country's infotech revolution.
Sarnath, Shravasti, Kapilavastu and Kushinagar of Uttar Pradesh and Bodhgaya, Vaishali and Rajgir of Bihar make it under "Buddhist Circuit". Somnath and Dholavira (archaeological site in Kutch) in Gujarat are "iconic sites".
Jammu and Kashmir gets the nod in the form of Gulmarg, Pahalgam and Patnitop while Ladakh contributes Kargil and the Pangong Lake — sites of old and current confrontations with neighbours.
Khajuraho from Madhya Pradesh and Konarak from Odisha are included as "world heritage sites".
An email was sent to UGC chairman D.P. Singh asking whether the commission had tried to find out from the tourism ministry why it had excluded Delhi and its monuments from the list. It remained unanswered.
Another email to the tourism ministry seeking the reasons for the absence of some apparently obvious candidates evoked no response, either.