Questions on 'accidental' firing of Indian missile into Pakistan
This is a very serious matter and serious inquiry needs to be done as to why it happened in the first place: Rajeshwari Rajagopalan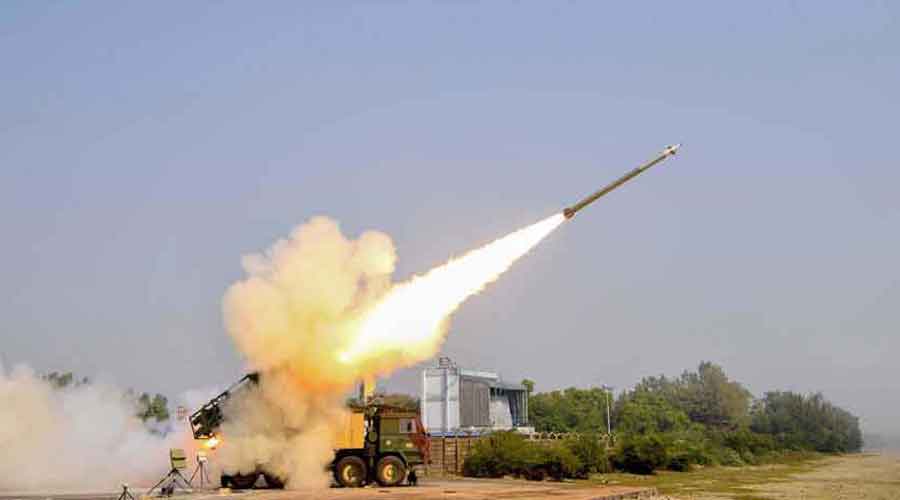 Defence ministry sources said it could have been a BrahMos supersonic cruise missile without a warhead.
File photo
---
New Delhi
|
Published 16.03.22, 01:56 AM
|
---
The "accidental" firing of an Indian missile into Pakistan is shrouded in mystery as India has so far not offered any details on how the incident took place.
While the government has not named the missile that was fired accidentally, defence ministry sources said it could have been a BrahMos supersonic cruise missile without a warhead.
In an interview to Karan Thapar for The Wire, Rajeshwari Rajagopalan, director, centre for security, strategy and technology, at the Observer Research Foundation, said it was a very serious matter.
She underlined that there were agreements in place between India and Pakistan regarding testing missiles close to the border areas.
"There are a lot of agreements and protocols, which are put in place precisely to avoid any kind of danger that comes from inadvertent use of weapons," Rajagopalan said.
The missile was not armed and did not cause any harm on the ground, she noted, adding that India would have been in trouble had someone in Pakistan been killed.
"This is a very serious matter and serious inquiry needs to be done as to why it happened in the first place," Rajagopalan said.
Commenting on the defence ministry's statement that a technical malfunction during routine maintenance led to the accidental firing of a missile, Rajagopalan said: "It is very disturbing and raises crucial questions about India's protocol systems and practices."
"Are they good enough? Or were they not followed? If there were violations, then it speaks of poor training and poor discipline within our system. It is very embarrassing. At this stage we do not know what happened."
Rajagopalan said it was impossible to believe that India did not have a self-destruct mechanism.
"These missiles, when they are taken for training or practice, certainly have self-destruct mechanisms in place. We do not know why they were not activated."
"Were they waiting for some order from higher authorities to activate it or did they activate but it failed or those who were operating the missile did not know how to activate it? These are all possibilities we are looking at. It could be also that by the time they realised it, the missile was out of the range to engage the self-destruct mechanism," she said.
On whether the missile veered away from its path, she said: "We don't know that it veered away from its flight path. Possibly there was no predetermined flight path or pre-determined target. It simply took a random route and it landed when it ran out of fuel. These are all assumptions in the absence of credible information provided by the government," Rajagopalan said.
Possibly there was a predetermined flight path or target that was meant for a different location in India or somewhere else in the country but it was fired from a different location, she added.
"The entire issue shows incompetence and poor training, speaks about protocols and non-compliance, chain of commands and how effective it is," Rajagopalan said.